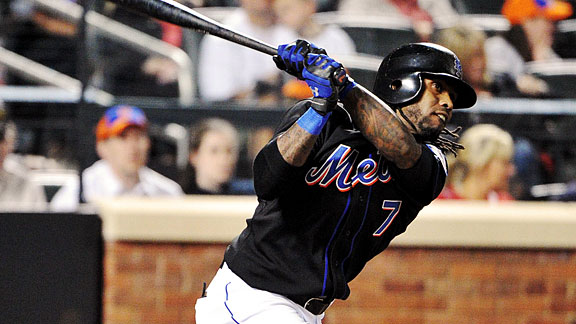 Christopher Pasatieri/Getty Images
Jose Reyes tends to think triple from the moment his swing (such as the one in the seventh inning Saturday) is complete. In honor of No. 7, Jose Reyes, here are seven different notes, nuggets and things to know about his 2011 triples penchant. We drew help from Baseball-Reference.com and other resources in compiling this list.
1: Reyes has 10 triples through the Mets' first 58 team games. It's an extraordinary feat to reach that many triples so quickly.
In the past 75 seasons, only six other players have reached double figures by their teams' 58th game: Stan Musial (1943 Cardinals), Pete Runnels (1954 Senators), Rod Carew (1977 Twins), Willie Wilson (1985 Royals), Deion Sanders (1992 Braves) and Curtis Granderson (2007 Tigers).
2: Reyes has 10 triples, and they've all come at Citi Field. Only one other player in Mets history hit 10 triples in his home ballpark in a single season -- Lance Johnson, who had 12 in 1996. Johnson set the Mets record for triples in a season that year with 21.
Most Career Triples
Mets History
Reyes is one away from matching last season's leader for triples in his home ballpark. Rockies outfielder Dexter Fowler had 11.
3: Reyes has six seasons with at least 10 triples. Only three other Mets have even had one such season: Mookie Wilson (1984), Johnson (1996) and Angel Pagan (2009).
4: According to our Inside Edge pitch type data, seven of the 10 triples have come on fastballs (two of which were classified as sinkers), two have come on curveballs and one has come on a changeup.
Saturday's triple was the first Reyes has hit into the right-field corner this season. His usual spot is spacious right-center field, where he's hit five triples. Of the other four, two have gone to left-center, one has gone to straightaway right field and one has gone to straightaway left field.
Seven of his 10 triples have been classified as line drives. The other three were judged to be fly balls.
5: Reyes currently has a .502 slugging percentage, which makes him look like a much more powerful hitter than he actually is. How much have triples played a role in that?
Consider this: If we replaced five of Reyes' triples with outs, his slugging percentage would be .439, much more in line with his career norms. And if Reyes had only five triples this season, he'd still be tied for second most in the National League.
Jose Reyes
2011 Season
6: A Reyes triple usually contributes significantly to the Mets winning games, but not in 2011. Entering 2011, the Mets won 71 percent of the games in which Reyes hit a triple, but this season, they are just 4-3 when he notches at least one.
They even lost a game in which he had two triples (April 11 against the Rockies) -- the first time they had lost a game in which a player had two triples since Aug. 30, 1981 (Lee Mazzilli).
7: Reyes is currently averaging 4.17 triples per 100 at-bats, an astounding rate, which if maintained for an entire season would be of historic significance.
The last player to average that many triples per 100 at-bats AND qualify for the batting title in the same season was Hall of Famer Kiki Cuyler for the 1925 Pirates!