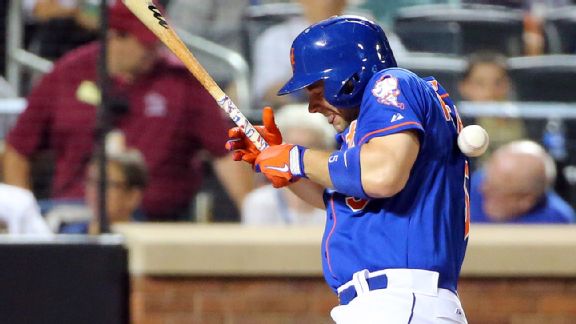 Anthony Gruppuso/USA TODAY Sports
David Wright's already balky shoulder was bruised by a fastball from Dan Straily on Saturday.NEW YORK
FIRST PITCH: Things certainly have improved for the Mets since the Nationals left town.
The Amazin's look to keep beating up on the Cubbies on Sunday. Rafael Montero makes what is expected to be his final start for now, filling in for Jacob deGrom. Montero (0-3, 6.12 ERA) opposes right-hander Jake Arrieta (6-4, 2.77).
DeGrom threw on flat ground Saturday for the first time since going on the DL with rotator-cuff tendinitis and indicated he felt good. He is expected to throw a bullpen session before Sunday's game.
Meanwhile, Sunday marks the one-year anniversary of Travis d'Arnaud's major league debut. He went 0-for-2 with two walks on Aug. 17, 2013 in San Diego.
Sunday's news reports:
• David Wright was struck directly in the troublesome spot in his left shoulder by a fastball from Dan Straily and departed Saturday's game after six innings. Wright is expected to miss Sunday's game, if not longer. Read more in the Post, Newsday and Star-Ledger.
• Read more on deGrom's progress toward a potential return Saturday at Dodger Stadium in the Star-Ledger, Daily News, Newsday and at MLB.com.
• Columnist John Harper in the Daily News reaches the same conclusion as ESPNNewYork.com: Javier Baez or Addison Russell is more likely to be acquired from the Cubs than Starlin Castro. Writes Harper:
For that matter, it's questionable as to whether the Cubs would give up the highly touted Russell.
"But for a young pitcher they see as a potential ace, they might,'' says an NL executive. "They've set themselves up with enough position-player talent to make that type of trade."
Is [Noah] Syndergaard that guy? And would the Mets give him up?
According to the source, it is all still being discussed internally, and the Mets are very tempted to hold onto the best of their young pitchers and try to add offense via the free-agent market, but in any case, they almost certainly will have a new shortstop next season.
Mike Puma in the Post also addresses the Mets at shortstop in 2015.
Columnist Anthony Rieber in Newsday tackles whether Flores can be a capable major league shortstop.
Laura Albanese in Newsday profiles Baez, who currently is playing second base.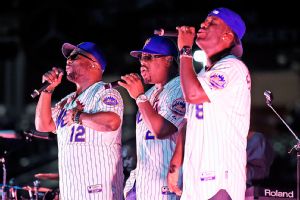 Courtesy of the New York Mets
Boyz II Men performed postgame Saturday at Citi Field.
• Vic Black inherited the bases loaded with none out from Jonathon Niese in the seventh inning and worked out of the jam unscathed as the Mets held on for a 7-3 win against the Cubs at Citi Field on Saturday. The Mets have now won consecutive games while producing four hits or fewer in each for only the fourth time in franchise history. It also occurred in 1989 and twice in 1976.
Black, initially penciled in as the eighth-inning reliever out of spring training, instead opened the season at Triple-A Las Vegas became of erratic Grapefruit League control. Now, he has stranded 19 straight inherited baserunners.
"For the most part, once the season starts, there's just something that clicks, competing on this level and on this stage -- especially in New York and with this team and this group," Black said. "It's something that always heightens you to the point where you need to be."
Said Terry Collins: "The bullpen is night and day from the beginning of the year."
Niese became the seventh left-hander in franchise history to win 50 games with the club. He pitched with a 7-1 lead entering the seventh. He then allowed the first five batters to reach and departed.
"I had an unfortunate seventh inning there," Niese said. "I just wanted to pound the zone. We had a big lead. And they got five straight hits. It kind of happened quick. I was fortunate Vic got out of it. And our offense did a great job putting up seven."
Wilmer Flores had a two-run single in a three-run second inning as the Mets (59-65) grabbed an early lead. Flores, who looked sharp defensively Saturday, is due for a day off after 10 straight starts. Ruben Tejada is due to get Sunday's start at shortstop.
"I told him he was having tomorrow off, so I guess he said I'm going to leave it on the field tonight," Collins said postgame Saturday about Flores. "He absolutely played very, very well tonight defensively. He made some big plays. … I asked him today how comfortable he was getting at shortstop. He said, 'Look, I feel good anyplace you put me.' I thought it was a pretty good statement."
Read game recaps in the Post, Daily News, Newsday, Star-Ledger, Record, Times and at MLB.com.
• Columnist Mike Vaccaro in the Post has this line among his whacks:
Even the most patient Mets fan probably has already reached this conclusion about Matt Harvey at this point: He had better be worth it.
Along similar lines, columnist Mike Lupica in the Daily News writes:
One of these days, Matt Harvey needs to remember -- and that probably means before he hurts his arm again -- that his job is to be a star young baseball pitcher, not some sort of needy celebrity who acts as if he gets the bends when he is out of the spotlight for very long.
• Columnist Filip Bondy in the Daily News tackles the Mets' futility. Writes Bondy:
The Mets are finishing out their sixth straight losing season, without any visible sense of urgency from Sandy Alderson. This is a difficult accomplishment for a big-market team in the era of free agency. Only the Astros are currently matching that total, season for season, after the Pirates and Royals broke their own skids in 2013.
• Daisuke Matsuzaka allowed one run in six innings in a rehab start with Double-A Binghamton in Reading, Pa. Collins expects Matsuzaka will get one more minor-league start before being activated from the disabled list.
• Wilfredo Tovar had a go-ahead three-run homer in the nightcap as Binghamton swept a doubleheader. Vicente Lupo had a game-ending steal of home as Kingsport beat Greeneville, 4-3. Read the full minor-league report here.
• Mike Vorkunov in the Star-Ledger chronicles Curtis Granderson's ties to the Chicago team in the Little League World Series.
• SNY Kidcaster Contest winner Lucas Simms, 12, talks with the Post.
• Lloyd Carroll weighs in on the Mets in the Queens Chronicle.
BIRTHDAYS: St. Lucie reliever Julian Hilario turns 24. ... Left-hander Mike O'Connor is 34.
TWEET OF THE DAY:
All these #Mets fans are delusional for thinking the #Cubs are going to trade any one of Castro, Baez, or Russell right now.

— Mätt Whitäker (@MattDWhitaker) August 16, 2014
YOU'RE UP: Who will be the Mets' shortstop on Opening Day in 2015?