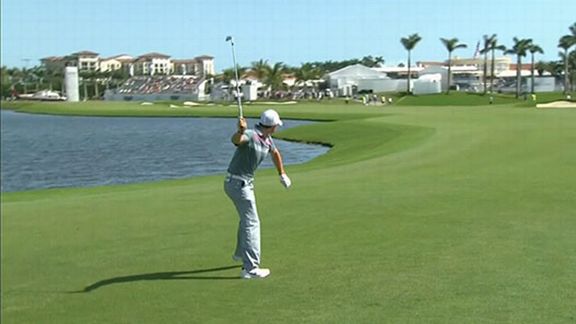 Rob Foldy/Getty Images
Matt Reynolds celebrates his walk-off homer Friday against the Tigers.PORT ST. LUCIE, Fla. -- Shortstop prospect Matt Reynolds delivered a walk-off solo homer in the ninth against left-hander Joe Matinply and the Mets capped Matt Harvey Day with a 5-4 win against the Tigers on Friday at Tradition Field.
After Harvey tossed two perfect innings, Noah Syndergaard followed with a perfect third. The 22-year-old Syndergaard then was touched up for two runs in the fourth. He surrendered two hits and two walks in the frame.
"I was very pleased with the result I got with the exception of a couple of pitches in that second inning that I got out of my mechanics a little bit and started rushing toward home plate," Syndergaard said. "Other than that, I felt like it was a very positive outing."
Manager Terry Collins promised that Syndergaard will get plenty of Grapefruit League innings.
"He's going to leave this camp knowing exactly what he's got to do to get back here," Collins said. "And I'm going to challenge him to get back here fast. I'm going to put a personal challenge out there that it's your turn -- 'A lot of pitchers with your stuff, at your age, should be pitching in the big leagues. And that's what I want you to do here in the next couple of months.'"
Matt den Dekker had a two-out, two-run double in a three-run seventh as the Mets took a 4-3 lead. However, Detroit evened the score a half-inning later against Vic Black.
Ouch: Daniel Murphy and Alex Castellanos both were hit in the hand with pitches and dispatched for late-afternoon X-rays.
Murphy was struck on the top of his right hand in the second inning by David Price. Murphy did not think his injury was more than a bruise.
Castellanos, a utility player signed on a minor-league contract during the offseason, injured both the index and middle fingers on his right hand and appeared to have the more severe issue after getting struck by right-hander Luke Putkonen.
Yips: Jeurys Familia's throwing issues continued Friday. Familia misfired to first base after fielding a fifth-inning comebacker.
According to ESPN's Mark Simon, Familia had eight misplays and errors last season, resulting in minus-three defensive runs saved in only 77 innings.
Oh captain: Although Harvey's return was primary on the agenda, David Wright technically was playing in his first game in a while, too. Yes, Wright did log duty in Tuesday's intrasquad game. But Friday marked his first game against an opponent since last Sept. 8. Wright was shut down for the season after that appearance with looseness in his left shoulder socket.
Wright struck out and grounded into a double play in two at-bats.
"I got to chance to see a good left-hander [Price] and some right-handed sliders, some right-handed fastballs," Wright said. "So it was, all in all, a good day. No matter if it's the first day or the last day, you want to get results. … But as far as the routine and getting into the flow of the game, I felt pretty good."
What's next: The Mets play two Saturday. Jacob deGrom opposes Braves right-hander Mike Foltynewicz in Port St. Lucie at 1:10 p.m. (WPIX). Left-handed prospect Steven Matz opposes Marlins right-hander Henderson Alvarez in Jupiter at 1:05 p.m. Dillon Gee will work in relief in the away game.