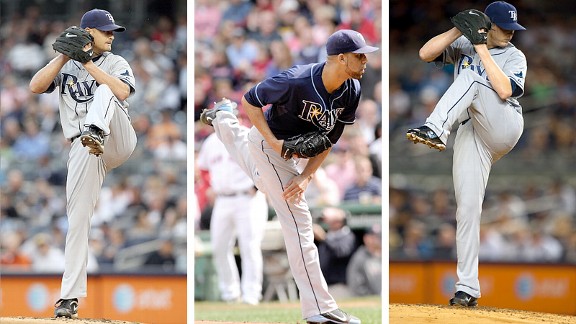 Getty Images/US Presswire
The Mets face (l to r) Alex Cobb, David Price and Jeremy Hellickson during an interleague series in St. Petersburg.METS (32-29, third place/NL East) vs. TAMPA BAY RAYS (35-25, first place/AL East)
Tuesday: RHP Chris Young (0-0, 3.60) vs. RHP Alex Cobb (2-2, 4.12), 7:10 p.m. ET
Wednesday: RHP R.A. Dickey (9-1, 2.44) vs. LHP David Price (8-3, 2.40), 7:10 p.m. ET
Thursday: LHP Johan Santana (3-3, 2.96) vs. RHP Jeremy Hellickson (4-2, 2.65), 1:10 p.m. ET
Rays short hops
• Evan Longoria, who has been on the DL since May 1 with a torn left hamstring, is due to begin a rehab assignment midweek. Six different players have started at third base in Longoria's absence, with defensively sound Sean Rodriguez making 16 of those starts.
• Joe Maddon served on Terry Collins' staff with the Angels. In fact, Maddon became interim manager for the remainder of the season when Collins resigned on Sept. 3, 1999. Maddon also had filled in as Angels manager for eight games the previous season when Collins was serving a suspension. In 2000, Maddon remained with the Angels and served as bench coach for new skipper Mike Scioscia.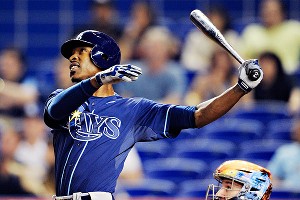 Ronald C. Modra/Getty Images
B.J. Upton played baseball growing up with David Wright in Norfolk, Va.
• Alex Cobb, 24, will make his fifth start of the season and 14th of his career in the series opener. He was promoted from Triple-A Durham on May 19 after Jeff Niemann landed on the DL. In his last start, Cobb allowed four runs in seven innings in a 4-1 Rays loss against the Yankees. Cobb allowed his first career two-homer game, with Mark Teixeira and Robinson Cano taking him deep.
• Tampa Bay's 3.40 ERA leads American League clubs. However, the Rays' .237 batting average leads only the Mariners and A's.
• Ex-Yankee Hideki Matsui is hitting .111 (2-for-18) in his past six games, since homering in the first inning against the Orioles on June 1. Matsui, 37, was promoted from Triple-A Durham on May 30. He signed a minor league deal a month earlier. Matsui is the fourth Japanese player to sign with the Rays, joining infielder Akinori Iwamura and right-handers Hideo Nomo and Shinji Mori. Mori never appeared with Tampa Bay.
• Outfielder Desmond Jennings returned from a left knee sprain last Tuesday after missing 21 games. He has hit safely in all six games since rejoining the Rays.
• Outfielder Matt Joyce leads the Rays with 11 homers, with the latest coming Sunday against Miami's Anibal Sanchez as Tampa Bay completed a sweep of the Marlins.
• Jeremy Hellickson walked a career-high seven in his most recent outing. He allowed only one run and five hits, but was pulled after 4 1/3 innings against the Marlins with his pitch count at 108.
• Center fielder B.J. Upton (.282, 4 HR, 22 RBIs), who was batting in the No. 2 hole, landed in the cleanup slot for three straight games until moving to third Sunday. Upton -- who grew up in Norfolk, Va., with David Wright -- had missed the Rays' first 13 games of season with lower back soreness, which stemmed from an outfield collision with Jennings in a March 14 Grapefruit League game.
• David Price is coming off an outing in which he limited the Yankees to one run and three hits. But Price was pulled after five innings with his pitch count at 109.
• Closer Fernando Rodney has converted 18 of 19 save chances. Rodney (0.94 ERA) is one of four American League relievers who has 20-plus appearances and a sub-1.00 ERA. The others: the Angels' Scott Downs (0.42), Athletics' Ryan Cook (0.69) and Mariners' Lucas Luetge (0.00).
• DH Luke Scott (.220, 9 HR, 35 RBIs) is hitless in his last 15 at-bats and is hitting .135 (5-for-37) in his past 11 games. The former Oriole signed a one-year, $6 million deal with a team option for 2013 on Jan. 23.
• First baseman Carlos Peña (.198, 8 HR, 26 RBIs) rejoined the Rays on a one-year, $7.25 million deal after a 28-homer season in 2011 with the Cubs. Peña is Tampa Bay's all-time home run leader with 152. He averaged 36 long balls, 102 RBIs and 93 walks a season during his first stint with the Rays, from 2007-10.
• Ben Zobrist is hitting only .223 for the season, but he is 7-for-11 with three walks and two homers in his past three games. With Jennings' return, Joyce has moved from left field to right field, pushing Zobrist from the right field to second base.
• Ex-Mets infielder Jeff Keppinger landed on the DL May 21 with a broken right big toe.
Last series results
Tampa Bay won, 2-1, at Citi Field, June 19-21, 2009 (AP game recaps)
Mets 5, Rays 3: Fernando Nieve allowed one run and three hits in six innings and Brian Schneider hit a three-run homer. Filling in for injured John Maine, Nieve has yielded three runs in two outings against the Rays and Yankees -- the highest-scoring teams in baseball. David Wright added an RBI double and Daniel Murphy had three hits. More
Rays 3, Mets 1: Carlos Peña hit a tiebreaking homer off Johan Santana in the seventh inning, sending James Shields and the Rays to a rainy victory. Shields allowed three hits in seven innings and retired his final 14 batters. He outpitched Santana, who rebounded nicely from the worst start of his career. Both starters were lifted after a 73-minute rain delay in the top of the eighth. Dan Wheeler worked a perfect inning and J.P. Howell got three outs for his fourth save. Ben Zobrist added a solo homer in the ninth. More
Rays 10, Mets 6: B.J. Upton homered and matched a career high with four RBIs, Carl Crawford drove in a pair of runs and the Rays awoke from an offensive slumber. Joe Nelson (2-0) won despite allowing a run for the first time in his last nine appearances, while the New York bullpen dropped to 1-7 in June. The top three spots in the Rays order combined to go 11-for-16 with seven RBIs. A little further down, Jason Bartlett had a pair of hits and Gabe Kapler drove in two runs. Brian Schneider hit a three-run homer and streaky David Wright added three hits for the Mets, who have won only one series this month, against last-place Washington. More