PHOENIX
FIRST PITCH: Well, at least the Mets still occupy third place in the NL East after losing to the Arizona Diamondbacks on Friday night.
The first-place Atlanta Braves now have won 14 straight, the longest single-season winning streak in the majors since the Oakland Athletics won 20 straight in 2002.
In the runner-up category in the NL East, Washington (55-60) has a two-game lead on the Mets (52-61), a three-game lead on Philadelphia (52-63) and an 11½-game lead on Miami (43-71).
The Mets try to rebound at 8:10 p.m. ET today when Zack Wheeler (4-2, 3.73 ERA) opposes right-hander Brandon McCarthy (2-5, 4.94).
Saturday's news reports:
• Travis d'Arnaud is the catcher the Mets intend to call up when John Buck requires paternity leave sooner or later, a team insider told ESPNNewYork.com. D'Arnaud played for Triple-A Las Vegas on Friday night for the first time since fracturing the first metatarsal in his left foot on April 17. He went 1-for-3 with a walk.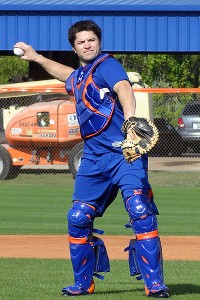 Adam Rubin
Travis d'Arnaud is expected to fill in once John Buck goes on paternity leave.
"I feel like my timing is back," d'Arnaud told the Binghamton Press & Sun-Bulletin before departing Double-A Binghamton on Thursday. "I feel good at the plate. I feel good behind the plate. I just feel good in general."
• David Laurila at fangraphs.com has a Q&A with Mets manager of baseball analytics Ian Levin.
"Trying to better quantify defense is something teams are working on, and some of that information isn't necessarily in the public domain," Levin tells Laurila. "To find a way to value defense appropriately -- within the environment of how we value it with offense and pitching -- would be extremely valuable. That's where some players get a lot of their value, and ideally you can quantify just what that value is. That's easier said than done.
"While we're very good at quantifying offensive performance, I think there are variables that can't be completely measured. There are still things that aren't quantifiable in terms of projecting how players are going to develop and perform in future situations. Fielding is the same way, but with fewer clearly measurable variables. First, we'll need to be confident in our explaining past defensive performance properly through objective metrics.
"If we can do that, we might be able to get to where we want to be. Some of the information that can help is available at the major-league level but isn't available at the minor-league level, and probably isn't going to be anytime soon. I think there is always going to be a strong need for the scouting perspective. I think scouting is the most important component of defensive metrics, and it may continue to be."
• Scott Atchison surrendered a walk-off homer to Paul Goldschmidt and the Diamondbacks beat the Mets, 5-4, at Chase Field. Jeremy Hefner allowed four runs in five-plus innings. Marlon Byrd and Juan Lagares were thrown out on the bases. Justin Turner contributed three RBIs.
Read game recaps in the Post, Daily News, Newsday, Times, Star-Ledger, Record and MLB.com.
• Jeurys Familia, who had surgery to clean out his right elbow in early June, is due to step on a mound for the first time since the procedure any day. Meanwhile, Frank Francisco has not been on a mound in weeks.
• David Wright remains in New York getting treatment on his strained right hamstring, and Terry Collins is unsure when he will return. Read more in the Star-Ledger and Newsday.
• Josh Rodriguez produced a tiebreaking RBI double and Chase Huchingson recorded his first professional save as Binghamton earned a doubleheader split with a 7-6 nightcap win against Erie. Pedro Perez drove in three runs for Kingsport. Read the full minor league recap here.
• Jorge Castillo in the Star-Ledger writes about Ike Davis sitting Friday against left-hander Patrick Corbin, as has been Davis' pattern against southpaws since returning from the minors.
• LaTroy Hawkins retweeted an ESPNDallas.com story quoting Dallas Mavericks owner Mark Cuban being critical of MLB commissioner Bud Selig. Cuban accuses Selig of being the equivalent of a mafia boss.
Asked if he endorsed that sentiment given his retweet, Hawkins would only say: "I like Mark Cuban. I like Mark Cuban a lot."
Earlier in the week, Hawkins retweeted this in which a person writes about Biogenesis and PEDs in baseball: "Selig allowed it to happen, got rich because of them & is now backstabbing all of them for it. He should be tried & jailed."
BIRTHDAYS: Brandon Lyon, released earlier this season by the Mets, turns 34. He subsequently pitched briefly for Triple-A Pawtucket, but opted out at the beginning of the month and has not resurfaced. … Gerald Williams is 47. … Chuck Carr is 46.
TWEET OF THE DAY:
Soooo everyone knew that was the only way for that game to end right? #Mets

— Ricco Machado (@RiccoMachadoSon) August 10, 2013
YOU'RE UP: How do you think Travis d'Arnaud will perform at the major league level this season when he finally gets his chance?