NEW YORK -- Robby Coles grew up 15 minutes south of Tallahassee, Fla.
He finally got to realize a dream in 2013, when he pitched one season for Florida State. The Mets then drafted Coles in the 28th round last year, and he turned pro after the lone season as Seminoles closer.
Coles estimated he would go to 10 or 15 FSU baseball games a year while growing up. Attending Seminoles football games were rare, though, because it was hunting season, and the family would just listen to the games while in the woods.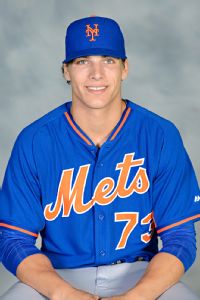 Courtesy of New York Mets
Robby Coles
"If I ever was going to go to a D-I, I was going to go to FSU, no matter what," he said.
Coles, a 6-foot-right-hander who turns 23 next Wednesday, opened this season with Savannah. He was 11-for-11 in save conversions while going 0-2 with a 1.95 ERA. He had 32 strikeouts and five walks in 27 2/3 innings with the Gnats.
After representing Savannah in the South Atlantic League All-Star game, Coles became part of the mass promotions to St. Lucie. Not the closer with the Florida State League club, Coles nonetheless is 1-0 with a 3.44 ERA and one save in 13 relief appearances. He has walked 12 (one intentional) and hit two batters in 18 1/3 innings.
Cole's fastball sits at 88-90 mph, although it topped out at 95 mph at FSU. He throws a split-finger, changeup and slider.
Because Coles grew up in the Florida panhandle, his family actually lives closer to Savannah than any of the Florida State League teams' stadiums.
Coles said the highlight of his lone season at Florida State was pitching a scoreless ninth against the University of Florida in Jacksonville to preserve a 2-1 lead. The game was played in the home of Jacksonville's Double-A team.
"It was awesome," Coles said. "I can't even remember how many people were there. It was like the biggest crowd I ever pitched in front of."
FSU reached a Super Regional before getting knocked out by Indiana that season.
Although he partially worked as a starting pitcher during his first two college seasons at Chipola Junior College, his preference is closing.
"I started as a closer and then our No. 1 got into some trouble and I ended up getting moved to a starter. So I started the rest of the year my freshman year," Coles said. "I was a starter at the beginning of my sophomore year and ended up getting pushed to closer."
Organization leaders
Average: Matt Reynolds, Vegas, .344; T.J. Rivera, Binghamton, .341; Matt den Dekker, Vegas, .334; Dilson Herrera, Binghamton, .319; John Mora, Brooklyn, .318; Jean Rodriguez, Kingsport, .316; Enmanuel Zabala, GCL Mets, .315; Jeff McNeil, St. Lucie, .311; Wuilmer Becerra, Kingsport, .306; Kevin Plawecki, Vegas, .300.
Homers: Brian Burgamy, Binghamton, 21; Dustin Lawley, Binghamton, 20; Andrew Brown, Vegas, 19; Allan Dykstra, Vegas, 15.
RBIs: Allan Dykstra, Vegas, 71; L.J. Mazzilli, St. Lucie, 70; Brian Burgamy, Binghamton, 69; T.J. Rivera, Binghamton, 66.
Steals: Patrick Biondi, Savannah, 23; Dilson Herrera, Binghamton, 22; Champ Stuart, Savannah, 22; Jeff McNeil, St. Lucie, 16; Darrell Ceciliani, Binghamton, 16.
ERA: Marcos Molina, Brooklyn, 1.78; Steven Matz, Binghamton, 2.33; Robert Gsellman, Savannah, 2.34; Corey Oswalt, Brooklyn, 2.54; John Gant, Savannah, 2.55; Kevin McGowan, St. Lucie, 2.86; Matt Bowman, Binghamton, 3.05; Darin Gorski, Vegas, 3.33; Tyler Pill, Binghamton, 3.94; Ricky Knapp, Savannah, 3.98.
Wins: Gabriel Ynoa, Binghamton, 10; John Gant, Savannah, 10; Greg Peavey, Binghamton, 10; Logan Verrett, Vegas, 10.
Saves: Chasen Bradford, Vegas, 15; Akeel Morris, Savannah, 13; Cody Satterwhite, Binghamton, 13; Shane Bay, Brooklyn, 12; Robby Coles, St. Lucie, 12.
Strikeouts: Noah Syndergaard, Vegas, 119; Steven Matz, Binghamton, 111; Dario Alvarez, St. Lucie, 105; Darin Gorski, Vegas, 105; Tyler Pill, Binghamton, 104.
Short hops
• Brian Burgamy and Dustin Lawley each have reached the 20-homer plateau with Binghamton. The last time the B-Mets had a pair of players achieve that total came in 2001, when Rob Stratton finished with 29 and Earl Snyder had 20. Burgamy is hitting .346 with six homers and 16 RBIs in 22 games since the Eastern League All-Star break.
• Brooklyn right-hander Martires Arias was named New York-Penn League Pitcher of the Week. Combined with his previous work at Kingsport, he has a 22-inning scoreless streak. Arias, 23, became the second Cyclone to win the award this season. Corey Oswalt received the honor for the week ending July 21.
• Shortstop Amed Rosario, who is the fourth-youngest player in the NYPL, is hitting .305 (32-for-105) in his past 24 games. His hit total in that span is the second-most in the league. Overall, Rosario is tied for the league lead with five triples.
• 2013 first-round pick Dominic Smith slugged his first homer of the season on Saturday at Augusta.
• Will the Mets be relegated to remaining in Las Vegas for another two years? That's to be determined, but it's certainly possible. By rule, the Mets are not permitted to start exploring potential relationships with International League teams until mid-September.
• Savannah's Robert Gsellman hasn't allowed an earned run in 12 innings over his last two starts. He has struck out nine and walked two during that span. Gsellman, a 13th-round pick in 2011 out of high school in Los Angeles, leads the South Atlantic League with four complete games and ranks second in ERA at 2.34. Teammate John Gant (10-5) is third in the SAL in ERA at 2.55 and leads the team with 102 strikeouts.
• Right-hander Rob Whalen's unbeaten run to start the season with Savannah ended Tuesday, when he was charged with three eighth-inning runs in a 3-2 loss to Asheville. Whalen had turned over the bases loaded with the score tied and one out in the eighth to Akeel Morris, who allowed one inherited runner to score. Since returning from the disabled list on July 23 following surgery to address a hand infection, Whalen had been 3-0 with the Gnats. He had been 7-0 with a 1.42 ERA in seven starts for the season.
• After hitting .163 in July, 2012 first-round pick Gavin Cecchini has turned things around this month with St. Lucie. Cecchini is batting .364 with two homers and 11 RBIs in 11 games in August. He also has 10 walks, for a .500 on-base percentage this month.
• St. Lucie third baseman Jeff McNeil extended his hitting streak to 11 games Tuesday with a 2-for-3 night that also included a walk and three runs scored.
• Right-hander Domingo Tapia has a 2.86 ERA in six starts since the beginning of July with St. Lucie. He has struck out 24 and walked 14 during that span.