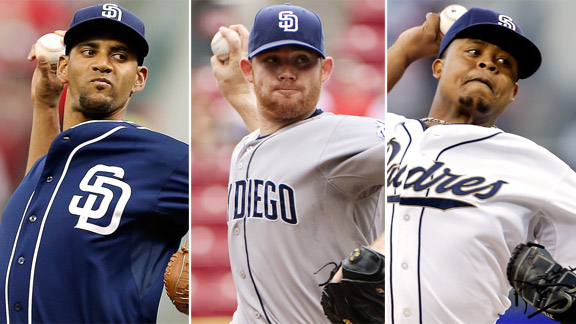 Getty Images
The Mets face (l to r) Tyson Ross, Ian Kennedy and Edinson Volquez during the opening three games of a series at Petco Park.METS (54-64, third place/NL East) vs. SAN DIEGO PADRES (54-66, fourth place/NL West)
Thursday: RHP Zack Wheeler (5-2, 3.63) vs. RHP Tyson Ross (3-5, 2.75), 10:10 p.m. ET
Friday: LHP Jonathon Niese (4-6, 4.45) vs. RHP Ian Kennedy (4-8, 4.97), 10:10 p.m. ET
Saturday: RHP Jenrry Mejia (1-2, 2.22) vs. RHP Edinson Volquez (8-10, 5.80), 8:40 p.m. ET
Sunday: RHP Matt Harvey (9-4, 2.23) vs. LHP Eric Stults (8-10, 3.68), 4:10 p.m. ET
Padres short hops
• Outfielder Will Venable has a career-high 11-game hitting streak.
• Third baseman Chase Headley is hitless in his last 13 at-bats.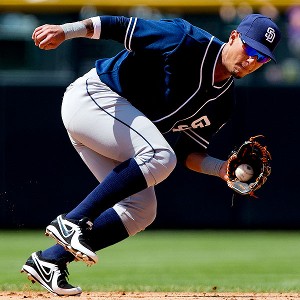 Justin Edmonds/Getty Images
Ex-Met Ronny Cedeno has replaced suspended Everth Cabrera at shortstop.
• Closer Huston Street has converted eight straight save chances and has made 12 straight scoreless appearances. He is 46 for 48 in save chances as a Padre since joining the club for the beginning of the 2012 season. That is the best save percentage in the majors during that span.
• Edinson Volquez's 5.80 ERA is the highest in the NL among qualified starters, but he remains in the rotation. The Cubs' Edwin Jackson is second-worst at 5.05. Volquez is a candidate to be designated for assignment in the not-to-distant future without an upturn in performance.
• The Diamondbacks dealt underachieving right-hander Ian Kennedy to the Padres at the trade deadline for situational left-hander Joe Thatcher, potential future closer Matt Stites and a draft pick. Kennedy, a 21-game winner two years ago, was 3-8 with a 5.23 ERA in 21 starts for Arizona this season. With San Diego, he blanked the Cincinnati Reds for seven innings in his last outing before surrendering a two-run homer to Xavier Paul in the eighth.
• Ex-Met Ronny Cedeno joined the organization on a minor league deal on Aug. 2, a week after being released by the Houston Astros. He had been in spring training with the St. Louis Cardinals. Cedeno made his Padres debut Aug. 7 and has started the past two games at shortstop. He is sharing the role with Logan Forsythe. The Padres lost Everth Cabrera to a 50-game Biogenesis-related suspension.
• Left fielder Carlos Quentin is eligible to return from the DL for the series opener against the Mets, but is experiencing continued knee soreness and will remain inactive through the weekend. Fellow outfielder Cameron Maybin also had a knee flare-up, during a rehab assignment with Triple-A Tucson, and remains on the DL. Maybin may be lost for the season.
• John Buck is not the only catcher potentially departing on paternity leave this weekend. Padres catcher Nick Hundley's wife is due -- overdue, actually -- as well. Hundley's wife had been due Sunday. Yasmani Grandal is on the DL with a right knee sprain. Rene Rivera is the current backup. Rivera played for Triple-A Buffalo as a Mets farmhand in 2009.
• Rookie second baseman Jedd Gyorko has struggled since returning July 12 from a right groin strain that cost him 30 games. Although he is hitting only .165 since his activation from the DL, he did homer twice during this past series at Colorado.
• Right-hander Tyson Ross, who was acquired from the Oakland Athletics in November, is 3-1 with a 1.33 ERA in four starts since reentering the rotation from the bullpen. Opponents are hitting .135 against him during that span.