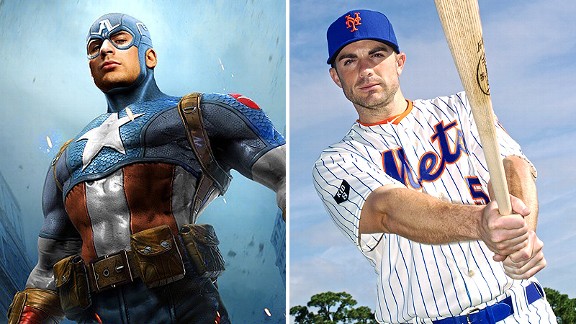 Marvel/Associated Press
David Wright, also known as Captain America, had a game-tying ninth-inning homer against Craig Kimbrel on Friday night.
ATLANTA
FIRST PITCH: After suffering a pair of demoralizing defeats early this week in Miami, the Mets felt good to be the team to come back a few outs from defeat.
David Wright produced a one-out homer in the ninth on a 97 mph fastball from Atlanta Braves closer Craig Kimbrel and the Mets ultimately won, 7-5 in 10 innings, Friday night at Turner Field.
"They're one of the best in the game -- and then arguably the best in the game pitching the ninth," Wright said about Atlanta's bullpen and specifically Kimbrel. "Any time you get the opportunity to win a close game late against these guys, you've got to take advantage of it, because that opportunity doesn't come around too often."
Jonathon Niese (2-2, 3.31 ERA) looks to up the Mets' winning streak to three games when he opposes right-hander Julio Teheran (1-0, 5.08) at 7:10 tonight. Rain is forecast.
Saturday's news reports:
• Sandy Alderson offered a vote of confidence -- or, at least, no indication Terry Collins' job is in jeopardy anytime soon. Alderson also told Mike Puma in the Post about the 2013 Mets: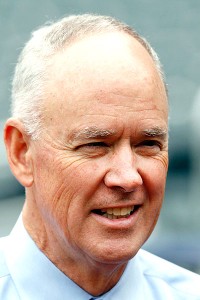 William Perlman/US Presswire
Sandy Alderson in Atlanta commented on Terry Collins and the Mets' performance.
"When you're not hitting, it basically puts pressure on every aspect of your game. And our starting pitching has to get into the sixth and seventh inning. And I don't believe our bullpen is as bad a part of that doomsday scenario. If you look at that pen, we've actually got some guys that have pitched well. Have they pitched well in high-leverage situations? Inconsistent.
"There's a lot of the season left to play out," the GM continued. "I do think perceptions are heightened when you go into Miami, a place everybody thinks every team should sweep ... and you end up losing two games, and you lose them basically with no offense the first two nights. But you move forward."
Read more in the Daily News.
• Jordany Valdespin irked Mets people by failing to show up for early batting practice Friday at Turner Field, sources told ESPNNewYork.com. Valdespin, after contributing to the win with a 10th-inning pinch-hit walk and steal, suggested he was not required to attend.
Jared Diamond in the Journal discusses the merits of Valdespin as a pinch hitter and starter.
• John Buck, Lucas Duda, Marlon Byrd and Wright all went deep in the Mets' victory Friday night. Bobby Parnell inherited a runner on third base with one out from Brandon Lyon in the bottom of the ninth and wriggled free to send the game to extra innings. Jeurys Familia earned his first major league save and could be setting himself up for more late-inning work. Shaun Marcum lasted only 4 1/3 innings. The Mets felt they caught a break when Braves manager Fredi Gonzalez lifted Mike Minor after seven innings and 90 pitches, even though the southpaw had retired 18 straight batters.
Read game recaps in the Post, Daily News, Star-Ledger, Newsday, Record, Times, Atlanta Journal-Constitution and MLB.com.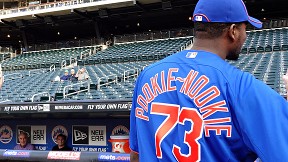 Adam Rubin
Robert Carson says his mother may wear this jersey to tonight's game. Carson's mother began calling him "Pookie-Nookie" when he was young. When Mets teammates found out last year, they had the jersey made.
• Read a transcript of Braves postgame quotes from David O'Brien in the AJC.
• Read more on Marcum in the Post.
• Mike Piazza made an appearance with the Miami City Ballet on Friday.
• There will be less Collin Cowgill with the Mets. Actually, none at all for the time being. Cowgill was demoted Friday to clear a roster spot for the promotion of fellow outfielder Andrew Brown. Brown went 0-for-3 with a strikeout in his Mets debut as the starting right fielder. Read more in the Times, Star-Ledger, Newsday and MLB.com.
• Center fielder Kirk Nieuwenhuis had an amazing catch Friday night for Triple-A Las Vegas at Sacramento.
• Right-hander Noah Syndergaard, who arrived with Travis d'Arnaud in the R.A. Dickey deal, suffered his first loss as a member of the organization despite limiting Fort Myers to one run in six innings. Read the full minor league recap here.
• Kieran Darcy at ESPNNewYork.com profiles Columbia slugger and military veteran Joey Falcone, the son of former Mets pitcher Pete Falcone.
• Justin Turner started over Ike Davis at first base on Friday. Read more in the Record.
• Drink alcohol in the Citi Field parking lot and risk a $25 fine, writes Eric Holden at Yahoo Sports.
• From the bloggers … In recognition of the Kentucky Derby, John Delcos at Mets Report gives Mets of past and present horse names. … Faith and Fear in Flushing marvels how the Atlanta opener was two games in one. … At Mets Police, a Mets-themed coffin and a group photo of Piazza's ballet. … Rising Apple writers opine on April and what the Mets ought to do going forward.
BIRTHDAYS: Infielder Miguel Cairo is 39. … Catcher Robinson Cancel, who was nicknamed by teammates "La Tortuga," turns 37. … Reliever Manny Aybar is 41.
TWEET OF THE DAY:
Good game tonight lets go mets.Good night thanks to all my fans for the amazing support love my fans#TeamJV1 #ClanJV1

— Jordany Valdespin (@jordany023) May 4, 2013
YOU'RE UP: Did you agree with Collin Cowgill getting demoted for Andrew Brown?