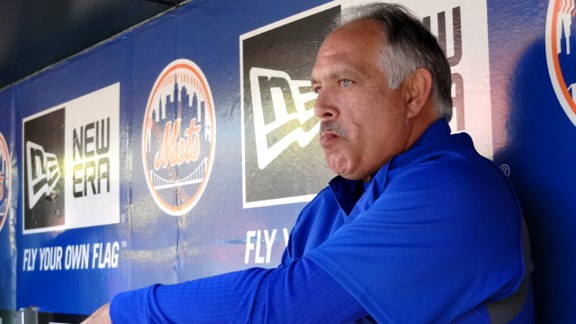 Adam Rubin
Triple-A manager Wally Backman maintains a solid relationship with Terry Collins.
PORT ST. LUCIE, Fla.
FIRST PITCH: Wally Backman and Terry Collins have a strong relationship that might be tested this year if fans start clamoring for Backman to unseat the lame-duck Collins.
Backman still passionately wants to manage in the majors, but is saying the right things.
Writes Ken Davidoff in the Post:
He vows to stay cool in what could be an awkward 2013 Mets universe, as manager Terry Collins faces an uncertain future and a gaggle of Mets fans yearn for the fiery Backman to get the next shot.
"You know, Terry and I have been close since 1990 [with the Pirates]," Backman, the manager of the Mets' Triple-A affiliate Las Vegas, told The Post. "I know that his contract's coming up, and he knows it. Everybody knows it. It's a tough spot for him and, really, for me.
"My focus is, it's going to be tough enough for me in Vegas. Vegas is a tough place to control 25 players. That's what I'm really trying to focus on. What happens is going to happen. Nobody knows."
Fred Wilpon reaffirmed this week that Collins' status would be reviewed at the end of the season, as the contract is due to expire.
Truthfully, Backman may not be in line to succeed Collins. Two years ago, a source told ESPNNewYork.com, Backman was slated to be on the Mets' major league staff as a coach, but it was nixed at a high level.
Bench coach Bob Geren, who has ties to the front office from the Oakland Athletics, as well as third base coach Tim Teufel might be more likely internal candidates.
And, let's not forget, Collins could just be extended at season's end.
"He's done an excellent job in all respects," Wilpon said. "He handles the public-relations side very well. He's honest. You guys believe him. … I think he knows talent. We will evaluate Terry at the end of the year, not only from where the club lands, but what his overall job was."
Friday's news reports:
• SNY's pregame show officially moves to one hour starting April 1, when "Wheelhouse" will be canceled. Writes Neil Best in Newsday:
The network this season will add Mets First Pitch at 6 p.m. for 7 o'clock games, a half-hour before the traditional 6:30 pregame show. … Like YES Yankees Batting Practice, the earlier program will allow for longer-form elements such as interviews, features, instructional segments with SNY analysts and more of manager Terry Collins pregame media sessions.
Read more in the Daily News.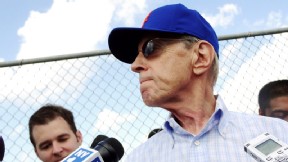 Adam Rubin
The New York Times couldn't get an answer to Fred Wilpon's use of the word "zimmo" to describe his real-estate investments.
• On Wednesday, Wilpon used the word "zimmo" to describe his skyrocketing real-estate investments. Richard Sandomir in the Times tried to learn the origin of the word and struck out. Writes Sandomir:
Ben Zimmer, the language columnist for The Boston Globe -- he has never been called Zimmo to his face -- said in an e-mail that Wednesday's bit of Fred Speak "strikes me as a playful ad hoc formation, possibly influenced by such cartoonish words as 'whammo' and 'blammo,' onomatopoetically suggesting an explosion."
• Andy Martino in the Daily News notes one potential complication in trading Johan Santana in July is that the southpaw's contract will vest for next season at $25 million if he reaches 215 regular-season innings this year. Santana hasn't reached that total since 2008, so that may not be a major concern, but a playoff-bound team will at least have to weigh it.
Only 12 major league pitchers reached 215 innings last season: Justin Verlander, R.A. Dickey, Felix Hernandez, Clayton Kershaw, James Shields, Hiroki Kuroda, Matt Cain, Jake Peavy, Clayton Richard, Jason Vargas, Johnny Cueto and Cole Hamels.
Otherwise, Santana's option becomes a player option if he wins the Cy Young Award. If neither happens, he gets a $5.5 million buyout in addition to his 2013 salary ($25.5 million).
• The Mets gave gritty outfielder Collin Cowgill the No. 4, which Lenny Dykstra also wore in Flushing. That link was unintentional, but Cowgill has been compared with Dykstra before, Mike Puma writes in the Post.
Rico Brogna, who managed Cowgill in Double-A, sees the similarity. Cowgill told Puma about playing for Brogna: "He was like, 'Man, I was thinking about Lenny today and I want you to lead off.' I tell you, that's big shoes to fill right there."
• Collins noted he would likely defer to veterans in the bullpen if the spring-training competition is close, which reinforces that Pedro Feliciano, Scott Atchison and LaTroy Hawkins -- all on minor league contracts -- have legs up unless there is an enormous disparity in spring-training performance with a youngster. Read more in the Post.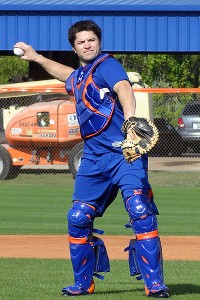 Adam Rubin
Travis d'Arnaud was praised by his former coaches with the Phillies, his original organization.
• Mike Compton, who was the catching instructor in the Phillies' organization when Travis d'Arnaud first was drafted by that organization and turned professional out of high school, offered rave reviews of the catching prospect to Kevin Kernan in the Post.
"The great ones just have a different gear. Travis is one of those guys,'' Compton told Kernan. "It's like Usain Bolt. He can just run faster than other people. It's just there. I was with Johnny Bench when he was a young fella, and Travis, when he's off on another field and you look over, physically he walks and looks a lot like Johnny. His shoulders hang like John's. He's got big hands like John, and the mannerisms. He's got a lot of tools and he is such a gifted hitter.''
Read d'Arnaud features in the Times and MLB.com.
• Best, in Newsday, has a critical review of Piazza's autobiography, "Long Shot." Writes Best:
Piazza seeks to add to his credibility by copping to various subsequently banned products, including amphetamines, Vioxx and androstenedione, an ingredient in an over-the-counter supplement he used in the 1990s. But even Piazza knows that by now, it is impossible to take athletes' PED denials at face value, so many people do not believe him and never will. …
Veteran baseball writer Murray Chass wrote on his blog Thursday that Sports Illustrated's Michael Bamberger initially was to write the book with Piazza but backed out, citing concern about whether Piazza was prepared to tell all. "He wouldn't commit at that point to being forthcoming," Bamberger told Chass . "On that basis, I didn't feel comfortable going ahead. I hope he addressed it in a truthful way." …
Piazza spoke only to a carefully selected group of interviewers this week, with but one extensive print interview, further adding to the murkiness.
• Lucas Duda, who underwent offseason surgery for a fractured wrist, is capped at 60 swings a day for now. "It feels good," Duda told Marc Carig in Newsday. "There's no limitations. It's just the amount, I guess, that would be the limitation. But it feels good. I don't foresee it impacting anything."
• In Newsday, Carig profiles reliever Brandon Lyon. Read more in the Record.
• Bill Madden in the Daily News notes Matt Harvey and Zack Wheeler are lockering side by side.
• Mike Kerwick in the Record speaks with early arriver Ruben Tejada.
• Jared Diamond in the Journal weighs the value of reporting early.
• Jorge Castillo in the Star-Ledger notes Atchison is pitching with a ligament tear in his right elbow.
• Castillo looks at the four leadoff candidates: Tejada, Cowgill, Kirk Nieuwenhuis and Mike Baxter.
• From the bloggers ... Mets Police looks at pictures from the 1983 yearbook, when field-box seats cost $8, Seaver was back and two cute kids told us about the promotional calendar.
BIRTHDAYS: Right-hander Barry Jones, who appeared in 17 games for the Mets in 1992, was born on this date in 1963.
TWEET OF THE DAY:
That's a shame. Was sadly the highlight of some games. RT @adamrubinespn: Turner dumping Carly Rae Jepsen es.pn/WqKsmW #NYM #Mets

— Alex Schwartz (@NorthstarBball) February 14, 2013
YOU'RE UP: If Terry Collins were replaced for 2014, whom would you like to see manage the ballclub?
Please use the comments section to weigh in