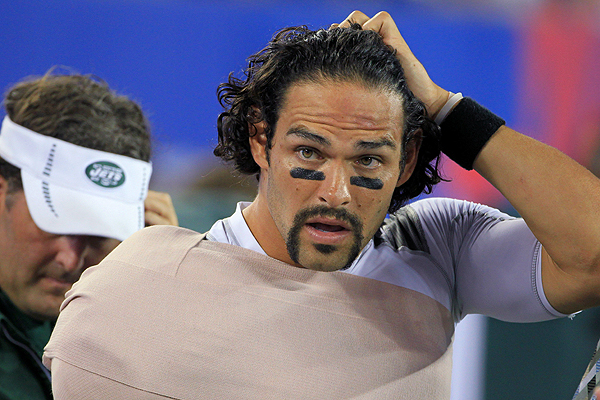 John Munson/The Star-Ledger/USA TODAY Sports
Mark Sanchez will be watching the Jets, not the Mets, on Sunday afternoon.FIRST PITCH: Are you ready for some … Daisuke Matsuzaka?
Going up against the Jets game versus the Tampa Bay Buccaneers, Matsuzaka faces the Cleveland Indians at 1:05 p.m. as the Mets look to avoid getting swept at Progressive Field.
Matsuzaka pitched for the Indians' Triple-A affiliate for most of this season. He brings an 0-3 record and 10.95 ERA into his matchup with rookie right-hander Danny Salazar (1-2, 3.00).
The Mets (63-77) now have the eighth-worst record in the majors, which would translate into getting a first-round draft pick that is protected regardless of how aggressive they are in free agency next offseason.
A loss today would drop the Mets 15 games under .500, which would match the season's low-water mark. They were 24-39 on June 15, and 25-40 two days later. A loss, or Atlanta Braves win, also would mathematically eliminate the Mets from NL East contention. The wild card tragic number is 5.
Sunday's news reports:
• Whether it is because they are shorthanded or intend to trade him, the Mets decided to bring Frank Francisco back to the major league level with Binghamton's postseason elimination. Francisco had been out the entire season after undergoing seemingly benign surgery last Dec. 18 to remove a bone spur from his pitching elbow. If the Mets were to trade Francisco, he would be ineligible for the acquiring team's postseason roster. Still, he could help a team like the Yankees get to October, while providing the Mets some salary relief.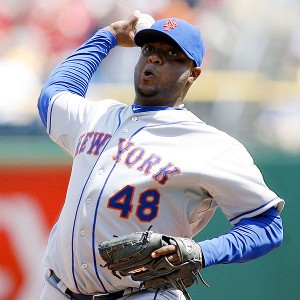 Charles LeClaire/US Presswire
The Mets welcome back Frank Francisco today.
ESPN's Pedro Gomez recalled the Yankees acquiring left-hander Rick Honeycutt on Sept. 25, 1995. (He subsequently faced only six batters.) More recently, the Mets considered trading Chris Capuano to the Boston Red Sox two years ago for one late-season start.
Francisco is owed $781,420.77 from today through the remainder of the season (22 days of a 183-day season). Mets insiders previously had predicted Sandy Alderson would release Francisco before letting him get to the major league level.
Read more in the Post, Star-Ledger, Daily News and Record.
• The Mets announced postgame Saturday that reliever Greg Burke would join the Mets today in Cleveland. The team also is expected to add veteran right-hander Aaron Harang before next Saturday's doubleheader against the Miami Marlins at Citi Field.
Team insiders told ESPNNewYork.com that the Mets, as of Friday, also planned to call up Ruben Tejada, Mike Baxter and catcher Juan Centeno, but abruptly reversed course midday Saturday.
The Mets still may intend to call up Tejada at a later date -- the Daily News reported they will Monday -- but there was conflicting information because of the seemingly sudden reduction in the number of call-ups. If the Mets wait until Tuesday, they would delay Tejada's free agency by a year, although it is now hard to envision him in the team's plan four seasons down the road anyway. Alderson did not reply to a text message Saturday about whether Tejada eventually would be promoted.
• Las Vegas was eliminated Saturday in its best-of-five series. The lone Mets affiliate still alive is low-Savannah, which opens its South Atlantic League championship series Monday at Hagerstown, a Washington Nationals affiliate.
• Jonathon Niese allowed five first-inning runs and Scott Atchison surrendered a three-run homer to Asdrubal Cabrera in the seventh as the Mets lost to the Indians, 9-4, Saturday. The Mets dropped into fourth place in the NL East.
Read game recaps in the Post, Daily News, Times, Record and MLB.com.
• Jorge Castillo in the Star-Ledger revisits with Michael Bourn the Mets' failed pursuit of him as a free agent last offseason. Mets officials visited Bourn at his home in Texas, but have suggested they backed off at the end because they may have needed to forfeit the first-round draft pick they eventually used on high school first baseman Dominic Smith.
• Marc Carig in Newsday discusses Travis d'Arnaud's major league performance so far.
• David Wright is returning to New York with minor league seasons complete and the Mets' Port St. Lucie, Fla., complex barren. Wright, on the DL with a strained right hamstring, will take batting practice and do other baseball activities at Citi Field. He is not ready for games. Read more in the Star-Ledger.
BIRTHDAYS: Bobby Parnell, on the disabled list with a herniated disc in his neck, turns 29.
TWEET OF THE DAY:
Ad from 1969 #NYJets game program. What are odds we see this again? @darrenrovell #mets #NFL pic.twitter.com/zbz5B0Bibw

— john_kucko (@john_kucko) September 7, 2013
YOU'RE UP: Do you think the Mets should call up Ruben Tejada?