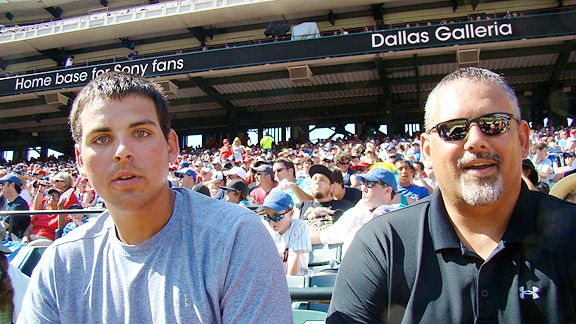 Adam Rubin
Oklahoma prep right-hander Michael Fulmer, the 44th overall pick in the draft, watched Saturday's Mets-Rangers game from the second row with father J.P. and the rest of his family.
Prep right-hander Michael Fulmer, who announced on Twitter this week that he had agreed to terms with the Mets but not yet signed, drove three hours with his family from Edmond, Okla., to watch the Mets play the Rangers. Fulmer, the 44th overall pick in the draft, who has committed to the University of Arkansas, sat in the second row, next to the Mets' dugout.
Fulmer, 18, plans to stick around for Sunday's game too and is hoping to meet some of the current Mets. He is planning to be introduced by scouting director Chad MacDonald.
The Mets said there were three standout prep right-handed pitchers in Oklahoma, and they got one of them. The other two: fourth overall pick Dylan Bundy and seventh overall pick Archie Bradley.
"It feels amazing," Fulmer said about being included in that group. "Dylan and Archie are both outstanding pitchers, great guys and everything. I met them for the first time this year. I'm blessed to be in the same category as them."
As for his pitching style, Fulmer added: "I'm a competitive guy. I don't like to give up free bases. I don't like to walk guys. My mentality is to go out there and get the guys out, strike them out if necessary."