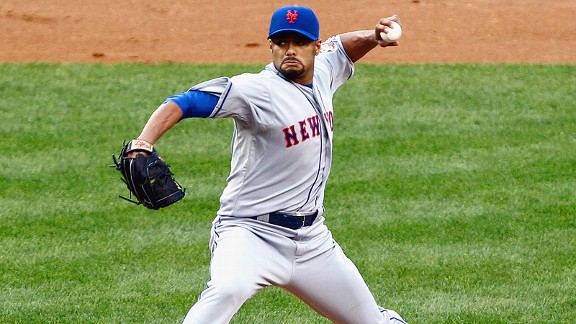 Debby Wong/US Presswire
Johan Santana wasn't sharp in his first game after the no-hitter. Terry Collins blamed himself, saying two extra days of rest deprived Santana of his sharpness.
In his first start since last Friday's no-hitter, Johan Santana matched a career high by serving up four homers -- including back-to-back-to-back blasts by Robinson Cano, Nick Swisher and Andruw Jones in the third inning -- as the Yankees routed the Mets in the Subway Series opener, 9-1, Friday in the Bronx.
Yankees starter Hiroki Kuroda held the Mets hitless until Omar Quintanilla's two-out double in the sixth.
Santana, who entered the outing having tossed consecutive shutouts, had never allowed homers to three straight batters. The last Met to surrender three straight homers: John Maine at Dodger Stadium on June 12, 2007. Santana had only surrendered four total long balls total in his first 11 starts of the season. His line in an 86-pitch effort: 5 IP, 7 H, 6 R, 6 ER, 1 BB, 5 K, 4 HR.
Afterward, Terry Collins blamed himself for Santana's performance, suggesting the two extra days of rest upset the ace's sharpness.
Collins originally wanted Santana to pitch on one extra day of rest Thursday, with R.A. Dickey pitching a day early and Jeremy Hefner unneeded for a spot start. Santana replied that he did not want to disrupt Dickey's groove. So Santana requested to go on normal rest Wednesday, albeit with a low pitch count. Instead, Collins opted for the two extra days following Santana's 134-pitch no-hitter.
"He's rusty," Collins said. "It's my doing, not his. ... We erred on the side of caution and it cost us the game tonight."
Tonight at 7:15 p.m. on Fox, Dillon Gee (4-3, 4.48) opposes Yankees right-hander Phil Hughes (5-5, 4.96) in the Bronx.
Saturday's news reports:
• Rookie Elvin Ramirez could not limit the damage after Santana departed. Ramirez, making his third major league appearance, walked four and was charged with three runs in 1 2/3 innings. The Mets' lone run came with two outs in the ninth inning against ex-teammate Ryota Igarashi. Read game recaps in the Post, Journal, Daily News, Star-Ledger, Newsday and Record.
• Jon Rauch rejoined the Mets bullpen after skipping the series in D.C. to allow the inflammation in his "debris"-littered right elbow to calm. He entered with the Mets trailing by nine runs in the eighth and tossed a scoreless frame that included one bloop hit. Rauch said he took anti-inflammatory medication while remaining behind in New York. He assigned the root of the issue to bones grating with each other and irritating a nerve. He told reporters surgery will not be necessary. Read more in the Star-Ledger and Record.
• Jason Bay, scratched from Thursday's lineup because of nausea he blamed on antibiotics being taken for a sinus infection, made his first appearance with the Mets since April 23 in the series opener. Bay started in left field and batted seventh. He went 0-for-3 with a strikeout. Lucas Duda served as the DH.
Scott Hairston, who entered Wednesday's starting lineup after Bay was scratched, started a second straight game against a right-hander over odd-man-out Andres Torres. The current outfield crunch is not as severe as it will be next Friday, when the Mets return to National League play at home against Cincinnati and lose the DH. At that point, Duda could shift to first base and Ike Davis could be vulnerable. Davis went 0-for-3 with two strikeouts in the opener against the Yankees. Former hitting coach Howard Johnson (@20Hojo) tweeted about Davis: "Ike's reputation of questioning umpires on every strike is coming back to haunt him...anything close goes against him..." Read more on Bay's return and the outfield in the Post, Record and Newsday.
• The Mets could have kept Chris Young on paternity leave Friday and activated him today. But team officials opted to activate him a day early, so that he could be at the ballpark and prepare for Tuesday's start in Tampa. The other, and perhaps bigger surprise related to that roster move? Pedro Beato, not Hefner was optioned to Triple-A Buffalo. Collins reasoned that the Mets needed a long man/spot starter, so presumably Miguel Batista is going to take on more bullpen responsibility than mop up. The problem about Friday's game is that Hefner had thrown 99 pitches Wednesday and undoubtedly needed recuperation time, so Ramirez and Batista relieved Santana. Beato did not appear in a game with the Mets during a two-game cameo after coming off the 60-day DL.
• Josh Satin cleared waivers and will return to Buffalo. Jack Egbert, who cleared waivers the previous day, rejoined the Bisons on Friday. The Mets needed their 40-man roster spots for the addition of Young and activation of Beato. Beato didn't count against the 40-man roster while on the 60-day DL.
• A second X-ray of Quintanilla's left index finger, which was taken in New York after returning from the Nats series, revealed the shortstop had a fracture at the tip. Still, Quintanilla resolved to gut through any pain without missing time. Ruben Tejada, who was examined in New York, now will proceed to the Mets' complex in Port St. Lucie, Fla. He is due to next test his balky right quadriceps Monday by running -- six days after pulling himself from a rehab game in Buffalo. Meanwhile, Ronny Cedeño (calf) should run this weekend and may be in a rehab game within days. Read more in Newsday.
THE GAME AFTER
A look at pitchers' performances in the game after throwing a no-hitter during the past two seasons. Source: Newsday.
• Did Collins do the right thing giving Santana two extra days of rest? The manager questioned himself after Friday's game. Writes columnist Bob Klapsich in the Record:
The best-case scenario is that Santana was a victim of nothing more than the law of averages: He was due for a stinker after the no-hitter, which was preceded by a complete-game shutout of the Padres. With a streak of 18 consecutive scoreless innings, it figured that Santana would finally return to the race of men. But the darker possibility is that Santana's surgically repaired arm was at least drained and maybe injured after back-to-back complete games. If it's a health-related issue, the real concern is how long it'll take to Santana to bounce back and whether he'll regain the magic in his change-up.
Writes columnist John Harper in the Daily News:
So while taking a beat-down from the crosstown Yankees obviously stings, the Mets can at least take some consolation in the fact that Santana apparently survived the 134 pitches without any long-term effect. At least that's what he was insisting afterward, noting that his fastball velocity was normal (88 to 90 on the radar gun), while saying that he felt strong on the mound. "I just left some pitches up," he said. "My changeup wasn't as sharp as I wanted it to be. You can call that rust or what you want. I just didn't execute some of my pitches, and the rest is history.''
Wrote columnist Mike Vaccaro in the Post:
So if we understand this properly: It's Collins' fault when Santana is pushed past his limits. And it's Collins' fault when he's kept well within those limits. We need to check if it's Collins fault that the housing market collapsed a few years ago. Or that the Facebook IPO was a fiasco. Or that there was a two-hour logjam getting to the GW Bridge yesterday. The new Mets slogan: Blame Terry! Of course, the irony is the truth about these Mets is exactly the opposite, and precisely because of the peek the manager allowed yesterday. He demands his players to answer for their misdeeds, and how can they not when they see him demand that layer upon layer of blame be placed on his shoulders when anything goes wrong? Doesn't he realize that's what columnists are for?
Read more in Newsday and the Star-Ledger.
• Cano, who had two of the homers against Santana, said about the southpaw, according to Newsday: "He's a guy that throws a lot of strikes. That's a guy you want to go and be aggressive [against] because you don't want to get behind in the count because you know his changeup against lefties is very effective."
• With the Houston Astros moving to the American League next season and more balanced interleague schedules coming as a result, the Mets and Yankees are unlikely to continue playing home-and-home three-game series in future seasons, ESPNNewYork.com previously has reported. Instead, the Subway Series likely is to be limited to one park for three games each year, or two games at each site. "I've always been kind of old-school anyway," Derek Jeter told Anthony Rieber in Newsday regarding that topic. "I liked it when we didn't even face the National League . When I first came up, that's how it was. You play in the World Series -- hopefully play in the World Series -- and you hadn't seen the team. I understand it's great for the fans and gives them an opportunity to see teams they don't normally see, but I kind of liked it the other way." Read more in the Daily News.
• Quintanilla told the Daily News there was no concern about being victims of a no-hitter from Kuroda. "Nobody was nervous inside the dugout," he said. "We knew somehow we were going to get one, grind one out." Read more in the Post.
• Louisiana prep shortstop Gavin Cecchini, the Mets' first-round pick in the draft Monday, officially came on board Friday after passing a physical. He reportedly received a $2.3 million signing bonus. Under the new draft system, that is $250,000 under the commissioner's recommended amount for the 12th overall pick -- giving the organization extra dollars to assign to other picks. Cecchini will play for Kingsport in the Appalachian League.
"He's an all-around baseball player," Ole Miss coach Mike Bianco, who knew Cecchini growing up and got him to commit to the SEC school barring a pro signing, told Tim Bontemps in the Post. "As I listened to the TV coverage during the draft they talked about his speed and this and that, but I think he's the full package. He can run, sure, but he played his senior year in high school with a wood bat. ... A lot of guys wouldn't have the guts to do that. He's got a good glove, good arm and certainly is a very talented infielder and great athlete."
• Matt Harvey was pulled from his Triple-A Buffalo start with his pitch count at 91 after the first two batters reached in the fifth inning. After an inherited runner scored against Josh Edgin, Harvey ultimately was charged with three earned runs on seven hits and two walks while striking out three. He surrendered a homer to former Mets farmhand Ezequiel Carrera, who was shipped out in the three-team trade that returned J.J. Putz and Sean Green. Harvey was tagged with his first loss since the Bisons' season opener. Read Friday's full minor league recap here.
• The Mets' low-A Savannah team bus apparently drew the attention of law enforcement. (See photo.)
• Ken Rosenthal at FoxSports.com notes Collins' third chance at managing in the majors has him making the most of the opportunity. Writes Rosenthal:
When do we ever see this? Managers get fired, managers get rehired, but almost always they return as essentially the same guy. Collins, on the other hand, made a conscious effort to change. "When I got my first job … I demanded things," Collins said. "I wanted everybody to have the same passion I had for the game. And everybody's different. When things weren't going good, I took that as a personal affront -- I wasn't getting through to 'em. You go through bad stretches. I took that as, 'Hey look, you're not getting 'em ready.' Therefore, I even got worse. Now I look at it and say, 'I know how to do this right.' I'm going to do the best I can and let 'em go play. And try to make sure they stay positive about it. Because mistakes are part of our game. 0-for-5s, 1-for-11s, 2-for-20s, it's all part of our game."
• Lenny Dykstra's motion to dismiss charges against him, including bankruptcy fraud and embezzlement, was rejected by a federal judge in Los Angeles.
• Santana is now old news. The Seattle Mariners tossed a six-pitcher no-hitter Friday night against the Los Angeles Dodgers. Kevin Millwood logged the first six innings, then departed because of a groin injury -- not a pitch-count limit.
• Mike Baxter has been sleeping in a chair, not his bed, because of continued discomfort from the displaced collarbone and fractured rib cartilage he suffered in saving Santana's no-hitter last weekend, the Journal reported.
TRIVIA: By how many runs have the Mets been outscored this season after Friday's lopsided loss to the Yankees?
Friday's answer: No Met, Santana included, has ever tossed three straight complete-game shutouts.