Chris Young surrendered three solo homers, including Ryan Braun's 39th and 40th long balls of the season, and the Mets lost Sunday's rubber game at Milwaukee, 3-0.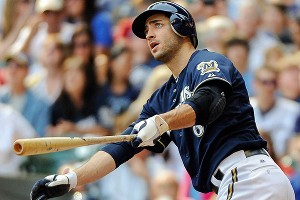 Benny Sieu/US Presswire
Ryan Braun homered twice Sunday against Chris Young.
The Mets' tragic number for postseason elimination dropped to six as they return home for their final 2012 homestand -- 10 games against the Philadelphia Phillies, Miami Marlins and Pittsburgh Pirates.
R.A. Dickey aims for win No. 19 in Monday's homestand opener, when he opposes Phillies left-hander Cliff Lee. Dickey has four starts remaining, including tonight, to try to produce two wins and become the Mets' first 20-game winner since Frank Viola in 1990. If the pattern of pitching every fifth game holds, the knuckleballer also is due to face the Marlins on Sunday at Citi Field, then pitch at Atlanta on Sept. 28 and at Miami in the regular-season finale on Oct. 3.
Washington Nationals left-hander Gio Gonzalez, another Cy Young Award candidate, failed in his attempt to notch his 20th win Sunday night, as the Atlanta Braves beat the Nats, 5-1. Gonzalez, who allowed two runs in five innings, is now 19-8 with a 2.95 ERA.
The Phillies, who oppose Dickey tonight, arrive at Citi Field having lost three of four to Houston this weekend. They are four games behind St. Louis for the second wild-card slot.
Because of an innings cap, Matt Harvey (3-5, 2.92 ERA) makes his final 2012 start Tuesday, opposite right-hander Tyler Cloyd (1-1, 4.95). Cole Hamels (15-6, 3.06) handles Wednesday's series finale for the Phillies.
Monday's news reports:
• Major league clubs and minor league teams began a 15-day window Sunday to seek new affiliation agreements. As expected, the Toronto Blue Jays and Triple-A Buffalo Bisons spoke and appear to be nearing a deal. That would push the Mets to the lone vacant affiliate, Las Vegas in the Pacific Coast League, which has been the home of the Blue Jays.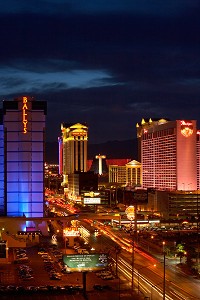 Thinkstock
The Las Vegas skyline looks like it will become a familiar sight to Mets' Triple-A players.
Why did the Bisons want the Mets out of Buffalo? For one thing, their attendance slid each season during the four-year affiliation, to an all-time-low 515,000 in 2012. That partly had to do with the Mets' record. Over the four years of the affiliation, Mets farmhands went 260-313 in Triple-A. According to Bisons beat writer Mike Harrington, that was the third-worst winning percentage (.454) by an MLB club's farmhands in all of Triple-A over that four-year period, better than only the Twins with Rochester at .424 and the Padres with Portland and Tucson at .417.
"I would never question the Mets' effort, especially this year," Bisons GM Mike Buczkowski told Harrington in the Buffalo News. "They made a real effort to sign players, to keep our roster full. They did a lot of things to make us successful. It didn't just translate to victories. ... We get a bad rap that we're demanding a championship team. That's not what we're saying. We need a competitive team. Win more than you lose. Play some games in August that mean something."
Buffalo will be the second International League city to boot the Mets in the past six years. Norfolk kicked the Mets out after the 2006 season.
• Jeurys Familia, originally slated for his first major league start Wednesday, will remain in the bullpen. Terry Collins has liked what he has seen out of Familia in relief and will keep him in that role, especially since Familia would be more likely to break camp with the Mets out of spring training next season in the bullpen. Collin McHugh or Jeremy Hefner instead should take Wednesday's start opposite Hamels. Collins indicated postgame Sunday that Hefner was the likely starter. Read more in the Star-Ledger.
• Rookie Wily Peralta and John Axford combined to limit the Mets to two singles and two walks as the Mets were shut out for the 11th time this season on Sunday. "Two hits isn't going to get us very far," Collins said. Read Sunday recaps in the Times, Newsday, Star-Ledger, Record, Post and Daily News.
TRIVIA: Who has started the most games in center field for the Phillies since the trade of Shane Victorino to the Dodgers?
Sunday's answer: The Brewers moved from the AL to the NL in 1998, coinciding with the launches of the expansion Arizona Diamondbacks and Tampa Bay Devil Rays.