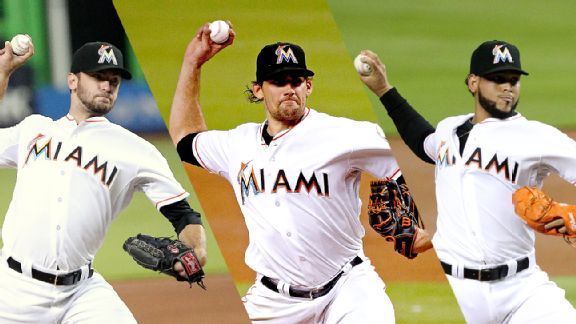 Getty Images
The Mets are due to face Jarred Cosart, Nathan Eovaldi and Henderson Alvarez this series.METS (72-78, fourth place/NL East) vs. MIAMI MARLINS (72-76, third place/NL East)
Monday: RHP Jacob deGrom (8-6, 2.62) vs. RHP Jarred Cosart (13-9, 3.70), 7:10 p.m. ET
Tuesday: RHP Bartolo Colon (13-12, 4.14) vs. RHP Nathan Eovaldi (6-11, 4.29), 7:10 p.m. ET
Wednesday: RHP Dillon Gee (7-7, 3.80) vs. RHP Henderson Alvarez (10-6, 2.81), 7:10 p.m. ET
Marlins short hops
• Giancarlo Stanton's MVP-caliber season is not necessarily over. Stanton, who was struck in the face with an 88 mph pitch from Milwaukee's Mike Fiers on Thursday, is due to have stitches removed on Tuesday. He suffered facial fractures and lost teeth in the beaning.
"We'll probably know a little more on Tuesday," Marlins manager Mike Redmond told reporters. "For me, knowing G, and the kind of guy he is, he's going to want to come back and play. But we'll see if that's even a possibility."
Stanton, 24, leads the National League in homers with 37 -- seven ahead of runner-up Anthony Rizzo of the Chicago Cubs. For now, Stanton has a league-leading 105 RBIs. That's two ahead of the Dodgers' Adrian Gonzalez.
• Jarred Cosart is 4-2 with a 1.93 ERA in seven starts since joining the Marlins. He arrived in a July 31 trade that included outfielder Jake Marisnick and a 2015 compensation pick going to the Houston Astros.
• Jordany Valdespin returns to Queens as a visitor for the first time. Valdespin is hitting .216 (19-for-88) with three homers and eight RBIs since a promotion from Triple-A New Orleans. Valdespin is tied with Jonny Gomes and Scott Hairston for the most pinch-hit homers in the majors since the start of the 2012 season (seven).
• Outfielder Christian Yelich lost a streak of 27 straight games reaching base on Thursday. It had been tied with Freddie Freeman and Hunter Pence for the longest active streak in the majors.
• Outfielder Marcell Ozuna homered in four straight games last week.
• Miami has scored a combined 10 runs in its past five games. And that's with producing five runs Sunday at Philadelphia to snap a four-game losing streak.