Mike Pelfrey took responsibility for no one covering first base on a Javier Vazquez bunt in a scoreless game in the seventh inning Tuesday, which led to the Marlins loading the bases with none out in what became a five-run inning.
It was Justin Turner's responsibility to cover first base on the wheel play, but Turner first was trying to hold runner Mike Cameron at second base. Turner opened his glove, signaling to Pelfrey that he wanted a pickoff throw. But Pelfrey delivered the pitch anyway, Vazquez bunted the ball to David Wright, and Turner was unable to get to first base in time to record an out after Wright determined he had no play at third base.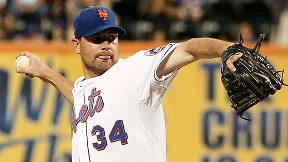 Debby Wong/US Presswire
Mike Pelfrey is now winless in 16 straight starts against the Florida Marlins.
"I screwed that up," Pelfrey said. "Any time that an infielder gives 'open glove' you're supposed to pick. And, if not, step off. I threw home. That's why there was no one at first. That's two screw-ups in that inning (including walking No. 8 batter John Buck after Cameron's leadoff double). That's all on me, and I ended up paying for it."
Said Turner: "Yesterday we had picked off Mike Cameron in a similar situation. I probably should have yelled, 'Step off' once he didn't spin. It was just kind of a weird play. The bunt was in a tough place for David to make the throw to third. We got caught."
As for now falling to 0-8 in his past 16 starts against the Marlins since winning 17-3 in his July 8, 2006, major league debut against Florida, Pelfrey said: "I'm lucky, I think, my debut we scored 17 runs. Otherwise, it might be 17 (starts). Obviously it's frustrating. There's been some good games in there against those guys. There's been some bad games. Maybe I'm cursed. I don't know. I'm at a loss for words for it. Sixteen starts against one team, they have my number to say the least.
"I actually thought it was more than 16. It feels like more. That even gives me more, extra incentive when I go out there. I want to beat those guys. For 20 starts -- or whatever it seems like ... 100 -- it hasn't worked out."
OPPO BOPPO: Mike Stanton became the first player to hit an opposite-field homer into the upper-deck porch in right field at Citi Field. The blast came off D.J. Carrasco in the ninth inning.
"He's got the most raw power I've ever seen," Terry Collins said. "I played with Dave Parker, who was a similar build -- 6-5, 250. A big, strong guy. I've never seen a guy generate that kind of power before."