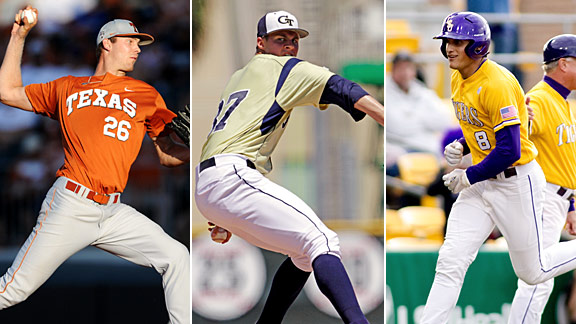 Icon SMI
ESPN's Keith Law lists (l to r) Texas' Taylor Jungmann, Georgia Tech's Jed Bradley and LSU's Mikie Mahtook as potential picks at No. 13.
The Mets select 13th in the draft on Monday night, and also picked up a compensatory pick at No. 44 for losing Pedro Feliciano as a free agent to the Yankees.
ESPN draft guru Keith Law projects the Mets taking Taylor Guerreri, a right-handed pitcher from Spring Valley High School in South Carolina. Law adds: The club's new mandate is to take pitching. Taylor Jungmann would be the choice over Guerrieri if he's available; Jed Bradley is another option. Preferred bats are still Levi Michael, Mikie Mahtook and Javier Baez.
Here are possible selections. If you have ESPN Insider access, click here for a full first-round draft projection from Law.
The draft begins at 7 p.m. Monday, with the first round and supplemental picks on the opening night.
Taylor Guerrieri, RHP, Spring Valley HS (S.C.)
Law says: Guerrieri is one of the top prep arms in this year's draft, showing huge velocity with a knockout curveball and a good frame. I've had scouts tell me it's the best raw stuff of any high school pitcher in this draft, sitting 92-97 in most outings with a knockout breaking ball and a body to match. More in Insider here.
Taylor Jungmann, RHP, University of Texas
Law says: Jungmann is one of several three-year performers among college pitchers in this year's draft, and he does it while looking like he isn't even breaking a sweat. Jungmann can sit 91-93 but go back for 94-95 whenever he wants it, and he pairs it with a hammer curveball at 75-78 with two-plane break. More in Insider here.
Jed Bradley, LHP, Georgia Tech
Law says: Bradley has the size, arm strength, and left-handedness that scouts love to see, making him a clear first-rounder this year, while the lack of an average breaking ball is raising questions about his long-term ceiling. More in Insider here.
Levi Michael, SS, University of North Carolina
Law says: Michael has established himself as the best college shortstop in this year's draft, although the competition for that title wasn't very strong. But as a switch-hitter who can run and has shown he can handle the position he's almost certain to go in the first round. More in Insider here.
Mikie Mahtook, OF, LSU
Law says: Mahtook entered the year as a safe, high-probability college bat who could play up the middle and would hit enough to be an everyday guy. But in a year when new BBCOR bats have power numbers down all over the country he's ratcheted up his own power output, establishing himself as a five-tool player with some star potential. More in Insider here.
Javier Baez, SS, Arlington Country Day, Jacksonville (Fla.).
Law says: Baez has crazy bat speed and big future power potential, but needs to find a position and show a little more energy on the field. At the plate Baez unleashes on every pitch with a max-effort swing that, when he squares a ball up, produces loud, hard contact. He doesn't shorten up or ever use another approach beyond "swing with all you've got," and he can get too power-happy and start to swing uphill. More in Insider here.