MIAMI
FIRST PITCH: The sun came up today. At least it will soon. Sunrise is scheduled for 6:40 a.m. in Miami.
After a depressing series opener in which the Mets squandered seven scoreless innings from Jonathon Niese, Bartolo Colon takes the mound at Marlins Park on Tuesday. Colon (2-4, 5.65 ERA) opposes right-hander Henderson Alvarez (1-2, 3.28) at 7:10 p.m.
Colon allowed seven runs in 4 2/3 innings against the Colorado Rockies in his last outing.
Tuesday's news reports:
• Daisuke Matsuzaka allowed three eighth-inning runs, one unearned due to Omar Quintanilla's error, and the Marlins produced a walk-off, 4-3 win against Gonzalez Germen an inning later on Monday. Niese suffered the tough-luck no-decision despite tossing six scoreless innings and departing with a 3-0 lead. Daniel Murphy and Curtis Granderson had first-inning home runs.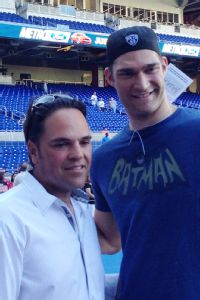 Adam Rubin
Miami resident Mike Piazza and injured Brooklyn Net Brook Lopez cross paths during Mets batting practice Monday at Marlins Park. The Nets, in town to play the Heat, are staying at the same hotel as the Mets.
Niese's ERA, shaved to 1.82 ERA, ranks fifth in the National League, trailing only Johnny Cueto (1.31), Jeff Samardzija (1.62), Jose Fernandez (1.74) and Julio Teheran (1.80).
"Give Niese a lot of credit," Marlins manager Mike Redmond said. "He looked good out there, and we had a tough time early on trying to figure him out. He pretty much shut us down."
Read game recaps in the Daily News, Journal, Times, Star-Ledger, Record, Newsday and at MLB.com.
• Eric Young Jr. started a day after suffering a bruised right cheekbone as Terry Collins loaded his lineup with lefty bats against Marlins starter Nate Eovaldi. Juan Lagares entered the game off the bench and went 0-for-1, snapping a 13-game hitting streak. Read more at MLB.com.
• Noah Syndergaard allowed one run in 5 2/3 innings and Taylor Teagarden had a tiebreaking solo homer in the top of the ninth, but Jeff Walters suffered a blown save and Tacoma beat Las Vegas, 3-2, in Monday's regularly scheduled Pacific Coast League game. Read the full minor-league recap here.
• Aware of the Marlins' big production disparity at the plate between home and the road, Collins indicated the Mets would be stealthier with their signs to guard against potential theft.
• Matt Harvey aims to throw off a mound for the first time in early or mid-June, Kristie Ackert writes in the Daily News. Harvey, rehabbing in Port St. Lucie, Fla., during the first two legs of the road trip, joined the Mets in Miami and will fly with the team to New York.
• From the bloggers ... Faith and Fear could've seen Monday's loss coming from a lime green mile away.
BIRTHDAYS: Hall of Famer Willie Mays, who finished his playing career as a Met, turns 83. ... 2013 draft pick Ricky Jacquez, a 25th-round selection out of Central Arizona, is 21.
TWEET OF THE DAY:
I wish #Mets fans would remember that this team is NOT built to win this year, thats for '15 and '16. This is NOT panic time.

— Reid Fishler (@joelfreak) May 6, 2014
YOU'RE UP: Which one player could Sandy Alderson reasonably acquire that would be the most beneficial to the Mets?