NEW YORK -- The Mets shipped Ike Davis to the Pittsburgh Pirates on April 18 for right-hander Zack Thornton. It took another two months, until the one-year anniversary of Blake Taylor's signing after the draft, to learn that the southpaw was the player to be named heading to the Mets in the deal.
"There were rumors online and all that stuff. Everyone was saying it was between me or [Neil] Kozikowski or Cody Dickson. There were just a bunch of rumors," Taylor said. "I was like, 'I'm not going to believe everything I hear on the internet.' Once I hear it from the Mets or Pirates organization, I'd believe. … I was just going to keep playing and keep going.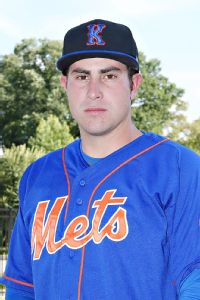 Courtesy of Allen Greene/Kingsport Mets
Blake Taylor
"The day I found out, I was shocked. But I was like, 'All right, I've got to pack my things. This is baseball. You're going to play for a different team.'"
Taylor, who turned 19 on Aug. 17, was drafted by the Pirates in the second round in 2013 out of high school in Dana Point, Calif.
After joining the Mets organization in mid-June, Taylor made three appearances in the Gulf Coast League. He allowed two runs, neither earned, on one hit, seven walks and a hit batter while striking out 10 in 10 2/3 innings. He since has moved to the Appalachian League. In seven starts with Kingsport, the 6-foot-3, 220-pound Taylor is 2-1 with a 5.16 ERA. He has allowed 39 hits and 22 walks in 29 2/3 innings.
Taylor's fastball sits at 86-90 mph. He also possesses a changeup and curveball.
"I'm still getting better. I still have a lot more to learn with command and all that stuff," Taylor said. "But I've been progressing this year and throwing my changeup for a strike more than I have been normally. It's been a very, very educational year for me just to learn. This is my first full season."
Said Mets VP Paul DePodesta: "We liked Blake a lot leading up to the 2013 draft. We felt he was an athletic left-hander with size and the makings of a plus breaking ball."
Taylor had signed with the University of Hawaii out of high school, but being taken in the second round (along with a reported $750,000 signing bonus) prompted him to turn pro.
"Going into the draft, I didn't really want to have high expectations," Taylor said. "I wasn't really known, so I kind of accepted the fact that I probably might go to college. It was a big surprise to go in the second round. So I was like, 'Well, baseball has been my dream. Let me go do it.'"
He arrived with the Mets not knowing anyone beyond having played against Dominic Smith and Andrew Church in the Area Code Games. Still, Taylor said, his new teammates have been "welcoming me with open arms."
Said Taylor: "Everyone has been really nice and cool and showing me the ropes. Baseball is a fraternity. You go anywhere and it's the same group of guys, basically."
Organization leaders
Average: T.J. Rivera, Binghamton, .352; Matt Reynolds, Vegas, .347; Matt den Dekker, Vegas, .334; Dilson Herrera, Binghamton, .320; John Mora, Brooklyn, .319; Kevin Plawecki, Vegas, .310; Jean Rodriguez, Kingsport, .303; L.J. Mazzilli, St. Lucie, .297; Jeff McNeil, St. Lucie, .295; Wuilmer Becerra, Kingsport, .294.
Homers: Brian Burgamy, Binghamton, 23; Dustin Lawley, Binghamton, 20; Andrew Brown, Vegas, 19; Allan Dykstra, Vegas, 16; Travis Taijeron, Binghamton, 15.
RBIs: L.J. Mazzilli, St. Lucie, 76; Brian Burgamy, Binghamton, 75; Allan Dykstra, Vegas, 74; T.J. Rivera, Binghamton, 72; Dilson Herrera, Binghamton, 70.
Steals: Champ Stuart, Savannah, 27; Patrick Biondi, Savannah, 23; Dilson Herrera, Binghamton, 23; Matt Reynolds, Vegas, 19.
ERA: Marcos Molina, Brooklyn, 1.56; Corey Oswalt, Brooklyn, 2.04; Steven Matz, Binghamton, 2.19; John Gant, Savannah, 2.59; Robert Gsellman, Savannah, 2.67; Matt Bowman, Vegas, 2.88; Kevin McGowan, St. Lucie, 3.63; Tyler Pill, Binghamton, 3.98; Casey Meisner, Brooklyn, 4.08; Ricky Knapp, Savannah, 4.19.
Wins: Greg Peavey, Binghamton, 12; Gabriel Ynoa, Binghamton, 11; Logan Verrett, Vegas, 11.
Saves: Chasen Bradford, Vegas, 16; Akeel Morris, Savannah, 15; Cody Satterwhite, Binghamton, 15; Shane Bay, Brooklyn, 14.
Strikeouts: Noah Syndergaard, Vegas, 135; Matt Bowman, Vegas, 124; Steven Matz, Binghamton, 121; Greg Peavey, Binghamton, 118; Tyler Pill, Binghamton, 117.
Short hops
• Manuel Hilario, who was unconscious and suffered a seizure in a second-base collision Friday with the Gulf Coast League Mets, was released from the hospital and is "recovering well," according to the organization. Hilario, 22, is done for the season with the GCL season ending Thursday.
• The organization placed multiple players on year-end all-star teams. Already announced: Las Vegas' Matt den Dekker in the Pacific Coast League, St. Lucie's Cam Maron in the Florida State League and Kingsport's Wuilmer Becerra in the Appalachian League.
• Several Mets affiliates are playoff-bound as minor-league regular seasons wrap up by Monday:
Triple-A Las Vegas (79-60) has won the PCL Pacific Southern Division.
Double-A Binghamton (83-53) has clinched no worse than a wild-card spot. The B-Mets trail Portland by two games for the division crown with five games remaining.
Low-A Savannah (82-48 overall) won its division in the first half in the South Atlantic League.
Meanwhile, Brooklyn (39-31) has a two-game lead on Connecticut for the New York-Penn League's wild-card berth with six games remaining. And Kingsport is on the outside looking in right now. The K-Mets trail Johnson City by two games for the second wild-card spot with three games remaining.
• Outfielder Brandon Nimmo, middle infielder Matt Reynolds, right-handers Julian Hilario, Cory Mazzoni, Paul Sewald and Rob Whalen and one position player to be determined will represent the Mets in the Arizona Fall League. Valentino Pascucci, who received rave reviews in his first season as an instructor, will serve as a hitting coach.
Sewald received a promotion to Double-A on the eve of the Eastern League playoffs. The 24-year-old University of San Diego product had posted a 1.73 ERA and 1.038 WHIP in 40 relief appearances with St. Lucie.
• Right-hander Michael Fulmer, who was selected with the 44th overall pick in the 2011 draft out of high school in Oklahoma, went on Binghamton's DL after making his Double-A debut. Fulmer has a bone spur in his pitching elbow. He needs to be evaluated by doctors to determine if the spur needs to be surgically removed.
• Left-handed reliever Paul Paez, a 38th-round pick in 2013 out of Rio Hondo College in California, was named South Atlantic League Pitcher of the Week. Paez allowed one hit and one walk and struck out nine batters in 6 1/3 innings with Savannah.
• Right-hander Johnny Magliozzi, a 17th-round pick in 2013 out of the University of Florida, underwent Tommy John surgery.