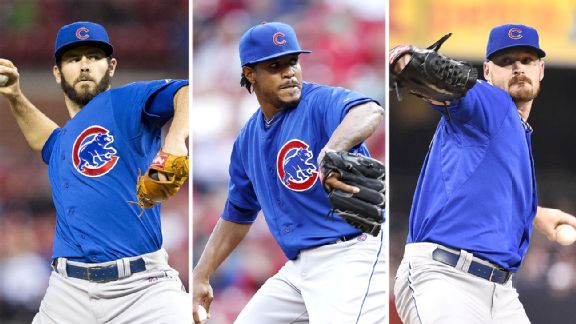 Getty Images
The Mets face Jake Arrieta, Edwin Jackson and Travis Wood at Wrigley Field.METS (28-29, third place/NL East) vs. CHICAGO CUBS (20-34, fifth place/NL Central)
Tuesday: RHP Zack Wheeler (2-5, 4.31) vs. RHP Jake Arrieta (1-1, 3.20), 8:05 p.m. ET
Wednesday: RHP Daisuke Matsuzaka (2-0, 2.45) vs. RHP Edwin Jackson (3-5, 4.81), 8:05 p.m. ET
Thursday: RHP Jacob deGrom (0-2, 2.42) vs. LHP Travis Wood (5-5, 5.15), 7:05 p.m. ET
Cubs short hops
• UConn product and New Haven native Mike Olt leads National League rookies with nine homers and 24 RBIs. The righty-hitting third baseman was acquired last July 22 with three other players in a swap with the Texas Rangers for Matt Garza. Olt, 25, became the first Cubs rookie since Geovany Soto in 2008 with nine homers before June 1.
Justin K. Aller/Getty Images
UConn product Mike Olt leads NL rookies in homers and RBIs.
Olt experienced blurriness and depth-perception trouble with his vision last year while with Texas after being struck in the head the previous November while playing winter ball in the Dominican Republic. It affected his ability to catch baseballs in the field, not just to judge pitches at the plate. It since has been managed through eye drops.
Olt and lefty-hitting Luis Valbuena share duties at third base. The Cubs used six different players at the position last year.
Valbuena has been out since Friday with a sore abdominal muscle, but is expected to be available for the series opener against the Mets. He has started 21 games at third base and 14 games at second base this season. Ex-Marlin Emilio Bonifacio made his first third-base start of the season Saturday with Valbuena unavailable.
Bonifacio, who was released by the Kansas City Royals in February and signed by the Cubs, otherwise has 33 starts in center field and 14 starts at second base this season.
• The Cubs signed 42-year-old Manny Ramirez to serve as a player-coach with Triple-A Iowa. There is no intention of bringing Ramirez, who last appeared in the majors in 2011, to the big leagues.
"While Manny is not and will not be a fit on the Cubs' major league roster, we do think at this stage of his life he's a nice fit as a mentor for some of the young talented hitters we have in the organization," Cubs president Theo Epstein said in a statement. "Manny will coach full time and play part time in a limited role that does not take at-bats away from our prospects. If he shows there is still some magic in his bat, perhaps he will find his way to the major leagues and help another team, but that is not why he is here."
• Wednesday's game will feature two of baseball's more deliberate pitchers. Edwin Jackson averages 25.1 seconds between pitches, tied for seventh slowest in MLB among qualifiers. Opponent Daisuke Matsuzaka checks in at 23.9 seconds, which is actually the fastest pace of his career.
• Anthony Rizzo (.267, 10 HR, 28 RBIs) had his fifth career multi-homer game Saturday when he twice took Milwaukee's Wily Peralta deep. A day later, the 24-year-old Rizzo was ejected by plate umpire Jerry Meals in the fourth inning with the Cubs already trailing by eight runs for demonstrably arguing a called third strike. Rizzo has started 53 of the team's 54 games at first base. He received his lone day off Friday, preceding his big day at the plate. Rizzo has lifted his on-base percentage to .398 this season, up from .323 a year ago.
• CBSChicago.com's Bruce Levine reports the Baltimore Orioles are in the lead for soon-to-be-traded ace Jeff Samardzija. Samardzija's ERA swelled from 1.68 to 2.54 after he was charged with eight earned runs in three innings at Milwaukee on Sunday. The Mets miss Samardzija and Jason Hammel (6-3, 2.78 ERA) in the three-game series. Hammel's 0.869 WHIP ranks third in the majors, trailing only Cincinnati's Johnny Cueto (0.758) and San Francisco's Tim Hudson (0.866).
• Starlin Castro has the most hits by a shortstop in the majors since 2011 with 612, considerably ahead of runner-up Alexei Ramirez (575) of the Chicago White Sox. Castro (.272, 7 HR, 26 RBIs) has started all 54 Cubs games this season. He was due to be given Sunday off, but talked his way into the lineup. Castro had missed the bulk of Cactus League action with a spring-training hamstring injury. He started 159 games at shortstop in 2013.
• Left fielder Junior Lake has 60 strikeouts in 160 at-bats. His vulnerability is balls on the lower half of the plate.
• Jake Arrieta opened the season on the disabled list with right shoulder tightness. He made his season debut May 3. Arrieta had been acquired from the Orioles last July 2 with Pedro Strop and two international signing bonus slots for Scott Feldman and Steve Clevenger. Strop returned Friday from a DL stint for a left groin strain.
• Right fielder Nate Schierholtz went homerless in his first 42 games, which included 150 at-bats, but since has two homers in the past week.
• Former Rookie of the Year Chris Coghlan was promoted from Triple-A on May 3. He replaced fellow outfielder Ryan Sweeney, who landed on the DL with a right hamstring injury. Another backup outfielder, Justin Ruggiano, was activated from the DL last Monday after missing a month with a left hamstring strain.
• Travis Wood enters Thursday's start off his shortest outing of the season. He allowed seven runs in 2 2/3 innings against the Brewers.
• The Cubs' .231 batting average ranks 29th in the majors, better than only the San Diego Padres (.226).
• Closer Hector Rondon (6-for-7 in save opportunities) missed the weekend series against Milwaukee while on paternity leave but will be back for Tuesday's opener against the Mets. Neil Ramirez, also acquired in the Garza trade, filled in as closer during Rondon's absence.
• The Cubs are 0-11-3 in their past 14 road series. They have a 10-13 record at Wrigley Field this season.