SAN DIEGO
FIRST PITCH: Play ball!
After a four-day All-Star break, the Mets get back to business, trying to build on their 8-2 homestand that closed the first half.
The Amazin's resume play against the San Diego Padres at Petco Park at 10:10 p.m. ET Friday. Bartolo Colon (8-8, 3.99 ERA) opposes right-hander Ian Kennedy (7-9, 3.47).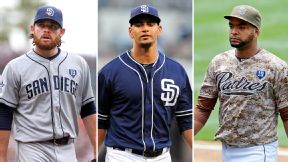 USA TODAY Sports
The Mets open the second half facing Ian Kennedy, Tyson Ross and Odrisamer Despaigne in San Diego.
That kicks off a 10-game trip that also includes stops in Seattle and Milwaukee.
The Padres rank last in the majors in runs (279), average (.214), OBP (.273) and slugging percentage (.334). They lost consecutive 1-0 games to the Los Angeles Dodgers to close the first half. However, San Diego's staff has a 2.08 ERA in 24 games since June 18.
Read the Mets-Padres series preview here.
Friday's news reports:
• Daniel Murphy tells Marc Carig in Newsday that his agents have not had any extension talks with the Mets. Murphy, making $5.7 million this season, is eligible for arbitration a final time this winter. He is eligible for free agency after the 2015 season.
"I think that anybody would be willing to listen to an extension," Murphy told the newspaper. "They're not just passing out at-bats in this league. I don't know what the years or anything would look like. But at the point you come and say, 'Hey, we trust you with 600 at-bats [in each] of the next three to five years,' you're like, 'Yeah, I would like that.'"
• Former Mets GM Omar Minaya tells Mike Puma in the Post that the contribution of holdovers from his regime -- including Juan Lagares, Jacob deGrom, Murphy, Jenrry Mejia and Jeurys Familia -- does not feel like vindication.
"I don't think that way," said Minaya, who is currently helping oversee the Padres in an interim capacity after the firing of Josh Byrnes as general manager. "You do your job. And when teams don't win in [New York], people's opinions are a product of it. We felt very comfortable and believed we had a plan in place to get athletes, to get good players to the major leagues. And it's an organization, not just one person. Part of it has been Paul DePodesta and Sandy Alderson. They are part of bringing these guys along. It's not an individual thing."
• In a lengthy ESPNNewYork.com article by Andrew Marchand on Mets fandom, Jonathon Niese said: "We are not filling the stadium. Where are the Mets fans when we are down-and-out? They were here in '06 and '07 when we were really good, but we have struggled and they are not coming to the stadium."
• Puma in the Post chats with Terry Collins on the eve of the second half.
On the Mets' postseason potential, Collins said: "We've got 67 games to go and we've got 39 in our division. If we end up having a good record against our division, I think we're going to be in the mix at the end."
On whether key bullpen pieces are overworked, the manager said: "Hell, I won't know that until the end of August. That last month of the season is when those guys who are in the big leagues for that first full season, some of that stuff starts to show up. The fatigue, the pressure of 145 games at that time, and you can start to see it … because their minor-league seasons would have been over and they're still playing. So how they handle that situation will determine how that last month will go."
Carlos Torres leads all major league relievers with 59 1/3 innings. Familia's 45 relief appearances trail MLB co-leaders Brad Ziegler (Arizona) and Will Smith (Milwaukee) by four.
• Back from the Futures Game, Noah Syndergaard allowed seven runs in five innings as Las Vegas lost to Salt Lake, 7-6. Dustin Lawley had a three-run homer and finished with four RBIs as Binghamton beat Trenton, 8-4. Michael Fulmer tossed six scoreless innings in the nightcap as St. Lucie split a doubleheader with Brevard County. Read the full minor-league recap here.
• Ron Darling is "extremely optimistic" about the Mets, he tells Bob Raissman in the Daily News.
• Jared Diamond in the Journal asks three questions: Can the Mets continue to produce at the plate? Will the Mets wheel and deal before July 31? And will Syndergaard debut this season?
• Diamond in the Journal also revisits signing Chris Young over Nelson Cruz.
• Justin Terranova in the Post writes that the Mets can become deadline buyers.
• Matt Ehalt in the Record lists five people under scrutiny in the second half: Collins, Alderson, Travis d'Arnaud, Ruben Tejada and deGrom.
• Tim Healey at MLB.com revisits last August's trade of Marlon Byrd, which yielded Vic Black and Dilson Herrera.
• Jeremy Hefner tossed two innings in the Gulf Coast League on Thursday, in his second game since returning from Tommy John surgery.
• Zack Wheeler is one of nine candidates in MLB who could demonstrate significant second-half improvement, Baseball Prospectus suggests. The site writes:
Wheeler has walked more than two batters just twice in past 11 starts (after cracking that threshold five times in his first eight games), and he entered the All-Star break with a string of three consecutive starts in which he pitched six or more innings and surrendered just a single run. He has also honed his stuff since last season, adding 0.5 mph to his fastball (which is now averaging 95.9 mph) and diversifying his pitch mix. He has doubled the frequency of his changeup, and though it is still the weakest offering in a repertoire that features a pair of plus breaking pitches, Wheeler has the potential to be dominant if he can refine el cambio. He has also kept the ball on the ground this season, upping his ground-ball rate by 10 percentage points while surrendering just seven bombs across 108.3 innings (only two homers have come since he turned 24 on May 30th), while his component stats have all trended in positive directions.
• Mike Vorkunov in the Star-Ledger looks at the value of catchers framing pitches.
• Mets first-round pick Michael Conforto was in L.A. on Thursday as a finalist for the Golden Spikes Award as the nation's top collegiate player. The honor went to the University of Kentucky product A.J. Reed. Conforto is due to rejoin Brooklyn on Friday and make his professional debut shortly thereafter.
• Keith Law placed four Mets prospects in his top 50 in MLB: Syndergaard at No. 16, Conforto at No. 32, Brandon Nimmo at No. 34 and Dominic Smith at No. 49. ESPN Insiders can read the commentary here.
• Friday is the MLB deadline to sign players from June's draft. The Mets do not plan to sign any more of their remaining picks, DePodesta told ESPNNewYork.com. Eleven college-bound prep players went unsigned: Luke Bonfield (21st round), Richard Moesker (23rd), Tommy Pincin (26th), Keaton McKinney (28th), Chris Glover (32nd), Brady Puckett (33rd), Jordan Hand (34th), Jonathan Teaney (35th), Garett King (36th), Tristan Gray (37th) and Kyle Dunster (38th). Bonfield and McKinney are headed to the University of Arkansas.
• The Padres have narrowed their GM search to four finalists, Scott Miller tweets: Yankees assistant GM Billy Eppler, Red Sox assistant GM Mike Hazen, MLB senior VP Kim Ng and Rangers assistant GM A.J. Preller.
BIRTHDAYS: Hall of Famer Joe Torre, who finished his playing career with the Mets, turns 74. ... Minor-league pitcher Robert Gsellman is 21.
TWEET OF THE DAY:
I find it interesting when fans argue that Minaya deserves credit for building this 45-50 #Mets team as if it is some slight to Alderson

— Sean Sullivan (@MetsExaminer) July 17, 2014
YOU'RE UP: Which Mets player will take the biggest leap forward in the second half?