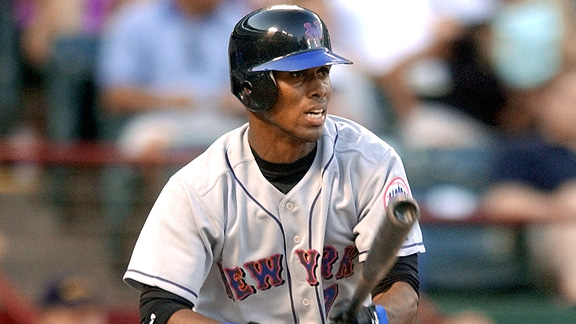 AP Photo/Tony Gutierrez
Jose Reyes runs toward first base after getting his first major league hit, at Texas on June 10, 2003, the day before his 20th birthday.
Eight years ago today, on his final day as a teenager, Jose Reyes arrived at The Ballpark in Arlington for his major league debut, wearing a gray Sean John T-shirt and jeans, and carrying a blue Norfolk Tides bag in his right hand. His unveiling came in a game against the Texas Rangers, during an eventful series for the organization that included Reyes turning 20 the next day and Steve Phillips being fired as general manager the day after that.
Reyes, batting ninth with the Mets using a DH on June 10, 2003, went 2-for-4. He singled off John Thomson in his first at-bat, then doubled in the seventh inning off reliever Aaron Fultz.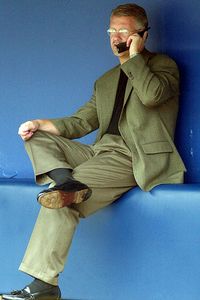 AP Photo/John Bazemore
Steve Phillips was fired as GM two days after Jose Reyes' debut, during the same series in Texas.
"I was kind of nervous a little bit, but after I saw a couple of pitches, it went away quick," Reyes recalled. "I was able to get a hit in my first AB."
Reyes said he was in awe of the size of the stadium, even though the announced crowd that day was a modest 20,581. The only other time he had played in a stadium that size came in the Futures Game in Milwaukee.
"It was kind of similar, but it's not the same," Reyes said. "The big leagues is the big leagues."
Reyes also was thrilled to meet the opposing shortstop that day -- Alex Rodriguez.
"That's something I'm never going to forget, because Rodriguez was like the big star for every kid in the Dominican," Reyes said. "We had been following him for a long time. He said, 'Good luck' to me at second base when I hit a double."
The Mets dropped to 27-35 with the loss in Reyes' debut, and Phillips two days later was out the door, as Bobby Valentine had been at the end of the previous season. Jim Duquette took over as interim GM the remainder of that season, then held the full GM title for 2004 before Omar Minaya's arrival.
"I had no idea," Reyes said about the organization upheaval swirling around him at the time. "I was just excited to be in the big leagues."
Reyes' English was improving at the time, but he conducted his postgame interview in Spanish after the major league debut. The translation by coach Juan Lopez, while likely well-intentioned, was not entirely accurate. Lopez told reporters Reyes had said he would give the baseball from his first hit to his mother and father. Rafael Hermoso, a bilingual reporter for The New York Times, indicated afterward that those words never really came out of Reyes' mouth. Even novice Spanish practitioners never heard madre and padre uttered.
"I remember. Yeah. Yeah. Something like that," Reyes recalled about that eight-year-old mistranslation.
The baseball wound up finding its way to his parents nonetheless. Today it sits in the living room of Reyes' parents' house in the Dominican Republic.
Manager Art Howe, who batted Reyes ninth that day, said at the time: "He's fit for the top of the order with speed and his ability to switch-hit."
Nelson Silverio, a Mets bullpen catcher/coach and then the general manager of Reyes' Dominican winter-league team, said then: "Every 10 years one guy is born that's like that, and we got him. The last one was Alex Rodriguez."
That day, Reyes became the first teenager to debut with the Mets since Dwight Gooden in 1984. There were no promises Reyes was going to stay with the major league club more than two weeks, after incumbent shortstop Rey Sanchez's thumb injury healed.
But Reyes never left. And now, it turns out, he is now the longest-tenured Met in terms of years of service. He also has played more games in the uniform (983) without wearing another team's colors than anyone except Ed Kranepool (1,853) and David Wright (1,043), who actually debuted 13 months later.