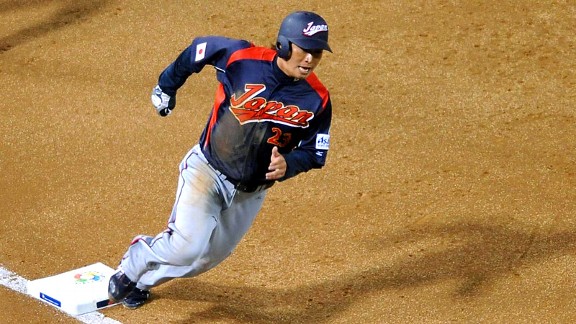 Christopher Hanewinckel/US Presswire
Norichika Aoki (23) rounds third base in the second round of the World Baseball Classic against Cuba at Petco Park in San Diego in March 2009.
The Tokyo Yakult Swallows plan to make available three-time Central League batting champ Norichika Aoki through the posting process. Nori, a center fielder, will be represented in the U.S. by agent Nez Balelo and CAA Sports. His new reps compare him skill-wise to Shane Victorino.
The Mets appear to be looking for an upgrade in center field, but the posting process requires may not be best suited for the organization. Posting means each interested MLB team bids a certain amount for the right to negotiate with Aoki. The highest bidder gets 30-day exclusive negotiating rights, with that winning bid for the right to negotiate turned over to the Japanese team as a posting fee if Aoki signs.
Here's a bio on Aoki from his new reps:
• Bats left, throws right, 5-11, 182
• Born 1-5-82, age 29
• "Best 9 Team" 2005-10
• Central League batting title 2005, 2007, 2010
• Gold Glove 2006-10
• Central League Rookie of the Year 2005
• As rookie in 2005, set CL record with 202 hits while batting .344
• In 2006 led CL with 41 SB
• 2006 WBC: 1-for-5 in 6 games
• In 2007 won second batting title at .346 and became fastest in Japanese history to 500 H (373 games)
• Missed time in 2008 to play for Japan team at Beijing Olympics (led team with 10 H, 7 RBI in 9 games)
• 2009 WBC: .324 (12-for-37) in 9 games with 7 RBI (team high) and .381 OBP
• In 2010 became first played in NPB history with multiple 200-hit seasons (209) and won third batting title at .358
• Despite off-year in 2011 finished 7th in CL in batting and 2nd in hits. His off year can be attributed to two factors; (1) the April earthquake and tsunami affected his hometown of Hyuga and (2) everyone had to adjust to a new ball used this year.
• For 2009-11, his slash line is .318 BA, .398 OBP, .438 SLG, .836 OPS.