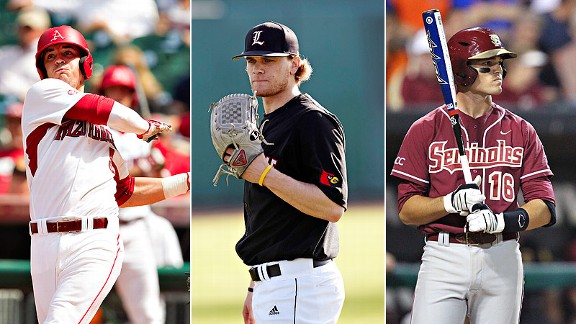 Associated Press
Arkansas third baseman Matt Reynolds, Louisville right-hander Matt Koch and Florida State first baseman Jayce Boyd were among the Day 2 selections by the Mets.After taking Louisiana high school shortstop Gavin Cecchini 12th overall and Purdue catcher Kevin Plawecki with the 35th pick on the opening night of the draft, the Mets continued their selections Tuesday.
The Mets' selections at Nos. 35 and 71 overall came as compensation for losing Jose Reyes to the Marlins.
Here are the complete results from Day 2:
Rd. 2 (71st overall), Matt Reynolds, 3B, Arkansas, College Bio
Rd. 2 (75), Teddy Stankiewicz, RHP, Fort Worth (Texas) Christian School
Rd. 3 (107), Matt Koch, RHP, Louisville, College Bio
Rd. 4 (140), Branden Kaupe, SS, Baldwin (Hawaii) HS
Rd. 5 (170), Brandon Welch, RHP, Palm Beach State, College Bio, Video
Rd. 6 (200), Jayce Boyd, 1B, Florida State, College Bio
Rd. 7 (230), Corey Oswalt, RHP, Madison (Calif.) HS
Rd. 8 (260), Tomas Nido, C, Orangewood Christian (Calif.) HS
Rd. 9 (290), Richie Rodriguez, 2B, Eastern Kentucky, College Bio
Rd. 10 (320), Paul Sewald, RHP, San Diego, College Bio
Rd. 11 (350), Logan Taylor, RHP, Eastern Oklahoma State JC, College Bio
Rd. 12 (380), Rob Whalen, RHP, Haines City (Fla.) HS
Rd. 13 (410), Matt Bowman, RHP, Princeton, College Bio
Rd. 14 (440), Chris Flexen, RHP, Newark Memorial (Calif.) HS
Rd. 15 (470), Nick Grant, RHP, Milford (Del.) HS
The draft will resume Wednesday with Rounds 16-40.