PORT ST. LUCIE, Fla.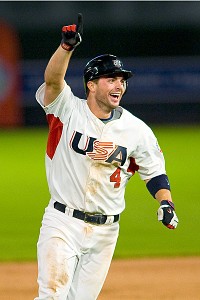 Scott Rovak/US Presswire
David Wright had a game-winning hit in the 2009 WBC, against Puerto Rico.
FIRST PITCH: David Wright gets a sendoff before departing for the World Baseball Classic as the Mets face Justin Verlander and the Detroit Tigers at 1:10 p.m. Friday at Tradition Field. Wright will play third base after requesting one last game in the field rather than DH work.
He departs Saturday for Phoenix to join Team USA.
The American squad will open first-round play against Mexico next Friday at Chase Field. Team USA them plays Italy and Canada the following two days. (See schedule here.)
Wright will have appeared in four Grapefruit League games to tune up. He is 3-for-9 with one strikeout so far.
"It's a pretty cool feeling walking into the clubhouse the first time and seeing your last name on one of those USA jerseys,'' Wright told columnist Kevin Kernan in the Post, while adding that he is excited to play for Joe Torre, who will manage the U.S. squad.
Jonathon Niese starts opposite Verlander in today's SNY-televised game. Also due to pitch: Bobby Parnell, Jeurys Familia and Scott Atchison.
Single-game tickets for the regular season go on sale at 10 a.m. at Mets.com or by calling 718-507-TIXX.
Friday's news reports:
• Zack Wheeler, who suffered a mild strain of his right oblique on Wednesday in a batting cage, was not injured too badly, Terry Collins said. The hope is to have Wheeler on a mound in about four days and in a game again in about a week. Read more in the Post, Star-Ledger and Daily News.
• Could Jordany Valdespin unseat Kirk Nieuwenhuis as one of the Mets' three lefty-hitting outfielders and instead join Lucas Duda and Mike Baxter on the Opening Day roster? Well, with Daniel Murphy poised to return in about a week from an intercostal strain on his right side, Collins told ESPNNewYork.com he is prepared to start using Valdespin in the outfield rather than continue to use him at second base.
Valdespin is off to a .455 start through four games, while Nieuwenhuis is 1-for-13 (.077) with six Ks. Stay tuned.
• Rafael Montero, who was named the organization's pitcher of the year last season, made his Grapefruit League debut Thursday night against a formidable Washington Nationals lineup. Montero allowed one run on three doubles in in two innings while showing poise.
The game was called after 10 innings with the score tied at 4. The Mets are winless in their past five Grapefruit League games (0-3-2).
Montero, who is from the Dominican Republic, did not sign with the Mets until he was 20, in 2011, the first season of the Mets' new regime.
"Many guys sign at 16, but plenty of others sign at 17 and 18," Paul DePodesta said. "Twenty is a bit more out of the ordinary. I think Valdespin was 19 or 20 also. In any event, it's certainly unusual to be signed out of the Dominican Republic and be in major league camp just 25 months later. Rafael has been through six levels already in two seasons."
Read more on Montero in the Star-Ledger and at MLB.com.
• Pedro Feliciano's agent announced the left-hander has been diagnosed with a genetic heart disorder known as left ventricular noncompaction. A public-relations agency affiliated with agent Melvin Roman added that athletes can pitch through the issue without risk, so Feliciano will resume his career while wearing a heart monitor for a couple of weeks to satisfy the team. Read more in the Star-Ledger, Newsday and Daily News.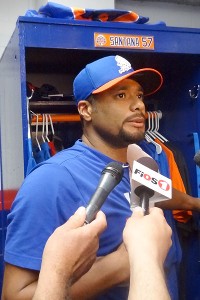 Adam Rubin
Terry Collins still eyes Opening Day for Johan Santana.
• Johan Santana may throw off a mound today for the first time since being backed off because of shoulder fatigue that sapped his arm speed. Collins reiterated Thursday that he expects Santana to be in a Grapefruit League game March 10 or 11, which would get him four spring-training starts to prepare for Opening Day.
• Tim Byrdak is scheduled to join camp today after mostly throwing on flat ground back at home the past few weeks. Byrdak, who underwent surgery to repair a torn anterior capsule in his pitching shoulder in August, likely would not be able to contribute until the season's second half.
• Foreigner (June 14), Nas (July 19), O.A.R. (Aug. 2) and Third Eye Blind (Aug. 23) will perform postgame concerts at Citi Field during the 2013 season. A game ticket includes admission to the abbreviated postgame concert. Nas, who hails from Queens, is a devout Mets fan.
• Marlon Byrd, the leading candidate to play right field, is in camp on a minor league contract. He tells Mike Puma in the Post that this likely is his "last chance" at reviving his career. "If I don't make this team, I don't see many other chances in baseball," Byrd said.
• Jose Reyes remains displeased with Marlins owner Jeffrey Loria. Read more from Ken Davidoff in the Post, where Reyes is quoted as saying: "He traded me. That's fine with me. Just be real with me. Be honest. Don't tell me to buy a house and get a nice place for my family and stuff when you [know] you're going to trade me. Why [did] you do that?"
• Marc Carig in Newsday notes Collins wants the Mets to be better baserunners. Writes Carig:
Consider one of the most famous moments in postseason history. Collins was a coach with the Pirates in 1992 when the plodding Sid Bream hustled home from second on a single, barely beating Pittsburgh leftfielder Barry Bonds ' throw and scoring the winning run in NLCS Game 7 to send the Braves to the World Series.
But more often, baserunning represents a less-dramatic advantage. According to statistics compiled by the site FanGraphs, through their decision-making on the bases, the Angels ran their way to an additional 18.3 runs last season. It was the best total in baseball. By contrast, the Nationals cost themselves 17.6 runs on the bases, the worst in the game. Statistically speaking, in the course of the season, the difference translated to about two games in the win-loss column.
The Mets ranked 19th, costing themselves 3.1 runs on the bases, a relatively insignificant number.
• Jared Diamond in the Journal delves into the Mets' decision to instruct Travis d'Arnaud not to block the plate.
• Mike Kerwick in the Record catches up with reliever Brandon Lyon.
• Columnist David Lennon in Newsday asserts it is unfair to have Collins managing in the final year of a contract and advocates for an extension.
• Columnist Bob Klapisch in the Record writes the "Mets still have money problems, so don't expect a revival anytime soon."
• Read more on Wright's impending departure to Team USA in the Times.
• Anthony DiComo at MLB.com notes the Mets' are prioritizing on-base percentage over steals in their leadoff hitter.
• From the bloggers … The Eddie Kranepool Society reviews Sandy Alderson's conference call with bloggers. … At Mets Police, Shannon suggests the Mets stage a ceremony in which Yogi Berra helps retire Gary Carter's No. 8. … Rising Apple asks: to block or not block the plate?
BIRTHDAYS: Former Mets catcher Ramon Castro turns 37. Castro is in camp with the Dodgers.
TWEET OF THE DAY:
BREAKING NEWS: Pope Benedict to join Bobby Valentine at Sacred Heart College as Asst. Athletic Director.

— Mike Barnicle (@mikebarnicle) February 28, 2013
YOU'RE UP: Do you support the World Baseball Classic … or wish it did not exist?
Please use the comments section to weigh in