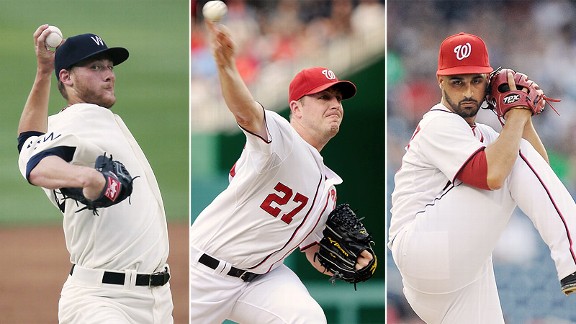 Getty Images
The Mets face (l to r) Ross Detwiler, Jordan Zimmermann and Gio Gonzalez during the midweek series.
METS (46-43, third place/NL East) vs. WASHINGTON NATIONALS (51-36, first place/NL East)
Tuesday: LHP Jon Niese (7-4, 3.73) vs. LHP Ross Detwiler (4-3, 3.43), 7:05 p.m. ET
Wednesday: RHP Chris Young (2-3, 4.28) vs. RHP Jordan Zimmermann (6-6, 2.48), 7:05 p.m. ET
Thursday: RHP R.A. Dickey (12-1, 2.66) vs. LHP Gio Gonzalez (12-4, 2.93), 12:35 p.m. ET
Nationals short hops
• Shortstop Ian Desmond, who has a nagging left oblique strain that prompted him to skip the All-Star Game, aims to return for Tuesday's series opener. Desmond started the Nats' first two second-half games in Miami, but was forced to bunt because it was uncomfortable to swing in the ninth inning Saturday. He since has missed consecutive games.
Desmond's absence has prompted second baseman Danny Espinosa (an 85-point better hitter against left-handed pitching) to start at shortstop, with Steve Lombardozzi manning Espinosa's position. Before the absence, Desmond was hitting .418 with six homers and 16 RBIs in a three-week span. Desmond's 17 homers are tied for the Washington/Montreal franchise record for a shortstop with Orlando Cabrera, who reached that total in 2003.
• Bryce Harper had an eventful weekend in Miami. He took advantage of napping infielders Hanley Ramirez and Jose Reyes as well as Josh Johnson to take third base uncontested Friday. Harper then drew taunts from Marlins skipper Ozzie Guillen on Sunday. Guillen had informed umpires that Harper had too much pine tar on his bat. After swapping out his lumber for his next plate appearances, Harper pointed his new bat in Guillen's direction. When Guillen called Nats manager Davey Johnson postgame to explain, Johnson told him, "Get the [expletive] away from me," according to media reports. Harper, only 19 years old, joined teammates Stephen Strasburg and Gio Gonzalez on the NL All-Star squad.
• Third baseman Ryan Zimmerman has seven homers and 21 RBIs in his past 18 games, including a 3-for-3 performance Monday in Miami with a long ball. The surge coincides with receiving a cortisone shot three weeks ago in his ailing shoulder.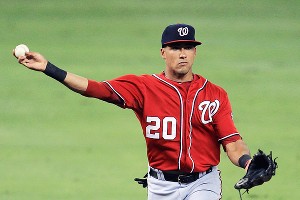 Chris Trotman/Getty Images
Ian Desmond has 17 homers, tied for the most by a shortstop in Washington/Montreal history.
• Closer Drew Storen has yet to appear this year following a 43-save season in 2011. He had surgery to remove a bone spur from his right elbow and has started a rehab assignment. The intention was for Storen to be activated to open the second half, but he developed arm fatigue in the minors. Interim closer Tyler Clippard has been so effective, though, Storen may not immediately take over closing.
Clippard did have an adventurous appearance Sunday. Trying to protect a 4-0 lead in the ninth, he loaded the bases on a single and two walks before getting out of the jam without surrendering a run. Clippard has been far more effective in save situations. In those 25 games, he has a 0.74 ERA and .120 opponent batting average, versus a 3.60 ERA and .208 opponent batting average in 15 non-save situations. Since Clippard took over the closer role in late May, he is 14-for-14 in save chances.
• Left-hander Sean Burnett, who has handled eighth innings as the primary setup man, is pitching through elbow tightness.
• Jordan Zimmermann blanked the Marlins for six innings in the second-half opener. He and Justin Verlander are the lone major leaguers to make 18 starts this season and complete six innings each time. Zimmermann has allowed one earned run or fewer in 10 of his starts. Meager run support is the lone reason Zimmermann has a .500 record.
• Nats GM Mike Rizzo continues to maintain Strasburg will be shut down at roughly 160 innings. Strasburg's previous high for a professional season is 123 innings, in 2010. Strasburg is currently at 105.
• Jayson Werth, who fractured his left wrist on an attempted May 6 catch, is aiming for an Aug. 1 return.
• Left-hander John Lannan, who has spent the entire season at Triple-A Syracuse despite a $5 million salary, is expected to be promoted Saturday for a spot start in a doubleheader against the Braves. The new collective bargaining agreement allows a 26th active player for doubleheaders.
• Ross Detwiler is firmly entrenched in the rotation with struggling Chien-Ming Wang now on the DL with a right hip strain.
• Ex-Met Xavier Nady is on a rehab assignment for a wrist injury.
• Brad Lidge was designated for assignment June 17.
• Former Mets farmhand Jesus Flores took over the primary catcher responsibilities in mid-May with Wilson Ramos out for the season with a knee injury. Nationals catchers have thrown out only 10 of 59 would-be base stealers this season.
• First baseman Adam LaRoche is hitting .201 in 48 games since May 17.
Last series results
Washington won, 2-1, at Nationals Park, June 5-7 (AP game recaps)
Nats 7, Mets 6 (12 innings): Bryce Harper's single ended a back-and-forth game that saw the Mets rally from a 3-0 early deficit to take leads in the top of the eighth, 10th and 12th innings -- only to have the Nationals tie the game in the bottom of the frame each time. Scott Hairston hit a solo homer in the top of the 12th to give New York a 6-5 lead, but the Nationals rallied when Michael Morse led off with his second double of the game. Ian Desmond followed with another double for his third RBI. Reliever Elvin Ramirez (0-1) walked two batters to load the bases, and a fielder's choice by Xavier Nady left the bases loaded with two outs for Harper, who lined an 0-2 pitch to left field. The ball fell just in front of a diving Vinny Rottino. More
Nats 5, Mets 3: Edwin Jackson hadn't won a game in nearly eight weeks, and Adam LaRoche was in an 0-for-13 rut. Both came through. Jackson pitched seven effective innings, and LaRoche hit a three-run homer. LaRoche got the first-place Nationals off to a fast start, belting his ninth homer of the season in the first inning against Jeremy Hefner (1-3). Bryce Harper reached on an error by second baseman Daniel Murphy, and Ryan Zimmerman walked before LaRoche hit a drive into the right-field bullpen. More
Mets 3, Nats 1: R.A. Dickey baffled the Nationals, limiting them to four singles over 7 1/3 scoreless innings. Dickey (9-1) extended the longest shutout string of his career to 24 2/3 innings -- a span that began against Pittsburgh and continued against San Diego, St. Louis and the Nats. Lucas Duda hit his 10th homer, a two-run shot in the fifth against Chien-Ming Wang (1-2). Daniel Murphy, who earlier bounced into an inning-ending double play that left him in a 0-for-19 rut, added an RBI single. More