WHAT IT MEANS: It's not quite as cold when you're on the winning side of a laugher.
The Mets put up consecutive five-run innings to begin Friday's interleague game en route to a 16-5 win against the Minnesota Twins amid snowflakes at Target Field. The first-pitch temperature officially was recorded at 34 degrees.
John Buck put an exclamation point on the early offensive explosion, greeting reliever Pedro Hernandez with a grand slam in the second inning. That closed the book on ex-Phillie Vance Worley, who was charged with nine runs (seven earned) in one-plus innings.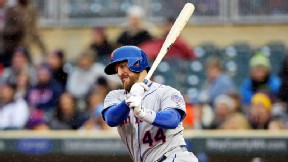 Jesse Johnson/USA TODAY Sports
John Buck has homered in four straight games. He has 19 RBIs in the Mets' first 10 games of the season.
Buck has now homered in four straight games. That's the longest streak by a Met since David Wright also went deep in four straight in June 2007. It's one shy of matching Richard Hidalgo's franchise record, set shortly after he joined the Mets in 2004.
Buck's 19 RBIs surpassed his career high for a month (17 in August 2004, as a rookie).
Only three other players in major league history have produced 19 RBIs through their teams' first 10 games of a season: Chris Davis this year with Baltimore, as well as Lou Gehrig in 1927 and Manny Ramirez in 1999.
The Mets' record for RBIs in a month is owned -- at least for a few more days -- by Jeff Kent, who had 26 in April 1994.
Buck's six homers this season already exceed the five Mets catchers produced last season (Kelly Shoppach 3, Josh Thole 1, Mike Nickeas 1).
Wright also had a noteworthy achievement Friday. With Jordany Valdespin and Daniel Murphy in scoring position to open the game, Wright delivered a two-run double to break a tie with Mike Piazza for the most RBIs in franchise history in interleague play. Wright added a run-scoring single in the second and run-scoring triple in the seventh, giving him 93 RBIs to Piazza's 89.
Buck, Murphy and Wright had four RBIs apiece.
Worley had the shortest start by a pitcher against the Mets since the Yankees' Darrell Rasner was forced from a May 19, 2007, outing at Shea Stadium without recording an out. Rasner took a sharp shot off the bat of Endy Chavez and broke his index finger in that game.
The 16 runs produced by the Mets matched their most ever in an interleague game. They beat Detroit 16-9 on June 29, 2011.
The Mets had scored one run total in the first inning of their first nine games of the season before posting a five-run first against the Twins.
The Mets became the first team in MLB history to score five-plus runs in each of their first two innings in their first-ever game in a ballpark, according to the Elias Sports Bureau.
Murphy had four hits, matching a career high. The production included a three-run double in the seventh that gave the Mets a 13-5 lead.
SIXTH SENSE: Jonathon Niese, the beneficiary of the offensive outburst, departed after five innings with a 10-5 lead and his pitch count at 101. Niese's streak of 22 straight starts completing six innings, the longest active in the majors, ended.
An error by Ruben Tejada, the shortstop's fifth of the season, resulted in one of the runs against Niese being unearned.
Philadelphia's Cliff Lee now has the longest active streak in the majors of six-plus-innings starts, with 19 straight.
LAFFEY MATTER: Aaron Laffey, who has eight days between starts, pitched the ninth to get work in. Laffey is due to start Tuesday in Colorado.
WHAT'S NEXT: Matt Harvey (2-0, 0.64 ERA) opposes left-hander Scott Diamond, who is making his first 2013 start after recovering from Dec. 18 surgery to remove a bone chip from his pitching elbow.