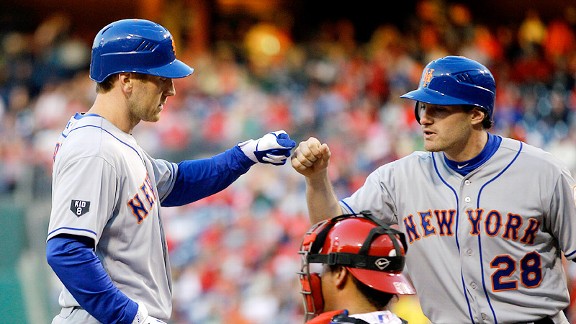 Matt Slocum/Associated Press
Daniel Murphy congratulates Jason Bay after the left fielder's two-run homer in the first inning against Cliff Lee.
Daniel Murphy could find himself at third base Saturday, assuming David Wright lands on the disabled list, which seems the likelihood because of the lack of progress with his fractured right pinkie.
Murphy is not a gifted fielder anywhere, but he is a natural third baseman. He has not done any work at the position since first arriving at Port St. Lucie, Fla., in January, though.
Ronny Cedeno and Justin Turner will man second base with Murphy at third, rather than vice versa.
Turner started at third base Friday.
"I'll take a couple of groundballs over there, I should be all right, if that's the way it goes," Murphy said after he committed a ninth-inning error at second base that led to the final run in the Mets' 5-2 win at Philadelphia on Friday night. "They're more skilled than I am at second. JT looked pretty good at third, though, but he can't play them both."
• With Wright seemingly likely to land on the DL, Jason Bay essentially is the best righty-hitting power option the Mets possess. So it's imperative there are more long balls like the first-inning shot he hit off Cliff Lee, which staked the Mets to a 3-0 lead.
"A guy like that, it literally was the only pitch I got to hit from him all night," Bay said. "And the way things have been going, I normally would have missed it or taken it. It was like, 'All right, I put a good swing on it,' and I just kind of exhale a little bit and build off that."
Said manager Terry Collins: "I feel great for Jason Bay. I'm telling you, he needed it as much as anybody. A huge hit for him and for us."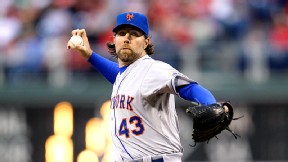 Matt Slocum/Associated Press
R.A. Dickey contributed his 14th consecutive quality start, the longest active streak in the majors.
• R.A. Dickey said the cooler weather has wreaked a little havoc with his knuckleball, even though he was able to improve to 2-0 and produce his 14th straight quality start, which is the longest active streak in the majors.
"Tonight I had a good knuckleball for a batter, and then it would kind of go away, and I'd have a good knuckleball for a batter," said Dickey, who allowed one run on nine hits and a walk in seven innings. "I still think there might be something to the weather. I would get a ball that would be nice and smooth. And I'd get another one that would be rough. It's that time of year where I really am going to have to fight."
Collins pulled Dickey at 102 pitches. The manager said the numbers show Dickey's success dramatically swoons after 110 pitches, despite the knuckleballer having the stamina to throw far more pitchers than a conventional hurler.
Last year beyond 100 pitches, batters hit .314 against Dickey. They hit .238 on his first 25 pitches of a game, .288 on the next 25, .204 from pitches 51-75, and .288 from 76-100.
As for his body of work through two starts, Dickey said: "I think I've had two or three 1-2-3 innings in my first two games. I've had a lot of baserunners, but ultimately the games usually come down to four or five pitches -- first and third, one out; runner on third, one out; guys in scoring position. And when you've got to make a big pitch, fortunately, tonight was a night where we were able to make that big pitch, to get a big strikeout.
"Cliff Lee is one of the best. You know you're not going to get many [runs]. He really, in my opinion, he outpitched me in a lot of ways. But we were able to make the big pitch tonight."
• Why use Bobby Parnell in the eighth inning to protect a 4-1 lead? Collins said it was not an audition for Parnell as a setup man.
Instead, Collins said, there were several other factors:
The manager cited Parnell's six scoreless, one-hit innings against the Phillies last season, as well as the reliever's career success at Citizens Bank Park (six of seven appearances scoreless). Collins said he also liked using the hard-throwing Parnell after Dickey, and how Parnell matched up against that inning's batters -- Placido Polanco, Jimmy Rollins and Hunter Pence. The trio was 1-for-12 combined against Parnell entering the series.
• Lucas Duda delivered a ninth-inning sacrifice fly, but otherwise was 0-for-3 with two strikeouts. He is hitless in his last 14 at-bats and his average has dipped to .120.
"He's gotten away from using left-center field a little bit," Collins said. "He's got to go back. That's a big part of his game. He's got great power over there. That's how he got to the big leagues, because he used the whole field. I want him to go back to that."
• Ike Davis, who had a follow-up valley fever exam this week that included blood testing, said he still has not received any final results. He continues to be in the lineup without issue.