The Mets used to hold a winter caravan that included bringing most of their major league players to New York for a weeklong series of appearances. That stopped after the 2005-2006 offseason.
This upcoming weekend, fans will revive their own version -- albeit on a far smaller scale.
Dubbed the "Queens Baseball Convention," the event will be held this Saturday at McFadden's at Citi Field. It begins at noon and runs into the early evening. Tickets cost $35 for adults and $10 for children 12 and under.
Shannon Shark, founder of MetsPolice.com, and The 7 Line founder Darren Meenan are spearheading the event -- which is unaffiliated with the Mets, but getting cooperation from the organization.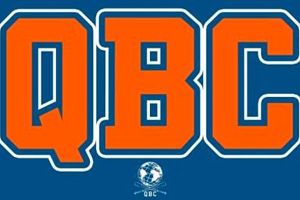 Ron Darling and Ed Kranepool are due to attend and sign autographs, which is included in the admission price. Other QBC events include a Q&A with Darling, a new-media panel, Q&A with Brooklyn Cyclones GM Steve Cohen, a panel featuring ESPN Stats & Information chief Mark Simon, Mets trivia and an appearance by Mr. Met.
"Darren and I had been talking about collaborating on something for a few months. We just didn't know what," Shark said. "So I asked him to join with us to put this event together. I have more of a logistical brain, whereas he is a natural marketer.
"We figure we'll have a few hundred [attendees]. I know that's a vague number, but it could be a number that starts with a two or a number that starts with a five. Darren, who has experience in this sort of thing, keeps giving me eyes-of-steel that we'll have a lot of walkups. We're also seeing a bounce now that everyone is out of holiday mode and we have a few more things locked down.
"We've learned all sorts of things along the way -- for example, tickets sell at night. I guess everyone comes home and jumps on the internet. So whereas I normally time blog posts during the day, I time QBC announcements around 8 p.m. So we'll see what the final number is, but even if we didn't sell another ticket I'd be comfortable with where we landed.
"As for highlights, we sure are thrilled that Ron Darling and Ed Kranepool agreed to be part of this. That initial announcement immediately gave the event an air of credibility."
As for the Mets discontinuing their own caravan six years, Shark said: "I know that a year ago my answer would have been, 'Come on Mets, we need a Mets Fest!' Now, with time and emotion invested in this event, I have mixed emotions.
"Obviously a Mets Fest similar to what teams like the Reds have would be awesome. But, on the other side, I like what we have created here, and I'd like to see it become an annual event. Maybe there's a future in which there are both.
"The Mets have been nothing but great. The 3 p.m. panel will be with folks from the Mets marketing and ticketing group, which I am excited about because it will give the fans a chance to get to know about some of the behind-the-scenes workings of the club, and it gives the club a cool forum in which to have that conversation. I have had nothing but really positive conversations with them about QBC."
Mets senior VP of marketing David Newman said the Mets support the blogger-driven fan event.
According to Newman, the club discontinued its own caravan because there is only so much they can ask of any player. Team marketing officials prefer to spread the activities over multiple events throughout the year with smaller groups of players rather than committing 25 players to a weeklong event in January.
Truthfully, the old Mets caravan was more of a series of charity appearances and media interviews than direct contact with fans anyway.
"It was not necessarily a cost-benefit [analysis]," Newman said. "It's how we use our players knowing what we ask of them, whether it's related to media, community, business partners -- the Citis of the world, etc. It's a limited amount of time."
Newman indicated the decision is comparable to bringing in individual members of, say, the '73 Mets throughout the year rather than the whole team on one date.
Said Newman: "This kind of goes back to: Do you bring in every living member of whatever team it is? We've elected to break it up and use our player assets as well as our alumni assets throughout the year."