PORT ST. LUCIE, Fla.
FIRST PITCH: The Mets are set to bolt from Florida late Thursday afternoon.
After completing Grapefruit League play with a 12:05 p.m. game against the Washington Nationals at Tradition Field (ESPN/SNY), the Amazin's head to Montreal for a pair of weekend games against the Toronto Blue Jays at Olympic Stadium.
Plenty is going on at the Mets' complex as the team readies to depart.
Jonathon Niese is scheduled to throw in a 1 p.m. minor-league game. The action comes 10 days after Niese received a cortisone injection in his left elbow in New York to address inflammation. Assuming Niese passes this test, plus another minor-league outing five days later, he will be activated from the disabled list to face the Cincinnati Reds on April 6 at Citi Field.
A setback means Daisuke Matsuzaka and Jenrry Mejia will be in the rotation.
Also on a minor-league field Thursday, Bartolo Colon pitches. The Mets prefer Colon pitch on the back field rather than face the Nats because Colon is scheduled to oppose Washington's Gio Gonzalez in Game 2 of the regular season in six days at Citi Field.
Prospect Cory Mazzoni will oppose Jordan Zimmermann in the Grapefruit League game.
Thursday's news reports:
• Dillon Gee tossed six no-hit innings against the Houston Astros in his final tune-up for Opening Day. He finished Grapefruit League play with a 1.08 ERA and one walk allowed in 16 2/3 innings. The Mets actually lost the game, 9-6, thanks to a seventh-run seventh against John Lannan, Gonzalez Germen and Carlos Torres. Read more in the Star-Ledger, Daily News and MLB.com.
Adam Rubin
Vic Black was demoted Wednesday.
• The Mets demoted Vic Black to Triple-A Las Vegas. Once a bullpen lock, Black pitched himself off the roster by allowing 23 baserunners in 9 1/3 innings.
Germen will make the roster with Black's demotion. Jose Valverde, who was informed midday Wednesday that he had made the club, will serve as the primary setup man to Bobby Parnell. Parnell may not work more than two straight days early in the season.
Read more on Black's demotion and the bullpen composition in the Post, Journal, Star-Ledger, Newsday and MLB.com.
• Kyle Farnsworth officially re-signed with the Mets and is expected to open the season with Las Vegas. He has an out a month into the season if he is not promoted to the majors by then.
• The Mets do not expect to make any trades before Opening Day.
• Before Friday's Mets-Blue Jays game in Montreal, there will be a pregame ceremony honoring the late Gary Carter, who starred for the Expos before arriving in Queens via trade. The Kid's family will be on hand.
"It is going to be hard. It hasn't been two years yet, but I knew we had to be there," widow Sandy Carter told Kristie Ackert in the Daily News. "I agreed when I heard there would be a game at the old park. And then when I heard it was the Mets, I knew it was right. It's like two pieces of our hearts joining together that night."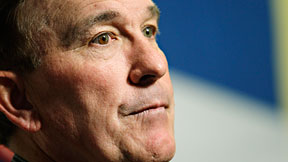 Frank Franklin II/Associated Press
The late Gary Carter will be honored before Friday's game at Olympic Stadium.
As for Sandy Carter's Montreal experience, she tells the newspaper: "We grew up there. We were 21 and 20 when we got married and moved there. He learned French to be more involved with the fans and the franchise. We were building a house there. And then we started hearing about the trade.
"At first we were shocked, and then we heard from the Mets how Gary was the missing piece of the puzzle there. It was a different challenge, but it was a wonderful one. And the 1986 World Series … well … that was just the best."
• Fifty-nine percent of New York City residents would root for the Yankees in an October Subway Series and 37 percent would root for the Mets, a Quinnipiac University poll finds. Of the NYC residents surveyed who identified themselves as "very" or "somewhat" interested in baseball, 61 percent said the Yankees were their favorite team and 27 percent said the Mets. The Yankees even have more fans than the Mets in Queens, by a 50-43 margin, the study found. Check out the full results here.
• Forbes appraised the Mets at $800 million, the ninth-most valuable MLB team. The Mets annually dispute the magazine's appraisal. The Yankees lead MLB with a $2.5 billion appraisal, followed by the Dodgers at $2 billion. The Tampa Bay Rays are worth the least, at $485 million. See Forbes' full valuation list here. Read more in the Post.
• Columnist Joel Sherman in the Post suggests Terry Collins has his work cut out for him finding playing time for Ike Davis and Lucas Duda. Writes Sherman:
One Mets official admitted, "It is not ideal." Which is currently the 2014 baseball season leader for understatement of the year. If it were just that the two bat from the same side of the plate and play the same position, and that neither has remained healthy enough or good enough to win the job outright, then it could all be chalked up as a simple problem of roster inflexibility, and deal with that Terry Collins.
But, come on, we see the real day-after-tomorrow problem coming as clearly as Knicks coach Mike Woodson's dismissal. Unless one of the duo seizes the job and doesn't let go -- and what in either's past suggests that likelihood -- then Collins is going to face the daily dilemma, disquiet and discussion about who is going to play first base.
• Mike Puma in the Post writes that Ruben Tejada has won the shortstop competition by default.
• Juan Lagares needs to concentrate on strike-zone discipline to be a regular with the Mets. Collins pointed to a game Tuesday in which Lagares chased a fastball way up and out of the zone and struck out. Read more in the Star-Ledger and Newsday.
• Anthony DiComo at MLB.com has a Q&A with broadcaster Kevin Burkhardt.
• Columnist David Lennon in Newsday asks David Wright if the Mets have kept the promises they made to him when he signed an eight-year extension.
• The New York Observer has a lengthy cover piece on Wright. Writes Rafi Kohan:
When I ask about his relationship with Fred Wilpon, the team's owner, who openly ripped Wright -- "A really good kid. A very good player. Not a superstar." -- in a 2011 New Yorker article that focused on the team's financial dealings with Bernie Madoff, Wright sighs and says the whole thing was blown out of proportion. "Did it sting a little bit? Of course," he says, "because you're talking about your owner saying these things. But our relationship is strong enough that he can say that and it's not going to break the loyalty that either one of us have for one another."
• From the bloggers … Rising Apple staff gives its Mets record predictions.
BIRTHDAYS: Matt Harvey turns 25. ... 2011 first-round pick Brandon Nimmo is 21.
TWEET OF THE DAY:
HOFer Gary Carter #MLB #Mets #Expos pic.twitter.com/gbeulXKbWA

— Stormin Norman (@Stormin1Norman) March 26, 2014
YOU'RE UP: Are you surprised by Vic Black's demotion?