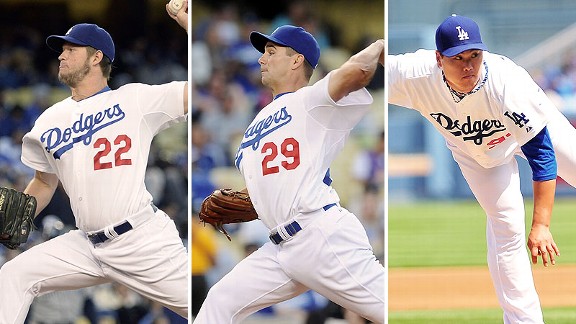 USA TODAY Sports
The Mets face (l to r) southpaws Clayton Kershaw, Ted Lilly and Hyun-Jin Ryu this week at Citi Field.
METS (9-8, third place/NL East) vs. LOS ANEGELES DODGERS (8-10, fourth place/NL West)
Tuesday: LHP Jonathon Niese (2-1, 3.80) vs. LHP Clayton Kershaw (2-2, 1.88), 7:10 p.m. ET
Wednesday: RHP Matt Harvey (4-0, 0.93) vs. LHP Ted Lilly (0-0, -.--), 7:10 p.m. ET
Thursday: RHP Jeremy Hefner (0-2, 7.07) vs. LHP Hyun-Jin Ryu (2-1, 4.01), 1:10 p.m. ET
Dodgers short hops
• Los Angeles had eight starting pitchers in spring training, but the surplus is depleted. Aaron Harang was traded to the Colorado Rockies, then flipped to the Seattle Mariners, when L.A. seemed like it had a ton of depth. Zack Greinke suffered a broken left collarbone in the altercation with San Diego's Carlos Quentin (which devolved into Padres president Tom Garfinkel having to apologize for an insensitive comment.) Fill-in Chris Capuano suffered a strained left calf. And now Chad Billingsley landed on the DL Sunday with elbow pain.
Ted Lilly makes his season debut Wednesday, after three minor league starts during which he allowed 24 hits and 15 runs (13 earned) in 17 innings. Lilly is returning from labrum surgery on his left shoulder. He missed the final 118 games of last season. Lilly was ready out of spring training and was upset when he did not make the Opening Day roster.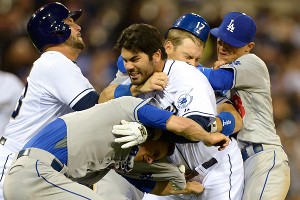 Jake Roth/USA TODAY Sports
Zack Greinke suffered a broken left collarbone courtesy of Carlos Quentin.
Stephen Fife made his season debut Sunday in Baltimore, plugging another rotation spot.
• Clayton Kershaw publicly said he did not want to negotiate a contract extension in-season, but the sides are believed to have continued talking hush-hush beyond Opening Day.
Kershaw became the second-youngest Dodger to reach 1,000 career strikeouts on Wednesday, at 25 years, 29 days. Fernando Valenzuela accomplished that feat at age 24 years, 303 days.
Kershaw enters the Citi Field outing off a loss to San Diego in which he matched a career high by surrendering three homers. Still, Kershaw has been exceptional this season. He is not getting run support. L.A. has scored a combined seven runs in his four starts.
Kershaw is 5-0 with a 1.37 ERA in six career starts against the Mets.
• The Dodgers acquired catcher Ramon Hernandez from the Rockies on April 6 for Harang. The trade brought in a backup for A.J. Ellis that will allow 25-year-old catcher Tim Federowicz to get regular playing time in Triple-A. All three were on the active roster this weekend in Baltimore, but that is expected to change.
• Hyun-Jin Ryu was named to seven straight South Korean All-Star teams before joining the majors this season. He is viewed as a No. 3 of 4 starter. The Dodgers paid a $25.7 million posting fee to Ryu's South Korean club, plus owe him $36 million in salary over six years.
• Hanley Ramirez, who is on the disabled list after undergoing right thumb surgery, may return quickly -- by the end of the month -- after initial projections of mid-May. Ramirez suffered the injury in the final game of the Dominican Republic's World Baseball Classic championship run, while diving awkwardly for a groundball.
L.A. has not announced whether Ramirez will play shortstop or third base when he returns, although the educated guess is shortstop. Both spots having gaping voids. Shortstop Justin Sellers is hitting .174. Third baseman Luis Cruz is hitting .087.
• The Dodgers took on $250 million in payroll in the Aug. 25, 2012 mega-trade with the Boston Red Sox that brought in Carl Crawford, Adrian Gonzalez, Josh Beckett and Nick Punto.
• Cuban defector Yasiel Puig -- who signed for $42 million -- is hitting .333 with three homers and nine RBIs through 48 at-bats with Double-A Chattanooga. The 22-year-old right fielder may eventually make Andre Ethier expendable -- or, perhaps, Matt Kemp … if Kemp continues to struggle. Puig is briefly sidetracked in the Southern League because of a sprained left thumb.
• The struggling Kemp -- who finished second in MVP balloting just two years ago, behind Ryan Braun -- injured his shoulder last August in Colorado and had left surgery for a partially torn labrum in October. He had only one Cactus League homer and has not gone deep this season. Kemp is signed through 2019.
• The Dodgers' most common batting order:
Crawford, lf
Mark Ellis, 2b
Kemp, cf
Gonzalez, 1b
Ethier, rf
Ellis, c
Cruz, 3b
Sellers, ss
• The Dodgers snapped a six-game losing streak with a 7-4 win Sunday at Baltimore. Kemp, who started the season slowly, went 3-for-5 to lift his average to .235. He produced his sixth RBI.
• Manager Don Mattingly appears on the hot seat. His 2014 option has not been picked up.