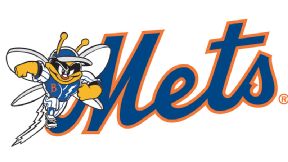 The 2013 Binghamton Mets staff is returning intact for the upcoming season.
Pedro Lopez remains the manager, with Luis Natera serving as hitting coach and Glenn Abbott serving as pitching coach.
Last season, the B-Mets produced a franchise-record 86 wins and earned their first playoff appearance since 2004. Lopez earned Eastern League manager of the year honors.
The 2014 team should include catching prospect Kevin Plawecki, first baseman Jayce Boyd, third baseman Aderlin Rodriguez and potentially outfielder Dustin Lawley, who led the Florida State League in homers last year.
The Triple-A Las Vegas staff is Wally Backman as manager with Frank Viola as pitching coach and George Greer as hitting coach. The Class A St. Lucie staff is Ryan Ellis as manager with Phil Regan as pitching coach and Joel Fuentes as hitting coach.
Randy St. Claire, who served as Triple-A pitching coach last season, has left the organization. He has been named Triple-A pitching coach for the Blue Jays, in Buffalo.