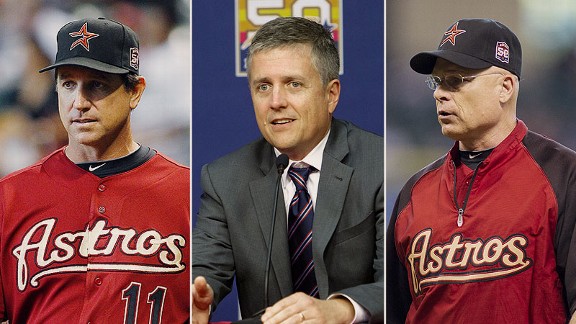 Getty Images
Tony DeFrancesco (left) was named interim manager by first-year GM Jeff Luhnow (center), replacing fired Brad Mills (right).
METS (57-68, fourth place/NL East) vs. HOUSTON ASTROS (39-86, sixth place/NL West)
Friday: LHP Jon Niese (10-6, 3.82) vs. RHP Jordan Lyles (2-10, 5.70), 7:10 p.m. ET
Saturday: RHP R.A. Dickey (15-4, 2.82) vs. TBA, 1:10 p.m. ET
Sunday: RHP Jeremy Hefner (2-5, 5.11) vs. RHP Lucas Harrell (10-9, 4.04), 1:10 p.m. ET
Astros short hops
• Tony DeFrancesco became interim manager Sunday, replacing fired Brad Mills. DeFrancesco had been managing Triple-A Oklahoma City. First-year GM Jeff Luhnow also replaced hitting coach Mike Barnett with Ty Van Burkleo and first base coach Bobby Meacham with Dan Radison.
• This series marks the last meeting before the Astros move to the American League West in 2013. Houston is 307-256 against the Mets all time in the regular season.
The Mets beat the Astros, 4-2, in the 1986 NLCS -- taking the clinching Game 6 in 16 innings. The Mets trailed, 3-0, entering the ninth, with the prospect of facing ace Mike Scott in Game 7 looming. But the Amazin's scored three runs in the ninth on RBIs from Mookie Wilson, Keith Hernandez and Ray Knight. After trading runs in the 14th, the Mets produced three runs in the 16th and held on, 7-6, when Jesse Orosco struck out Kevin Bass.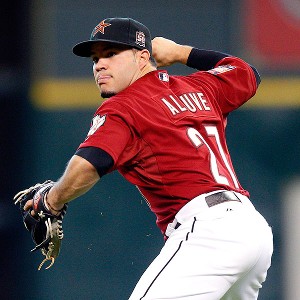 Bob Levey/Getty Images
All-Star second baseman Jose Altuve remains on an otherwise dismantled Astros roster.
• The Mets and Astros own the two worst second-half records in the National League. Houston is 6-33 since the All-Star break. The Mets are 11-28. Next: The Cubs are 14-24, followed by the Marlins at 16-25 and the Rockies and Brewers, each at 17-21.
• The Astros' pre-trading deadline dismantling included:
July 4: Sent first baseman Carlos Lee to Miami for third baseman Matt Dominguez and left-hander Rob Rasmussen.
July 20: Traded right-handers Brandon Lyon and David Carpenter and left-hander J.A. Happ to Toronto for right-hander Francisco Cordero, outfielder Ben Francisco, right-hander Joe Musgrove, right-hander Asher Wojciechowski, left-hander David Rollins, catcher Carlos Perez and a player to be named.
July 21: Traded Brett Myers to the Chicago White Sox for right-hander Matt Heidenreich and left-hander Blair Walters.
July 24: Traded left-hander Wandy Rodriguez to Pittsburgh for left-hander Rudy Owens, outfielder Robbie Grossman and left-hander Colton Cain.
July 27: Claimed right-hander Chuckie Fick off waivers from St. Louis.
July 28: Claimed outfielder/first baseman Steve Pearce off waivers from Baltimore.
July 29: Sent third baseman Chris Johnson to Arizona for infielder Bobby Borchering and outfielder Marc Krauss.
• All-Star Jose Altuve leads NL second baseman in average at .304, two points ahead of Arizona's Aaron Hill.
• Outfielder Fernando Martinez, who was claimed off waivers from the Mets on Jan. 11, was promoted from Triple-A on Aug. 10. During a June stint with the major league club, he landed on the disabled list for 18 days with a concussion. Martinez is 7-for-44 with the Astros this season, but he produced a .314 average with 13 homers and 62 RBIs in 341 at-bats for Oklahoma City.
• Jordan Lyles is the youngest active starting pitcher in the majors. He was born Oct. 19, 1990. Toronto's Henderson Alvarez (April 18, 1990) ranks second. Miami's Nate Eovaldi (Feb.13, 1990) is third. The Astros have the youngest active roster overall, at an average age of 26.4. Kansas City (26.5) and Colorado (26.8) are next.
• Lucas Harrell (10-9) has logged more innings than any NL rookie and ranks second in wins to Arizona's Wade Miley (14-8).
• With 50-year-old Roger Clemens pitching for the independent Sugar Land Skeeters on Saturday, there is speculation he could appear with the Astros before the end of the season.
• Reliever Rhiner Cruz (1-1, 6.90 ERA), a Rule 5 selection from the Mets, appears poised to last the season with the Astros and become Houston's property.
Last series results
Houston won, 3-0, at Minute Maid Park, April 30-May 2 (AP game recaps)
Astros 4, Mets 3: Jordan Schafer had two hits and scored twice, including the go-ahead run on a single by Jed Lowie in the eighth inning. More
Astros 6, Mets 3: Chris Snyder hit a three-run home run and Jed Lowrie had a two-run shot. Lowrie's homer, off Jon Niese, which hit the inside of the foul pole in left field in the first inning, got things going for the Astros. More
Astros 8, Mets 1:Chris Johnson homered in consecutive at-bats among his four hits and drove in a career-high six runs to back up another solid outing by Wandy Rodriguez. Johnson's first homer of the season, off Chris Schwinden (0-1), was a three-run shot to the Crawford Boxes in left field that put Houston up 3-0 in the second inning. More