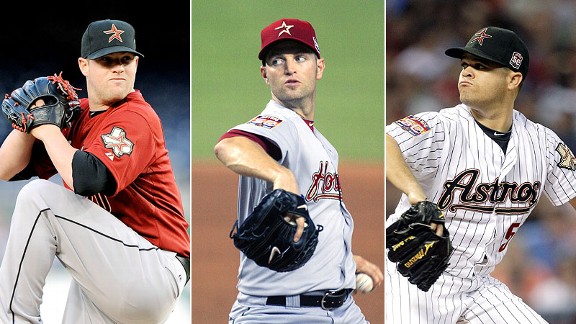 Getty Images
The Mets face (l to r) Bud Norris, J.A. Happ and Wandy Rodriguez during the final trip to Houston with the Astros an NL member.
METS (13-9, third place/NL East) vs. HOUSTON ASTROS (8-14, fifth place/NL Central)
Monday: RHP R.A. Dickey (3-1, 4.44) vs. RHP Bud Norris (1-1, 5.84), 8:05 p.m. ET
Tuesday: LHP Jon Niese (2-0, 2.81) vs. LHP J.A. Happ (1-1, 4.70), 8:05 p.m. ET
Wednesday: RHP Chris Schwinden (0-0, 11.25) vs. LHP Wandy Rodriguez (2-2, 1.72), 2:05 p.m. ET
Astros short hops
• The Astros, who debuted as a member of the National League alongside the Mets in 1962, originally as the Colt .45s, move to the American League West next season as part of the conditions of Jim Crane's purchase of the team from Drayton McLane. Crane received a $65 million purchase credit to balance the leagues at 15 teams apiece.
As for Astros fans' negative reaction to the AL move, Crane told The Houston Chronicle: "I think it's calmed down considerably once people understand that was our destiny. That's the way baseball had decided -- whoever owned the Astros was going to be in the American League. You can argue anything I guess, but what they did does make some sense for baseball. When you look at the two Texas teams, it evens out that, keeps the Rangers from traveling more. Our TV partner Comcast feels it's a stronger deal for us with the East Coast teams like Detroit and Cleveland and some of the old traditional teams -- the Yankees and Boston. And we're going to do better on the network because of that.
"The downside that we'll see is the DH and a little more travel. And we'll try to get games scheduled so that when we get getaway games they'll be in the afternoon, so you're not going to see that many late-night games."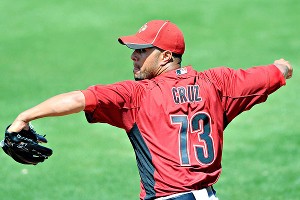 Brad Barr/US Presswire
Rhiner Cruz, a Rule 5 pick from the Mets, is off to a solid start in Houston's bullpen.
• The Astros have lost six straight series, the latest secured with a 6-5 loss at Cincinnati in Sunday's rubber game.
• Diminutive second baseman Jose Altuve is among the league's hottest hitters. The 5-foot-5 Altuve went 3-for-5 Sunday to lift his average to .373. That trails only Matt Kemp (.425) and David Wright (.397) in the National League. Altuve, who turns 22 next Sunday, is the shortest player in the majors this season. He has runner-up Alexi Amarista of the Los Angeles Angels beat by two inches. Altuve had been the second-youngest too, behind Toronto Blue Jays right-hander Drew Hutchison. But 19-year-old Bryce Harper and 20-year-old Mike Trout just made their major league debut/return. Altuve began last season at Class A Lancaster, but made his major league debut July 20 after jumping from Double-A.
• The Astros acquired shortstop Jed Lowrie and right-hander Kyle Weiland from the Boston Red Sox on Dec. 14 for right-handed reliever Mark Melancon, Houston's 2011 saves leader with 20. Lowrie opened the season the disabled list with a sprained right thumb. He made his Astros debut April 13. Weiland (0-3, 6.62 ERA) landed on the DL with shoulder bursitis, and Jordan Lyles was promoted for a spot start Sunday. Lyles was returned to the minors postgame.
• Catcher Jason Castro, the 10th overall pick in the 2008 draft, out of Stanford, missed last season while recovering from right knee surgery to repair a torn ACL. He also missed two games last week with a neck issue after a plate collision with Milwaukee's Mat Gamel. Castro returned Friday. Opponents have been successful in all 13 steal attempts against Castro this season.
• Carlos Lee left Friday's game in the first inning with a left ankle sprain, which he suffered pursuing a low throw from third baseman Chris Johnson that eluded him at first base. X-rays were negative, but Lee (.273, 2 HR, 13 RBIs) likely will remain sidelined at least early in the Mets series. Lee exclusively has played first base this season, after splitting time evenly between that position and left field a season ago. Matt Downs has filled in at first base in Lee's absence. J.D. Martinez is now the full-time left fielder.
• Backup infielder Marwin Gonzalez spent the weekend on paternity leave, but was activated for Monday's series opener in the roster spot Lyles held for a day.
• Wandy Rodriguez has a 1.72 ERA in five starts.
• Bud Norris allowed seven runs in his last start, including two-run homers to Milwaukee's Travis Ishikawa and Corey Hart.
• Closer Brett Myers is 4-for-4 in save chances.
• Right-hander Rhiner Cruz (1-0, 2.08 ERA) is Rule 5 pick from Metsm who is drawing rave reviews from scouts because of his 98 mph fastball from a "weird," low arm slot. Cruz, who was not protected on the Mets' 40-man roster, opened eyes with Cibao in the Dominican Winter League, before the December draft. He posted a 1.47 ERA in 18 1/3 innings over 21 relief appearances in winter ball. Cruz has not appeared since last Monday because of a twisted an ankle. Cruz, 25, had control issues last season between Class A St. Lucie and Double-A Binghamton in the Mets organization. He walked 45 and hit seven batters in 71 2/3 innings.
• Fernando Martinez, who was claimed off waivers by the Astros from the Mets during the offseason, is hitting .318 with four homers and 21 RBIs in 22 games for Triple-A Oklahoma City. He primarily has played left field, while being assigned to DH the past two games.
• Ex-Brave Jordan Schafer was ejected Sunday after disputing a caught-stealing call by ump Marvin Hudson in the second inning. Before that, the 25-year-old center fielder extended his streak of reaching base at least once to 22 games, the longest to open a season by an Astro since Ricky Gutierrez had a 23-game streak in 1998. Denis Menke owns the franchise record -- 25 games in 1969.
• Ex-Mets/Astros outfielder Richard Hidalgo is scheduled to throw out the ceremonial first pitch before Monday's series opener.
Matchups
Dickey vs. Astros (career: 1-2, 3.82 ERA)
Travis Buck .667, 1 HR, 1 RBI, 3 PA
Jason Castro .667, 3 PA
Jed Lowrie .500, 1 RBI, 3 PA
Matt Downs .500, 1 HR, 1 RBI, 2 PA
Jordan Schafer .429, 1 K, 7 PA
Carlos Lee .381, 1 HR, 5 RBI, 2 K, 21 PA
Chris Johnson .286, 1 RBI, 14 PA
Brian Bixler .200, 1 K, 5 PA
Chris Snyder .000, 1 BB, 1 K, 6 PA
Niese vs. Astros (career: 1-1, 1.80 ERA)
Brian Bixler .333, 2 K, 6 PA
Chris Johnson .333, 1 RBI, 6 PA
Carlos Lee .250, 1 RBI,1 BB, 9 PA
Jordan Schafer .000, 2 K, 8 PA
Jason Castro .000, 3 PA
Chris Snyder .000, 1 K, 2 PA
Schwinden vs. Astros (career: never faced)
Norris vs. Mets (career: 1-1, 4.85 ERA)
Daniel Murphy .333, 1 HR, 2 RBI, 2 K, 6 PA
Justin Turner .333, 1 K, 3 PA
Josh Thole .250, 1 HR, 1 RBI, 2 BB, 2 K, 10 PA
Ike Davis .250, 1 BB, 2 K, 9 PA
Scott Hairston .200, 1 HR, 1 RBI, 1 BB, 1 K, 6 PA
David Wright .000, 3 BB, 4 K, 12 PA
Andres Torres .000, 1 K, 3 PA
Happ vs. Mets (career: 2-2, 4.82 ERA)
Mike Nickeas .500, 1 HR, 1 RBI, 2 PA
David Wright .462, 3 HR, 6 RBI, 2 BB, 2 K, 15 PA
Andres Torres .333, 1 RBI, 1 K, 3 PA
Scott Hairston .333, 1 K, 3 PA
Daniel Murphy .286, 1 HR, 1 RBI, 1 K, 7 PA
Justin Turner .200, 1 RBI, 5 PA
Ike Davis .000, 1 RBI, 2 PA
Rodriguez vs. Mets (career: 3-2, 2.91 ERA)
Scott Hairston .462, 2 HR, 3 RBI, 2 BB, 4 K, 15 PA
Justin Turner .333, 3 PA
David Wright .316, 3 RBI, 1 BB, 5 K, 21 PA
Andres Torres .000, 1 BB, 1 K, 3 PA
Ike Davis .000, 1 BB, 1 K, 3 PA
Josh Thole .000, 1 BB, 3 PA
Last series results
Mets won, 2-1, at Minute Maid Park, May 13-15, 2011 (AP game recaps)
Mets 6, Astros 4: David Wright hit a go-ahead homer to cap a four-run eighth inning that rallied the Mets. Wright's two-run shot was the last of three late homers by the Mets that helped them overcome a 4-0 deficit for their sixth win in eight games. Jason Bay got New York going with a solo shot in the seventh and pinch-hitter Fernando Martinez cut it to 4-3 with a long, two-run drive in the eighth. Jose Reyes walked and, with two outs, Wright homered off reliever Jeff Fulchino (0-1) into the Crawford Boxes in left field to put New York on top. It was the sixth home run of the season for the slumping Wright, who had been given the previous day off in Colorado to rest a sore neck and back.
Astros 7, Mets 3: Carlos Lee delivered his 2,000th hit with an RBI single during a four-run first inning. Lee also hit one of three Astros homers. J.A. Happ (3-4) pitched six innings for the win, scattering five hits and three walks. Michael Bourn tripled to open the game against knuckleball pitcher R.A. Dickey (1-5) and scored on a groundout by Clint Barmes. Hunter Pence and Lee followed with singles, and three more runs scored on a double by Brett Wallace and singles by Chris Johnson and Bill Hall. Dickey allowed six hits in the first inning, then held the Astros in check until the sixth, when Hall and pinch hitter Matt Downs hit solo homers. Dickey pitched 5 1/3 innings, allowed 11 hits, didn't walk a batter and struck out two. Lee became the 17th active player to reach 2,000 hits, and he is the ninth active player to have at least that many hits while also belting 300 or more home runs. The Mets got one run in the third when Jose Reyes doubled and scored on a single to right field by Justin Turner, then added another in the fourth, when Daniel Murphy led off the inning with his third homer of the season. Reyes had an RBI single off reliever Mark Melancon in the ninth. Carlos Beltran sat out the game with swelling in his right eye.
Mets 7, Astros 4: Justin Turner homered and drove in a career-high five runs and Jason Pridie hit a go-ahead single and stole home for the Mets. Chris Capuano (3-4) allowed six hits and two runs in five innings. He struck out six. Aneury Rodriguez (0-2) didn't allow a hit until the fifth, but finished with five earned runs and four walks in his third major league start. Francisco Rodriguez pitched a perfect ninth for his 12th straight save. He has not allowed a run in 14 appearances since April 14.