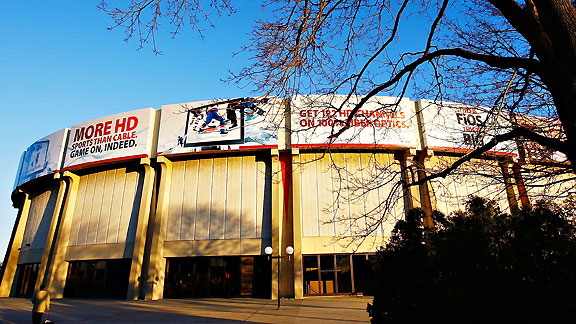 Mike Stobe/Getty Images
Nassau County (L.I.) voters decide on Aug. 1 whether to approve a $400 million bond that would replace the Coliseum, home of the Islanders, as well as building a new ballpark.
Residents of Nassau County on Long Island will vote Aug. 1 whether to approve a $400 million bond.
The vast majority of the money -- $350 million -- would go toward building a new Nassau Coliseum and ending talk of the National Hockey League's Islanders potentially leaving Long Island. But baseball factors into the equation, too. And the Mets wanted in on the project.
The Mets offered to bring a full-season minor league team to Nassau County if they were chosen. The exact level of the team was not specified in the organization's pitch. But the expectation is Fred Wilpon and family would have purchased the rights to Double-A Binghamton, which they currently do not own. After gaining other baseball-related approvals that were not seen as obstacles, the Wilpons then could have relocated the Eastern League affiliate to Long Island.
That appears moot now.
The committee selected a proposal from Long Island Ducks owner Frank Boulton instead of the Mets' bid, chief deputy county executive Rob Walker said. Boulton already had gained a commitment from the independent Atlantic League to bring a team to Nassau County. The target date for the 6,000-seat stadium's opening would be the 2013 season. The independent Ducks, which play in Central Islip in adjacent Suffolk County, have enjoyed tremendous support in similarly sized stadium. Ex-Met Kevin Baez currently manages the Ducks, with Bud Harrelson serving as bench coach.
Walker said the exact financial terms are still being negotiated between Boulton and the county. The chief deputy county executive indicated two factors tipped in the Atlantic League's favor over the Mets' proposal:
• Boulton already had gained Atlantic League approval for a team coming to Nassau County, whereas the Mets needed to acquire a team and still needed approval.
• The model with the Ducks in Suffolk County clearly suggests similar success in Nassau County.
"Having certainty surrounding a team definitely being able to locate here was one (factor)," Walker said. "But also history. Frank Boulton has been an owner for a team for a long time -- both minor league teams and independent league teams. He's run a franchise successfully that has worked well for him and for Suffolk County, the neighboring county. It's always great when you have someone with those skill sets, who knows what it takes in this environment."
There had been chatter several years ago about the Mets buying the rights to Binghamton and moving it to Coney Island, so Brooklyn would have the full-season team. The short-season New York-Penn League team would have been relocated to Binghamton under that scenario. The Mets were dismissive at the time, worrying about what impact it might have on major league attendance. The Yankees were not expected to be an obstacle despite rights issues.
Walker said he would certainly welcome a full-season minor league team in Nassau County in spite of the decision to put up Boulton's proposal as part of the $400 million bond. Approximately $30 million of that sum is going toward the baseball stadium, which would be at Mitchel Field in Uniondale.
"For us, we're going to work with anybody -- not even necessarily the Mets or baseball," Walker said. "We're looking at soccer. We're looking at the Jets to come here, if it's one day or two days, a week or two weeks. We want to make this into a really great multifaceted sports complex. We also want our high schools and colleges to possibly host a high school or NCAA championship. We're looking at really everybody to come in. We're hosting the Junior Olympics in track and field next year."
The bond proposal, with or without the Mets being involved, still faces an uphill battle. Not only do voters have to approve the $400 million bond in this economic climate on Aug. 1, but another hurdle would need to be cleared even assuming voters approve. The Nassau Interim Finance Authority has been appointed by the state to oversee the county's finances, and would need to sign off even if voters approve the referendum.
"In-depth" appears Tuesdays during the regular season