ATLANTA -- 2012 first-round pick Gavin Cecchini had his attention divided on June 1, as Savannah hosted Rome in a South Atlantic League game.
Once Dustin Pedroia was ejected from a Red Sox game against the Rays at Fenway Park, Cecchini's 23-year-old brother Garin entered at third base in his major league debut.
"We had a game at the same time, and it was a day game," Cecchini said. "I had the clubbie going in and out, checking the stats and seeing if my brother got in. And once we found out he got in, I told him, 'Hey, let me know how he's doing, the play-by-play of what's going on.' Pedroia actually got thrown out of the game, and that's why Garin got to get in. Everything happens for a reason. It was awesome.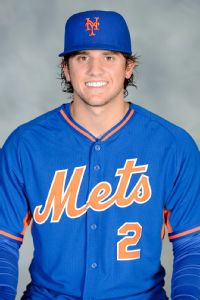 Courtesy of New York Mets
Gavin Cecchini
"It helps me realize just keep working hard and you'll be there soon. I can't wait to get up there and help the Mets win championships."
The 20-year-old Cecchini -- who was selected out of high school in Lake Charles, La., with the 12th overall pick two years ago -- hit .259 with three homers, 25 RBIs and seven steals in 228 at-bats for Savannah during the first half. He represented the Gnats in the South Atlantic League All-Star Game, then received word he was promoted to St. Lucie as he prepared to meet up with his low-A team for the season's second half.
"After the All-Star Game, me and my mom drove to Greenville," Cecchini said. "We were out to eat and coming back to the hotel and my manager called me and told us. So we literally had to drive five and a half hours back to Savannah, get in my apartment, pack my car up and stuff, and I was up until like 5 a.m. packing. And I wake up at like 6, had to go to the field, pack all that up and then drive five and a half hours over here [to Port St. Lucie]. And I was playing shortstop and hitting leadoff on an hour and a half of sleep."
Cecchini's baseball skills come as much from his mother Raissa as his father Glenn.
Raissa helped out head coach Glenn at Barbe High School during the brothers' prep playing days. He continues to coach there (and now with a Team USA squad as well), but she has mostly stepped away so that she can have more time to watch her sons' pro careers.
Garin currently is playing for Triple-A Pawtucket. He appeared in just the one game during two call-ups to the Red Sox.
"My mom actually throws the same amount of BP as my dad does in the offseason to both me and my brother," Cecchini said. "They've both been a huge part of my brother's and my success throughout the years. They've taught us everything. They're the reasons we're the players we are today."
Cecchini indicated one emphasis this season has been becoming more disciplined at the plate.
"This year I'm really trying, for the Mets' hitting philosophy, to be selective," Cecchini said. "I know right when I got drafted, and in high school all throughout my career, you could get away with swinging at pitches a little off the plate or on the corners and stuff. But now I'm really just trying to focus on getting my pitch. And if I don't get my pitch and they're not going to throw it to me, I'll just take my walk. That's one thing I'm really trying to work on, and I've been doing a way better job. And I'll keep working hard and keep getting better and better every single day at it."
Organization leaders
Average: John Mora, GCL Mets, .423; Emmanuel Zabala, GCL Mets, .375; Matt Reynolds, Vegas, .362; Jairo Perez, St. Lucie, .358; T.J. Rivera, Binghamton, .338; Alfredo Reyes, GCL Mets, .324; Dilson Herrera, Binghamton, .312; Jeff McNeil, St. Lucie, .312; Kevin Plawecki, Vegas; .310; Jhoan Urena, Brooklyn, .308.
Homers: Andrew Brown, Vegas, 14; Brian Burgamy, Binghamton, 13; Dustin Lawley, Binghamton, 13; Allan Dykstra, Vegas, 12.
RBIs: Allan Dykstra, Vegas, 56; L.J. Mazzilli, St. Lucie, 52; T.J. Rivera, Binghamton, 49; Aderlin Rodriguez, St. Lucie, 48; Matt Clark, Binghamton, 46.
Steals: Patrick Biondi, Savannah, 17; Jeff McNeil, St. Lucie, 15; Dilson Herrera, Binghamton, 15; L.J. Mazzilli, St. Lucie, 12; Stefan Sabol, Savannah, 11.
ERA: Marcos Molina, Brooklyn, 0.47; Logan Taylor, GCL Mets, 0.82; Martires Arias, Kingsport, 0.84; Octavio Acosta, Brooklyn, 1.08; Kevin McGowan, St. Lucie, 2.20; Corey Oswalt, Brooklyn, 2.30; Steven Matz, Binghamton, 2.44; John Gant, Savannah, 2.57; Robert Gsellman, Savannah, 2.80; Darin Gorski, Vegas, 2.91.
Wins: Gabriel Ynoa, Binghamton, 8; John Gant, Savannah, 7; Matt Koch, St. Lucie, 7; Greg Peavey, Vegas, 7.
Saves: Chasen Bradford, Vegas, 12; Robert Coles, St. Lucie, 12; Randy Fontanez, Binghamton, 10; Vic Black, Vegas, 7.
Strikeouts: Darin Gorski, Vegas, 87; Dario Alvarez, Savannah, 78; Matt Bowman, Binghamton, 77; Steven Matz, Binghamton, 75; Noah Syndergaard, Vegas, 74.
Short hops
• Right-hander Gabriel Ynoa will make his Double-A debut Thursday after receiving a promotion from St. Lucie. Ynoa, 21, had been 6-0 with 50 strikeouts and four walks in 57 1/3 innings since May 5 in the Florida State League.
• Brandon Brosher, who got off to a torrid start at the plate with Kingsport while being converted to catcher, suffered a broken right fibula. A 36th-round pick in 2013 out of high school in Florida, Brosher was hitting .387 with four homers and eight RBIs in seven games with the K-Mets.
• Left-hander Joel Huertas, the Mets' 16th-round pick out of high school in Puerto Rico, tweeted that he signed. That brings the total to at least 22 of 39 picks signed.
• The Mets have two candidates for batter of the month in the organization in June: Binghamton outfielder/third baseman Dustin Lawley hit .280 with seven homers and 18 RBIs for the month, then went deep twice more on July 1. St. Lucie outfielder Eudy Pina hit .375 with five homers and 21 RBIs in June, then drove in two more runs Tuesday.
• The B-Mets are 9-0 in the last nine appearances (eight starts) by right-hander Tyler Pill, after going 0-5 in his first five starts. Pill has a 2.73 ERA in his last 11 appearances. The brother of former San Francisco Giants infielder Brett Pill, Tyler can swing the bat, too. He has a four-game hitting streak. He is hitting .538 (7-for-13) with a double, homer and four RBIs this season. He had a pinch-hit single Saturday. Brett is tearing up the Korean Baseball Organization. He is hitting .320 with 13 homers and 40 RBIs in 178 at-bats with the Kia Tigers.
• Matt Oberste has driven in 10 runs over his past three games with Savannah while serving as designated hitting. Oberste, 22, is a seventh-round pick in 2013 out of the University of Oklahoma.
• Jhoan Urena has an 11-game hitting streak with Brooklyn. He became the second teenager in Cyclones history to have a double-digit-game hitting streak, joining Alhaji Turay (12 straight in 2002).
• Cyclones right-hander Marcos Molina has allowed one earned run in his first three starts, spanning 19 innings. He has limited opponents to seven hits and ranks third in the New York-Penn League with 20 strikeouts. Molina struck out the first seven batters he faced in Friday's start against Staten Island.
• Infielder Robbie Shields quietly retired earlier this season. He was a third-round pick in 2009 out of Florida Southern College. He had a career .243 average in six minor-league seasons.
• Catcher Kevin Plawecki is 1-for-15, albeit with a homer, since getting promoted to Las Vegas.