NEW YORK
FIRST PITCH: It's Kevin Burkhardt Day at Citi Field.
Burkhardt, SNY's field reporter for the past eight seasons, will participate in his final home telecast with Wednesday's series finale against the Miami Marlins. Burkhardt's SNY duties will wrap up on the road next Thursday at Washington.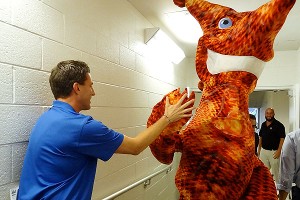 Adam Rubin
Kevin Burkhardt celebrates his final home game as an SNY field reporter on Wednesday.
He is headed to Fox full time.
The Mets send Dillon Gee to the mound for Burkhardt's home sendoff. Gee (7-7, 3.80 ERA) opposes right-hander Henderson Alvarez (10-6, 2.81) at 7:10 p.m.
Wednesday's news reports:
• Wilmer Flores had a big day at the plate. Using Kevin Plawecki's bat, Flores homered twice and for the second time this season had six RBIs as the Mets beat the Marlins, 9-1, Tuesday. Bartolo Colon limited Miami to one run despite surrendering 12 hits in 7 2/3 innings.
Read game recaps in the Post, Daily News, Newsday, Star-Ledger, Journal and at MLB.com.
• Juan Lagares departed Tuesday's game after four innings with what initially has been diagnosed as a hyperextended right elbow. He is due to undergo an MRI on Wednesday morning. Read more in the Star-Ledger.
• Columnist Joel Sherman in the Post asserts that the Mets should tank the rest of the season to finish with one of the worst 10 records in baseball. That would give them a protected first-round pick and make it easier to pursue a free agent who figures to get a qualifying offer, such as Melky Cabrera, Nelson Cruz, J.J. Hardy and Hanley Ramirez. The Mets currently have MLB's 12th-worst record, which would mean forfeiting their first-round pick if they sign a premium free agent.
Of course, Sherman doesn't expect the Mets will land any of those aforementioned free agents. He writes:
They will express concerns about Cabrera and Cruz's Biogenesis pasts (though they were very interested in Jhonny Peralta last year) or whisper that their outfield will be too big for the defensively suspect Cruz (though it would not be too big for him to hit a bunch of homers) or they will express belief that Wilmer Flores and/or Matt Reynolds are dollar-for-dollar worth in the same win range as Hardy or Ramirez.
In other words, Mets fans should brace once more for excuses why they will not be getting players this offseason. But by losing big the rest of the way, at least one alibi would vanish from the repertoire.
• Retiring MLB commissioner Bud Selig, making the 20th stop of his farewell tour, visited Citi Field on Tuesday. Selig continued his unwavering support of Mets ownership. He suggested the Mets are in full compliance with MLB's economic regulations and said the build-from-within approach is more sound than spending like "drunken sailors." Selig added that he would let fired senior VP Leigh Castergine's civil lawsuit play out in federal court and not discipline anybody within the organization in the midst of a legal proceeding.
Columnist Kevin Davidoff in the Post says Selig's legacy partly is tied to propping up Mets ownership. Writes Davidoff:
A master salesman -- he sold used cars, after all -- Selig tried to make his case that the Mets' unwillingness to spend more does not equate to gross incompetence. He mentioned the Cardinals as a team that doesn't "spend money like drunken sailors." He passionately declared, "Unless I read the standings wrong on the way over here, it looks to me like the Baltimore Orioles might win the American League East this year. Anybody here predict that on April 1? I don't think so. I rest my case."
Well, the Cardinals' payroll this season is about $141 million, as per Basebal-Reference.com. And the Orioles are paying about $114 million for their soon-to-be division-winning roster. Not quite the same as $83 million.
Read more in the Journal, Daily News, Record, Star-Ledger, Newsday and SB Nation.
• Despite a Twitter hullabaloo, the Mets say no change is coming to their skyline logo. They offered no official reason why the UN Headquarters in the skyline was replaced by the Citigroup Center in the logo used on social media this week, although the internally constructed image appeared to be more than a year old. Read more in the Times (which wonders about potential hacking) and Newsday.
• Dwight Gooden predicted Jacob deGrom will become the first Met to win the NL Rookie of the Year Award since he did 30 years ago. "Striking out eight guys in a row, that really put the stamp on it for me," Gooden told Dan Martin in the Post, referring to deGrom's record-setting game-opening feat Monday against the Marlins. "That's the kind of thing you need to do to get people's attention, especially as a starting pitcher."
Gooden told Matt Harvey last week that Harvey and deGrom have a "similar mound presence."
Said Gooden to Martin: "They both carry themselves like veterans out there. They're two different pitchers, but nothing rattles them."
• The Mets nominated David Wright for the Roberto Clemente Award, which honors "the player who best represents the game of baseball through positive contributions on and off the field, including sportsmanship and community involvement."
• ESPNNewYork.com reviews which players the Mets may protect in the Rule 5 draft, which annually takes place at the winter meetings in December.
• Marc Carig in Newsday assesses Lagares' Gold Glove chances. The award is based on manager and coach voting (75 percent) and defensive statistical metrics (25 percent). Writes Carig:
With Lagares, prestige might be the problem.
[Carlos] Gomez won the award last year and has the advantage of being an offensive force while [Andrew] McCutchen reigns as the NL's Most Valuable Player. The veteran [Denard] Span plays for a contender and [Billy] Hamilton's stolen-base prowess in the minors made him a household name before he stepped on a big-league field.
"Major League Baseball and baseball fans knew who Billy Hamilton was before he got here," said [Reds manager Bryan] Price, who naturally backed his own player for the Gold Glove award.
• Pedro Martinez praised the Mets' collection of up-and-coming pitchers, Anthony McCarron writes in the Daily News. "The Mets have the best nucleus of young pitchers," Martinez said.
• Harvey felt no ill effects the day after his final official throwing session of 2014. Read more in the Post.
• From the bloggers … Faith and Fear offers a view from an empty Promenade.
BIRTHDAYS: Former captain John Franco turns 54.
TWEET OF THE DAY:
Thank You Mets Fans... pic.twitter.com/WmwbbEVSWb

— Kevin Burkhardt (@kevinburkhardt) September 17, 2014
YOU'RE UP: Do you think out-of-options Wilmer Flores will be the Mets' Opening Day shortstop next season?