PITTSBURGH
FIRST PITCH: The Mets soon will have a chance to recharge their batteries -- well, with the exception of David Wright and Matt Harvey, who should be plenty busy over the next few days.
Dillon Gee (6-7, 4.60 ERA) opposes rookie right-hander Gerrit Cole (4-2, 3.68) in today's 1:35 p.m. first-half finale at PNC Park as the Mets look to avoid getting swept. All-Star southpaw Jeff Locke was scratched from the start by the Pirates.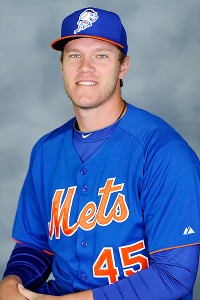 Courtesy of New York Mets
Noah Syndergaard is the starter for Team USA in today's Futures Game.
Less than a half-hour after the Mets-Pirates game gets under way, the All-Star events at Citi Field begin with the 2 p.m. Futures Game, which will be televised live on ESPN2.
Mets farmhands Noah Syndergaard (Team USA) and Rafael Montero (World) will start opposite each other on the mound. The squads will be managed by Mookie Wilson and Edgardo Alfonzo. 2011 first-round pick Brandon Nimmo will come off the bench for Team USA.
Mets special assistant J.P. Ricciardi, in a radio interview Saturday, projected Montero as a No. 4 starter in the majors and raved about Syndergaard's electric fastball and power sinker.
The celebrity softball game featuring Mike Piazza, John Franco, Darryl Strawberry, Dwight Gooden and Rickey Henderson will be played today at Citi Field after the Futures Game. It will be televised by ESPN on Monday, after the 8 p.m. Home Run Derby, at approximately 10:30 p.m.
Sunday's news reports:
• After Saturday's game, Jordany Valdespin was demoted to Triple-A Las Vegas. Scott Atchison will return from the disabled list to give the Mets an extra relief arm for the first-half finale. Valdespin was 2-for-his-last-36. Read more in the Star-Ledger and Post.
• Despite Carlos Torres contributing five solid innings in his first major league start in three years, the Mets lost to the Pirates, 4-2, Saturday at PNC Park. Ike Davis was unable to make a pair of fielding plays in Pittsburgh's two-run seventh inning.
Read game recaps in the Post, Daily News, Newsday, Star-Ledger, Record, Times and MLB.com.
• Sandy Alderson told ESPNNewYork.com he does not foresee the roster "looking substantially different" after the July 31 trade deadline.
Alderson, in a separate interview in Newsday, said about Marlon Byrd: "We're not looking to move Marlon. Obviously, we have our eye on the future, but we want to be as good as we can be this year as well. Now, if what we can get for the future exceeds the value of the present, we'd have to look at that. But we're not anxious to do it."
Regarding Bobby Parnell, the GM added: "We've been looking for a closer for two years. Looks like we've found one. Why would we want to give him away immediately? This is not a guy we're looking to move, either."
Ricciardi, matching Alderson's comments, said the Mets are not eager to trade Byrd.
Read more in the Post.
• Alderson told Kristie Ackert in the Daily News that Harvey skipping Saturday's start primarily was to curtail his innings and was not about the All-Star Game. "He would pitch in the All-Star Game whether he pitched today or not," Alderson told Ackert on Saturday. "That wasn't the reason we made the decision. We made the decision on his projected workload over the course of the season. His blister was a factor."
• John Harper and Anthony McCarron in the Daily News catch up with Tom Seaver, Jerry Koosman, Jon Matlack, Gooden, Ron Darling and Al Leiter about their first All-Star Game experiences. Ken Davidoff in the Post talks with 72-year-old Ron Hunt, the last Met to start an All-Star Game in Queens, back in 1964 at Shea Stadium.
• Seaver will serve as the grand marshal of Tuesday's 1 p.m. All-Star parade, which will travel across 42nd St., beginning at Sixth Ave. and continuing to Third Ave.
• Regarding his first All-Star Game, Harvey tells Kevin Kernan in the Post: "This is a huge honor for me, and to be able to put that uniform on is really awesome, especially being there with David. David told me to keep my eyes open, keep my ears open and really just enjoy it. All of this is new, and I'm taking it in stride. But when it comes to Cliff Lee and guys who have done it multiple times, it's really something I'm looking forward to. And, hopefully, it's not my last All-Star Game."
• Anthony Rieber in Newsday talks with Wright on the eve of another All-Star appearance, while colleague Marc Carig in Newsday talks with Harvey about his first-half success.
• Jeremy Hefner will start the second-half opener for the Mets against the Philadelphia Phillies on Friday at Citi Field. Zack Wheeler starts on Saturday, followed by Harvey on Sunday. Gee then gets next Monday's series opener against the Atlanta Braves, followed by Torres.
• Terry Collins identifies outfield production as one reason for the Mets' improved team performance, the Times writes.
• Wright's pitcher in Monday's Home Run Derby is bullpen catcher Dave Racaniello. Read more in the Star-Ledger.
• Justin Turner began a rehab assignment for a strained intercostal muscle on his left side on Saturday as the DH in the Gulf Coast League. He is expected to play for Class A St. Lucie on Sunday, signaling a return right after the All-Star break.
• Jenrry Mejia, on a rehab assignment, tossed five scoreless innings as Binghamton completed a doubleheader sweep of Portland. Wilmer Flores, who had been due to play in the Triple-A All-Star Game on Wednesday, departed Sunday's Las Vegas game after one inning with a hamstring injury. Anthony Chavez's RBI double in the top of the ninth lifted Brooklyn to a 2-1 win against Connecticut. Read the full minor league recap here.
• Ken Belson in the Times discusses the benefit to the host team of putting on an All-Star Game. Writes Belson:
The main financial lift for the host club is to use the All-Star Game to help push ticket sales to every other game on the schedule.
"For us, the big plus is you expand your season-ticket base going into that year," said Kevin Uhlich, the senior vice president for business operations for the Kansas City Royals, who were the hosts for the All-Star Game in 2012. "While our play on the field didn't change, our season tickets were up 25 percent because the only way to guarantee All-Star tickets was to buy a ticket plan."
• Jorge Castillo in the Star-Ledger discusses Kirk Nieuwenhuis' improved performance with the center fielder.
• Cody Derespina in Newsday suggests Harvey has pitched better than his 7-2 record indicates.
• Jordan Lauterbach in Newsday profiles Brooklyn second baseman LJ Mazzilli, son of Lee Mazzilli.
• Steven Marcus in Newsday writes that All-Star venue Citi Field evokes memories of Ebbets Field, as Fred Wilpon intended.
BIRTHDAYS: White Sox manager/ex-Met Robin Ventura turns 46. He will be one of the AL coaches at Tuesday's All-Star Game, along with Blue Jays manager John Gibbons. The NL coaches also have Mets ties: Collins and Davey Johnson. ... Las Vegas reliever Jack Leathersich is 23.
TWEET OF THE DAY:
RT @SFGiants: July 13, 2013 – Tim Lincecum throws his 1st Career No-Hitter #SFGiants pic.twitter.com/h1qvXpg2SE

— Baseball Tonight (@BBTN) July 14, 2013
YOU'RE UP: Should Terry Collins use Josh Satin at first base on Sunday, even though the Pirates now are using a right-hander?