PITTSBURGH -- Former major league umpire Rocky Roe was Terry Collins' roommate at Eastern Michigan University, so the Mets manager always has tried to be deferential to umpires.
And Collins appreciated a reciprocal gesture at Rogers Centre in Toronto.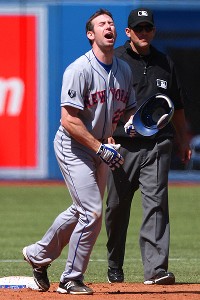 Tom Szczerbowski/Getty Images
Mike Baxter reacts with disgust at ump Brian Knight's out call in the ninth inning at second base. Knight apologized Sunday.
Brian Knight, a third-year umpire who hails from Montana, apologized Sunday morning for the blown ninth-inning call the previous night that resulted in Mike Baxter being erased from the bases as the potential tying run in what became a 2-0 loss to the Blue Jays.
"The one thing I've always truly believed, and obviously times are changing due to the technology, but I've always believed in the human error in our game," Collins said. "There hasn't been one game in all the years I've been watching this that you've put a pitcher in, or you've made a move -- or you pinch hit somebody, and the guy struck out with the bases loaded -- where the umpire came over, took his mask off and said, 'What are you, (expletive) crazy making that move?' Not one time has that ever happened.
"So I said, 'Look, nothing needs to be said. We all know what the result was. It's past us. There's nothing we can do about that now.' And I believe that. I believe there's always room for the umpire-manager disagreement. Everybody wants to curb that. Everybody wants to keep the game flowing. They don't want to have those kind of confrontations."
Collins said the Sunday morning conversation did not include whether Knight really did have the ability to ask for help from other umpires to determine whether Baxter was in fact tagged by Toronto shortstop Yunel Escobar. Still, Collins added, in informal conversations with other people since Saturday's incident he was told "that they can always ask."
Regardless, Collins said a mea culpa such as occurred this weekend is extremely rare from an umpire, so he genuinely appreciated Knight's gesture.