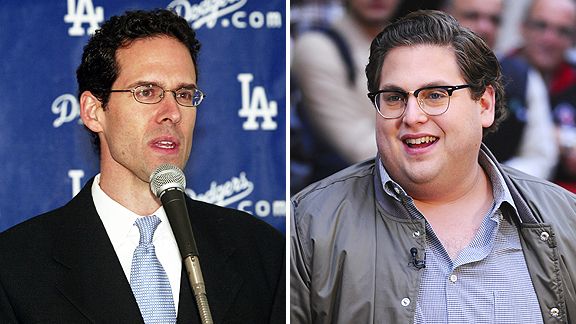 Icon SMI, AP Photo
Paul DePodesta and actor Jonah Hill. Hill plays DePodesta -- or, more precisely, the DePodesta character Peter Brand -- in Moneyball the movie.
When "Moneyball" the movie reaches theaters in September 2011, you will find several people with Mets ties represented.
Among those, Philip Seymour Hoffman plays Art Howe and Jonah Hill plays Paul DePodesta. Well, Hill plays Peter Brand, who is the DePodesta character, since DePodesta did not want himself associated with the film.
Ex-major leaguer Royce Clayton plays Miguel Tejada.
ESPN's Jerry Crasnick writes:
Clayton poured himself into the part, and spent several weeks cultivating a Spanish accent in an attempt to make the character believable.
"The guys found it hilarious," Clayton said. "I'd come in every day for two months saying, 'Hey you guys. We gonna win to-day!' and all this other good stuff in the same [Latin] accent."
Read Crasnick's full profile of Clayton's acting and Moneyball the movie here.
For the full cast, check out IMDb here.