After an intentional walk to Fred Lewis with with first base open loaded the bases, Ruben Tejada delivered a game-ending RBI single against Ryan Webb as the Mets completed a sweep of the Miami Marlins with a 3-2 win Sunday at Citi Field. It became the second walk-off hit of Tejada's career, joining a Sept. 28, 2010 two-run double against John Axford that beat the Milwaukee Brewers.
David Wright opened the scoring Sunday with a two-run homer in the first inning against Ricky Nolasco. Wright now has 1,415 career hits, within three of matching Ed Kranepool's franchise record.
The Mets now welcome the plummeting Pittsburgh Pirates to Flushing for the last home series of the season. The four-game series begins with Jenrry Mejia (0-1, 9.00 ERA) making his second major league start this season, opposite right-hander Kyle McPherson (0-1, 2.25). Collin McHugh faces left-hander Wandy Rodriguez on Tuesday and Jeremy Hefner faces left-hander Jeff Locke on Wednesday. The home finale Thursday features R.A. Dickey bidding for his 20th victory. He opposes right-hander Kevin Correia at 1:10 p.m.
Pittsburgh (75-77), which has faded to 6½ games back and irrelevancy in the wild-card race, is bidding for its first winning season since 1992. The Pirates have won only five of their past 22 games.
Monday's news reports:
• Closer Frank Francisco, who last appeared Sept. 16, continues to be unavailable because of right elbow woes.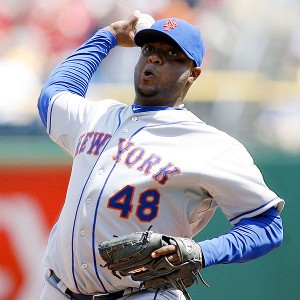 Charles LeClaire/US Presswire
Frank Francisco may not reappear this season.
Francisco underwent an MRI a week ago, and the team continues to label the injury tendinitis. With the season concluding in nine days and Francisco under contract for next season at $6.5 million, it may be most wise to shut the closer down for the season. Read more in the Star-Ledger and Record.
• Wright's first and second halves have been dramatically different. In fact, the third baseman is struggling to stay above .300 for the season. After a 1-for-4 game Sunday that included the long ball, he is only four points above the mark. Writes Roderick Boone in Newsday:
After an impressive first half in which he hit .351, Wright's hitting has tailed off significantly these past three months. Sure, he's three hits shy of tying Ed Kranepool for the franchise's all-time hits mark at 1,418. But he's batting just .253 since July 1. So something as simple as drilling his second home run since Aug. 24 can certainly be seen as a positive development for Wright, whose manager wants to see him end the season on a high note. "I think it's really important for David to finish strong. I really do," Terry Collins said. "For what he did the first 2½ months of the season, I don't think you're going to see that very often. I want him to finish strong. I want him to break the hit record at home." ...
Wright, who entered Sunday's action batting .225 this month, seemed like he was just glad to have something tangible to hang his fitted cap on after all his struggles at the plate. "I felt like recently I've had some good at bats and not much to show for it," he said. "That's kind of the way it happens sometimes, the law of averages kicks in at some point. [Hitting] .350 is tough to keep up the entire year. I've felt good with where I've been at. As far as the at-bats I've been having, I'm disappointed in the results lately. I haven't been seeing exactly the results that I've wanted to. But I'm happy with the process and hopefully can finish up strong."
• Read game recaps in the Times, Post, Star-Ledger, Daily News and Record.
• Israel failed to qualify for the World Baseball Classic, which will be held during spring training. The squad lost 9-7 to Spain in 10 innings in the finals of a qualifier in Jupiter, Fla. Mets farmhand Josh Satin went 1-for-6 with one RBI in the defeat. Fellow Mets minor leaguer Jeff Kaplan allowed one run in 1 1/3 innings in middle relief. Check the box score here.
TRIVIA: Which pitcher led the Pirates in victories during their last winning season?
Sunday's answer: Dickey joined Tom Seaver (five times), Dwight Gooden (twice), Jerry Koosman and David Cone as the only pitchers in franchise history to notch 19 wins and 200 strikeouts while logging 220 innings.