Baseball America's latest draft projection has the Mets taking University of Arkansas right-hander Ryne Stanek with the 11th overall pick.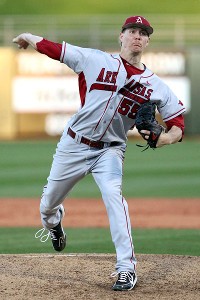 Michael O'Day/Icon SMI
BA projects the Mets to select University of Arkansas right-hander Ryne Stanek.
Writes BA:
The prevailing belief in the industry is that New York wants a bat such as [New Mexico first/third baseman D.J.] Peterson, Mississippi State outfielder Hunter Renfroe, one of the Georgia high school outfielders or California prep first baseman Dom Smith. But after taking high school position players in the last two first rounds (Brandon Nimmo, Gavin Cecchini), the Mets may choose to go after a college pitcher such as Stanek or [Oral Roberts right-hander Alex] Gonzalez.
Keith Law's draft projection has the Mets selecting Smith. He has Stanek going at No. 7 to the Red Sox. Writes Law:
Stanek came into the year as a potential top-five pick, one of the three major college arms in the class along with Appel and Manaea, but a very inconsistent spring has dropped him out of that group and perhaps to the back half of the first round. Stanek will sit 92-96 most outings but has below-average command of the pitch, often getting on the side of the ball and leaving it up and flat for hitters to square up. He's been throwing two breaking balls this season, however they tend to run into each other; the power curveball is probably ahead of the hard but often flat slider, although Arkansas' coaches call the slider far too often, and almost never have Stanek throwing inside.
Stanek takes a very long stride to the plate after a high leg kick, swinging his front leg (rather than the 'step over' move) and extending fully before landing. His arm is very quick and he pronates pretty early, although it lags slightly behind that front leg and his shoulder is wide open as a result. His arm slot was closer to low 3/4 in high school but he's now just under true 3/4, high enough that he really shouldn't be getting around the side of that slider so often.
His stuff points to a No. 2 starter ceiling, but he'll have to learn to pitch off his fastball and emphasize the curveball more once he gets away from Fayetteville.