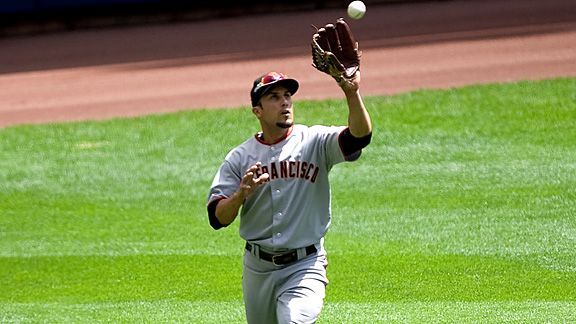 Scott Boehm/Getty Images
New Met Andres Torres caught balls at a very high rate of success in 2010.
It's fairly easy to look at newest Mets Andres Torres numbers in 2011 and proclaim that he had an awful season.
But go back a year and dig deep and you could at least make the case that Torres didn't just have a good 2010, but a great one.
The Angel Pagan/Torres swap in centerfield was done with sabermetrics in mind. And Sandy Alderson is banking on the statistical chance, however slim it might be, that the Torres of 2010 will re-emerge.
Two seasons ago, Torres ranked eighth among major league position players in the advanced stat, Wins Above Replacement, via the methods used at Fangraphs.com.
Torres was valued at 6.8 wins above what a minor league fill-in (think: Jason Pridie) would have produced.
Most Wins Above Replacement
2010 Season
That is All-Star level and was the same value that the stat attached to Blue Jays star Jose Bautista.
To the average fan, that seems ridiculous.
So how does Torres' .268/.343/.479 slashline (batting average, on-base percentage, slugging percentage), with 16 home runs, 84 runs scored, 26 stolen bases equate to Bautista's .260/.378/.617 with 54 home runs?
When Torres is at his best, there are two elements of his game that add greatly to his value-- his baserunning and his defense.
Let's take a closer look at how he fared in each in 2010:
Defense
We've previously gushed in this space over what Brett Gardner's defensive value would mean to the Mets.
In 2010, Torres had a season that was a near-match for what Gardner gave the Yankees on the defensive side, finishing second to Gardner in the defensive stat (Ultimate Zone Rating) used in the Wins Above Replacement calculation. His defense was valued at saving his team 22 runs.
Our metric of choice to evaluate defense is usually Defensive Runs Saved, and Torres ranked a bit lower (his 12 Defensive Runs Saved were ninth-best among outfielders last season) in that. But both stats draw from the same data, which shows that Torres was above average, if not elite.
How Do Defensive Stats Work?
Necessary Skills for Good Rating
Torres ranked first among centerfielders in Revised Zone Rating, which looks at all the batted balls hit to spots in which a centerfielder converted them into outs at a rate of 50 percent or higher.
Torres' best attribute was that he caught 161 of the 167 balls hit into his zone in centerfield, giving him a Revised Zone Rating of 96 percent.
By comparison, Pagan caught balls in his zone at a 90 percent rate. That six percentage point gap between the two players is meaningful, one probably worth at least a dozen balls over a full season.
Torres didn't rate highly at getting to balls outside his zone (think those that become doubles or triples in the outfield gaps) as a centerfielder, but rated very well in doing so playing both left field and right field (an example from his trip to Taiwan a few weeks ago can be seen here.
That too added considerably to his defensive value, though that may not be as relevant for Mets management, who view Torres as an everyday centerfielder.
The other thing that fans will likely notice is that Torres does not make many mistakes. He's not going to overrun or bobble balls with the frequency that Pagan did in his Mets stint.
Baseball Info Solutions charts every play of every game and uses trained "video scouts" to tags plays into 80 subcategories of Good Fielding Plays (GFP) and Defensive Misplays & Errors (DM&E).
Torres was credited with 11 GFPs and 11 DM&Es in his 655 innings in centerfield in 2010.
He's not someone who will make a lot of flashy Web Gem-type plays (his rate of GFPs per inning is low), but his rate of mistakes that season (one every 59 innings) was well better than Pagan's (one every 40 innings) and well above the big league average (one every 39).
Baserunning
Last season, baseball researcher Mitchel Lichtman introduced a stat to measure baserunning value-- Ultimate Baserunning Rating. It became a component of the Wins Above Replacement statistic, applied retroactively.
By this measure, Torres ranked third in the National League and eighth in the majors, with his baserunning valued as adding 5.5 runs to his team over the course of the season.
That's not necessarily difference-making, but it's pretty good.
That season Torres stole his 26 bases in 33 attempts, his 78 percent success rating a little above the major league average of 72 percent.
Torres also gained 25 bases on fly balls, passed balls, wild pitches, passed balls, balks, and defensive indifference. That tied for 10th-most in the majors.
Torres also went first-to-third 11 times out of the 19 times that he was on first base when a single was hit. That's five more times than the average baserunner would be expected to do.
Those successes, combined with Torres being able to limit his outs on the basepaths (he made four outs attempting to take extra bases and was picked off four times, totals not exorbitant given his successes), were what keyed his excellent baserunning rating.
What does it all mean?
Andres Torres
Last 2 Seasons
In 2010, Torres value as a hitter ranked 47th in the majors, his defense ranked second, and his baserunning ranked eighth. That's pretty good for a guy whose previous experience prior to 2010 was minimal.
Smush all those stats together and Torres rated very well-- the toughest player to statistically replace on a Giants team that won the World Series.
If the Mets get anything remotely close to that, they'll have done fairly well for themselves with this swap.