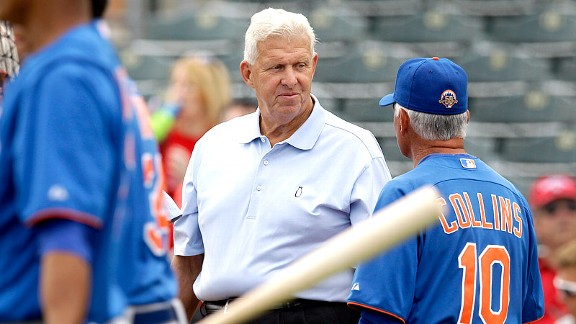 Patrick Semansky/Associated Press
Bill Parcells will again watch the Mets play Sunday. The Mets will present him with a gift for being selected to the Pro Football Hall of Fame.
PORT ST. LUCIE, Fla.
FIRST PITCH: It is becoming pretty clear that Johan Santana will open the season on the disabled list and Jonathon Niese will get the Opening Day start against the San Diego Padres at Citi Field.
So the question becomes: Will Santana be ready to be activated April 7, the first time the Mets need to go to a fifth starter? Or will Jeremy Hefner plug the rotation hole for at least a few turns?
Santana did not work out with teammates outdoors Saturday morning. After a 9-6 win against the Houston Astros, Terry Collins said Santana spent his day indoors trying to increase his shoulder flexibility and strength.
If you accept the Mets are not going to be in contention in 2013, perhaps there is a silver lining to Santana likely opening the season on the DL.
It was a long shot anyway that Santana would reach 215 innings and trigger a $25 million vesting option for 2014. A season-opening DL stint removes even minimal suspense, though.
Secondly, the Mets don't need Santana contributing in peak form in early April if they're not going to be competitive. They need him clicking on all cylinders closer to the trading deadline, when they might be able to deal Santana to a contender, albeit eating nearly all of the southpaw's salary.
On that subject, remember this: The trade deadline with respect to Santana will be Aug. 31, not July 31. That is because Santana would clear waivers in August, making him eligible to be traded.
No team would dare claim Santana off waivers, since that would allow the Mets to dump Santana's remaining contract on that team, including the $5.5 million buyout of 2014.
On the field Sunday, the Mets travel to Jupiter, Fla., to face the St. Louis Cardinals. Shaun Marcum, Robert Carson, Greg Burke, Pedro Feliciano and Scott Atchison all are due to pitch for the Mets. See the Mets' full travel roster here.
Left-hander Jaime Garcia starts for St. Louis.
The Mets will present Bill Parcells with an autographed Mets jersey pregame in recognition of Parcells being selected to the Pro Football Hall of Fame.
Back in Port St. Lucie, Zack Wheeler is due to pitch in a simulated game -- his first game-type action since being scratched 11 days earlier with a right oblique strain. Frank Francisco (elbow inflammation) may step on a mound for the first time during spring training.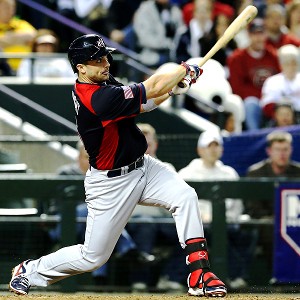 Mark J. Rebilas/USA TODAY Sports
David Wright belted a tiebreaking grand slam for Team USA against Italy on Saturday night.
Sunday's news reports:
• David Wright belted a tiebreaking grand slam and Team USA beat Italy, 6-2, Saturday night at Chase Field. The American squad faces Canada on Sunday, with the winner advancing to the second round in Miami. "It's emotional," Wright said. "You hear the 'USA' chants, you look up in the stands and see the flag."
Mexico was eliminated. Italy had clinched the second-round berth before facing Team USA. Read more in the Times and Newsday.
• Columnist Joel Sherman in the Post notes Sandy Alderson's honeymoon is nearing an end. Writes Sherman:
Alderson took a 79-win team that got Omar Minaya fired and turned it into a 77-win team, then a 74-win team. And it would surprise few watching the Mets this spring if they won 73 or fewer in 2013. Fine, it is a process. Alderson took over a disaster -- little high-end talent in the majors or minors -- that grew worse as the Madoff money went away from ownership. Disasters are not fixed in a day or a season or even two. Sacrifice has been necessary.
The Mets could have won more games in 2011 had Carlos Beltran and Francisco Rodriguez not been traded during the season. They probably would exceed 74 wins this year with R.A. Dickey. But Alderson has stressed the long view. It is not about a few more wins now. It is about constructing a serial contender. So Beltran and Dickey were surrendered for Zack Wheeler and Travis d'Arnaud, changing the perception of the Mets' farm system from a wasteland to a legitimate pipeline of talent.
"We recognize the impact falls disproportionately on the long term over the short term," Alderson said of his philosophy. "And many Mets fans get it all."
• Bobby Parnell would remain closer if he is effective in the role, even once Francisco returns, pitching coach Dan Warthen tells the Post.
Matthew Leach at MLB.com chats with Parnell.
• Read more on Santana in the Star-Ledger, Post, Times, Record, Newsday, Daily News and MLB.com.
• Lucas Duda went 3-for-3 with two RBIs, Ike Davis scored three times, Hefner tossed three scoreless innings and Matt den Dekker had another highlight-reel catch as the Mets beat the Astros Saturday. Read more in the Star-Ledger, Times, Newsday, Post and MLB.com.
• Mets radio broadcaster Josh Lewin speaks with Mike Kerwick in the Record about an offseason tumor scare near his left ear, in a salivary gland. "So my initial worry was, 'Am I going to be able to create saliva?'" Lewin told Kerwick. "I can't really do a three-hour broadcast with a dry mouth. That's not going to work." The tumor ended up being benign, but Lewin still has a dull numbness on that side of his face from nerves a surgeon needed to clip to get to the tumor.
• Mike Vorkunov in the Star-Ledger has a Q&A with Collin Cowgill. On the "More Cowgill" saying picking up momentum, the outfielder said: "It's great. We have fun with it. Somebody said something in the clubhouse, and it's funny, man."
• The Mets sent Cory Mazzoni, Rafael Montero and Juan Centeno to minor league camp, leaving 55 players.
• Hefner's wife Sarah is now blogging here.
• From the bloggers … From Mets Police, turning ahead the clock never works out in Queens. … Metsmerized says there is reason for hope in Flushing and despair in the Bronx.
BIRTHDAYS: No player to appear in a game for the Mets was born on March 10, but Chuck Norris, Carrie Underwood and Prince Edward celebrate birthdays today.
TWEET OF THE DAY:
"Can't wait to lose an hour of sleep".-nobody ever

— Matt den Dekker (@UpperDekker) March 10, 2013
YOU'RE UP: When do you think Johan Santana will deliver his first 2013 pitch for the Mets -- Opening Day, April 7, later in April, or beyond then?