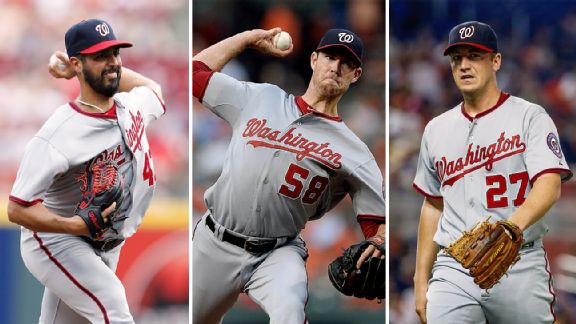 Getty Images
The Mets are due to face Gio Gonzalez, Doug Fister and Jordan Zimmermann in D.C.METS (53-59, fourth place/NL East) vs. WASHINGTON NATIONALS (60-50, first place/NL East)
Tuesday: RHP Zack Wheeler (6-8, 3.60) vs. LHP Gio Gonzalez (6-7, 3.88), 7:05 p.m. ET
Wednesday: LHP Jonathon Niese (5-7, 3.24) vs. RHP Doug Fister (10-3, 2.68), 7:05 p.m. ET
Thursday: RHP Jacob deGrom (6-5, 2.77) vs. RHP Jordan Zimmermann (7-5, 3.00), 12:35 p.m. ET
Nationals short hops
• The Nats acquired free-agent-to-be Asdrubal Cabrera and cash from the Cleveland Indians at Thursday's non-waiver trade deadline for 24-year-old infielder Zach Walters. The intent is for Cabrera, 28, to primarily play second base, displacing switch-hitting Danny Espinosa in the lead role at that position. Cabrera, an All-Star with the Indians in 2011 and '12, last had started at second base in 2009 (28 games).
• Ryan Zimmerman is expected to miss a substantial amount of time with a right hamstring strain. Anthony Rendon has shifted from second to third base minus Zimmerman, which helped fuel Cabrera's acquisition.
Alex Brandon/Associated Press
Denard Span has reached base safely in 30 straight games.
• Catcher Wilson Ramos will be placed on paternity leave before Tuesday's series opener and is due to miss the entire three-game series. Jose Lobaton and, potentially, Sandy Leon as a call-up will fill in behind the plate.
• Struggling backup outfielder Nate McLouth landed on the disabled list on Monday with right shoulder inflammation. He has hit only .173 this season. Outfielder Steven Souza, 25, has been promoted from Triple-A Syracuse to take the roster spot.
Souza holds several International League-leading totals: a.354 average, .435 on-base percentage, .601 slugging percentage and 70 RBIs. He also has 18 Triple-A homers. He went 1-for-8 with a walk in a major league cameo in April with Scott Hairston on the DL.
Souza should have a backup role considering the Nats have Bryce Harper, Denard Span and Jayson Werth as regulars. He reportedly took grounders at first base Monday, but is not expected to work there in-game anytime soon.
• Span has reached base safely via hit or walk in 30 straight games, the longest active streak in the majors, and matching the second-longest streak in Nationals history. Zimmerman holds the record, with 43 straight games reaching base in 2008. Alfonso Soriano in 2006 also reached base safely in 30 straight.
Span, a center fielder, also has 23 steals. That is approaching the career-high 26 steals he produced in 2010.
• Werth earned the NL Player of the Month award for July. He hit .337 with six homers and an NL-leading 24 RBIs during the month.
• Jordan Zimmermann tossed seven scoreless innings in his last start, in an 11-0 win against the Philadelphia Phillies. He has not allowed a homer at Nationals Park in his last nine starts. The last batter to take him deep in D.C.: Miami's Derek Dietrich, on April 9. Zimmermann has allowed one run or fewer eight times this season. He is the winningest pitcher in Nats history, with a 50-40 record.
• Gio Gonzalez has been knocked out in the fourth inning in two of his past three starts. He spent part of May on the disabled list with shoulder inflammation. Gonzalez has 38 career wins apiece with the Nats and with the Oakland Athletics.
• Rendon homered Saturday, snapping the Nats' homerless drought at nine games. It was their longest homerless drought since the team moved to D.C. from Montreal in 2005.
• Washington has the top run differential in the National League at plus-76.
• Rafael Soriano became the 46th pitcher to notch 200 saves on July 27.
• Shortstop Ian Desmond's 66 RBIs rank fifth in the NL.
• Washington lost a rainout makeup against Baltimore on Monday night.
• First baseman Adam LaRoche had a rough July, hitting .159 (14-for-88) with one homer. LaRoche's father Dave has filled in as pitching coach with the Brooklyn Cyclones of late while Tom Signore has dealt with a head-related injury.
• Manager Matt Williams has asked Harper to bunt less frequently.
• Washington's bullpen has surrendered 18 runs in its past 20 2/3 innings.