NEW YORK
FIRST PITCH: If the Mets want to be relevant after the All-Star break, they better win -- if not sweep -- their next series.
The Atlanta Braves arrive at Citi Field for a four-game series having just had a nine-game winning streak snapped by the Arizona Diamondbacks. Despite picking up a game in the standings Sunday, the Mets still trail first-place Atlanta by 10 games (and the Washington Nationals by 9½ games) in the division.
Daisuke Matsuzaka (3-3, 3.72 ERA) opposes left-hander Mike Minor (2-5, 4.73) in Monday's 7:10 p.m. opener.
Read the Mets-Braves series preview here.
The Mets were swept in three games last week at Turner Field. The Amazin's squandered a two-run lead in the eighth inning last Monday when Jeurys Familia, Juan Lagares and Eric Campbell committed errors in an unsightly frame.
Catcher Taylor Teagarden is eligible to return from the disabled list for the series opener. The Mets have a few options: They can leave Teagarden on the DL, where he officially landed with a strained left hamstring two weeks ago. They can attempt to send him to the minors, although he would need to pass through waivers and also accept the assignment. Or they can demote Anthony Recker, who has an option remaining.
Of course, Recker homered Sunday.
The Mets essentially deferred the decision when Travis d'Arnaud was promoted by placing Teagarden on the DL, even though Teagarden had been getting treatment for that seemingly manageable hamstring issue for a considerable period.
Monday's news reports:
• The Mets placed Jonathon Niese on the disabled list with a left shoulder strain before Sunday's game and promoted right-handed reliever Buddy Carlyle. Dillon Gee is slated to be activated from the DL on Wednesday to make the start in Niese's slot against the Braves.
VE-LOW
Jon Niese's average fastball velocity is at a career-low 88.6 mph this season.
Niese likely will miss only one start, since his DL stint will include the four-day All-Star break. He is eligible to return on July 20 -- the third game after the break, at San Diego.
Niese insisted he is uninjured. Still, Niese's fastball topped out at only 86 mph in his 12-pitch start Friday against the Texas Rangers -- an outing that ended when he was struck on the "love handle" on his left side by Alex Rios' line drive. Despite a solid 3.31 ERA, Niese's fastball is averaging a career-low 88.6 mph this season, down from 90.2 mph in 2013.
Although the DL decision displeased Niese, even the southpaw had previously expressed hope that the All-Star break would allow his fastball to get recharged. Niese actually had wanted to come back early after Friday's abbreviated outing and make two starts before the All-Star break.
He missed seven weeks last summer with a partial tear of his left rotator cuff.
Gee (3-1, 2.73) last pitched in the majors on May 10. He since has been on the disabled list with a strained right lat muscle. Gee made his final rehab start Friday with Brooklyn. He limited Aberdeen to one run on three hits and a walk and also hit a batter while striking out 10 in six innings. Gee logged 75 pitches. He then threw a bullpen session Sunday at Citi Field to further confirm his health before the Mets made the official announcement about Niese landing on the DL.
Read more in the Star-Ledger, Daily News, Newsday and at MLB.com.
Evan Vucci/Associated Press
Daniel Murphy has been selected to his first All-Star Game.
• Daniel Murphy earned his first All-Star selection and is the lone Mets representative to the July 15 game at Minnesota. Murphy (.294, 7 HR, 35 RBIs) is tied with Pittsburgh's Andrew McCutchen and San Francisco's Hunter Pence for second in the National League in hits with 106, trailing only Miami's Casey McGehee (108).
David Wright and Niese were passed over for selection, although Niese would have been disqualified anyway because of the DL stint.
Milwaukee Brewers third baseman Aramis Ramirez topped the second-place Wright by 338,728 votes in fan balloting. It is only the second time in the past nine years that Wright has been left out of the game. The other instance came in 2011, when Wright missed two months with a stress fracture in his lower back.
This marks the first time since 2003 that the Mets have only one All-Star selection. That year, it was Armando Benitez. This time, no Mets were selected via the fan or player ballots, so Murphy was chosen by St. Louis Cardinals manager Mike Matheny, who will lead the NL squad.
Read more in the Post, Star-Ledger and at MLB.com.
• The Mets scored a season-high five first-inning runs, capped by Recker's three-run homer, and beat the Rangers, 8-4, in Sunday's rubber game. Zack Wheeler surrendered only a solo homer to Robinson Chirinos in 6 1/3 innings. Wheeler had been winless in his last nine starts at Citi Field, going 0-6 with a 4.65 ERA since an Aug. 20, 2013 victory.
Gonzalez Germen surrendered a pair of homers in a three-run eighth, forcing Terry Collins to insert Familia to protect a three-run lead. Germen could be vulnerable Wednesday when the Mets need to clear a roster spot for Gee's activation. The alternative presumably would be to drop the newly added Carlyle.
Texas has lost 15 of 18.
Read game recaps in the Post, Daily News, Times, Star-Ledger and at MLB.com.
• Prospects Wuilmer Becerra and Vicente Lupo were arrested by Kingsport, Tenn., police for allegedly drag racing at speeds in excess of 100 mph.
• The Brooklyn Cyclones held their "Salute to Seinfeld Night" on Saturday at MCU Park, on the 25th anniversary of the pilot episode, known as "The Seinfeld Chronicles," having been broadcast on July 5, 1989. The festivities included players wearing puffy shirts during batting practice and a Keith Hernandez "magic loogie" bobblehead giveaway.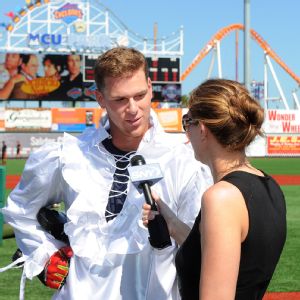 Courtesy of Brooklyn Cyclones
First baseman Jeff Diehl, and the rest of the Brooklyn Cyclones, wore puffy shirts during batting practice Saturday.
ESPN's Mark Simon back in 2010 chronicled all the Mets references on "Seinfeld," which you can check out here. The most famous involves Hernandez's Feb. 12, 1992 appearance, on the episode known as "The Boyfriend." Wrote Simon:
Hernandez and Jerry become friends, with Jerry spending much of his free time worrying about how he can impress Hernandez. Hernandez and Jerry's ex-girlfriend, Elaine, date, and meet Mets outfielder Mookie Wilson (unseen) in a local restaurant. The relationship breaks up when Elaine sees that Hernandez is a cigarette smoker.
The highlight is the mystery surrounding whether Hernandez spit on Kramer and his friend Newman, after the two yelled insults at the Mets first baseman, following another game the Mets blew (based on a game "Seinfeld" creator Larry David and friends attended in 1986).
Using the same principles regarding the "magic bullet" theory in the John F. Kennedy assassination, Jerry attempts to debunk the story. In the end, it's revealed that the spitter was actually Hernandez's teammate, Roger McDowell, who was getting revenge for Newman's spilling beer on him in the bullpen.
Mike Salfino in the Journal notes "Seinfeld" actually was far more Yankees- than Mets-oriented.
• Noah Syndergaard allowed one run on six hits while striking out eight and walking none in seven innings as Las Vegas routed Albuquerque, 12-1. Wilmer Flores homered for the sixth time in his last five games. Cesar Puello homered twice in his first game since June 23. He had been sidelined with a concussion.
Chase Huchingson allowed two runs in the top of the 10th and the B-Mets lost, 10-9, after leaving the bases loaded in the bottom half despite a hit by pitch and three walks to open the frame. Jorge Rivero drove in three runs and Matt Obserte homered as Savannah beat Hickory, 8-2. Carlos Valdez and Gaither Bumgardner combined on a two-hit shutout as Binghamton blanked Abderdeen, 7-0.
• Columnist Kevin Kernan in the Post suggests the Mets start making trades.
• Columnist David Lennon in Newsday acknowledges trading a pitching surplus could be shortsighted. Writes Lennon:
On paper, it's true -- the Mets have some pitching currency for the trade market. If not in the next three weeks, then certainly in the offseason. But you also can understand why Alderson might be leery of dealing from that deck. The fragile nature of pitchers, now more than ever, has made it crucial to have quantity as well as quality. If the Mets go the trade route, the pressure to pick the right chip can be cause for hesitation.
• Stephen Haynes in Newsday recaps Wheeler's outing Sunday.
• From the bloggers ... Faith and Fear offers an appreciation of Murphy as the perfect All-Star selection from an inherently imperfect Mets team.
BIRTHDAYS: Third base coach and '86 Met Tim Teufel turns 56. ... Andy Green, now managing Double-A Mobile in the Arizona Diamondbacks organization, is 37. ... Minor-league left-hander Alex Panteliodis, a ninth-round pick in 2011 out of the University of Florida, is 24.
TWEET OF THE DAY:
Citi Field is leading all MLB stadiums in between-pitch sound effects for the sixth consecutive season.

— Bob Waterman (@esbbob) July 6, 2014
YOU'RE UP: Will the Mets be represented by the correct All-Star selection in Minnesota on July 15?