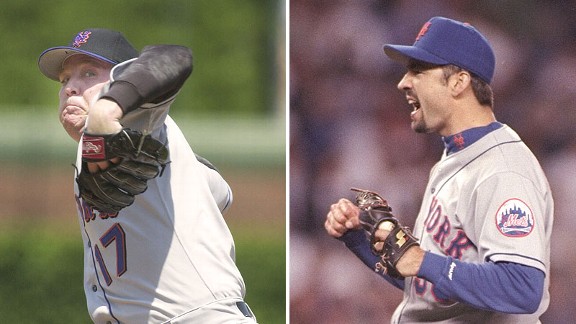 Getty Images
Kevin Appier and Dave Mlicki didn't have great Mets careers, but both were great vs. the Yankees.In honor of Jonathon Niese's fine work on Monday and Matt Harvey pitching on Tuesday, it seems like a good time to look back at the best pitching performances in the Mets-Yankees rivalry.
We'll list the best statistically by Bill James Game Score, a stat that ranks starts on a scale that is usually from 1 to 100 (based on innings, runs, hits, strikeouts, and walks).
Kevin Appier, 2001 -- 79 Game Score (8 IP, 0 R, 4 H, 8 K, 3 BB
An oft-forgotten game in the Subway Series rivalry was Appier's pitching duel with Mike Mussina in the Bronx, which went scoreless through nine innings. The Mets would score three in the 10th to beat Mariano Rivers.
Appier retired the first 15 hitters he faced, then halted Yankees scoring chances in the sixth, seventh, and eighth, twice ending those frames by retiring Derek Jeter.
Did You Know? Appier and Dave Mlicki (mentioned shortly) are the only two Mets to throw eight scoreless innings in a start against the Yankees.
Shawn Estes, 2002 -- 77 Game Score (7 IP, 0 R, 5 H, 11 K, 1 BB
In terms of pitching-hitting combinations, this was the best against the Yankees in Mets history. In a game that was much hyped because it was viewed as potential vengeance against Roger Clemens (for his throwing both pitches and bats at Mike Piazza), Estes was viewed as wimping out for failing to drill him with a pitch.
But Estes got his revenge by drilling Clemens—hitting a home run against him. He also dominated the Yankees lineup with his 11-strikeout effort in an 8-0 win.
Did You Know? Estes is one of three Mets starting pitchers to homer in a game in which the Mets pitched a shutout. Pete Falcone (1981, Phillies) and Johan Santana (2010, Reds) are the other two.
Pedro Martinez, 2006 -- 76 Game Score (7 IP, 0 R, 4 H, 8 K, 1 BB)
In a regular season in which so much went right, so much went wrong on this day, though none of it had to do with Martinez.
The Mets ace would leave with a 4-0 lead after seven terrific innings. The bullpen would blow the lead in the ninth inning and lose in extra innings.
Did You Know? Martinez has six regular-season starts and a postseason start with a Game Score of 75 or better against the Yankees, matching Chuck Finley for the most such starts against them in the last 25 seasons.
Oliver Perez, 2008 -- 75 Game Score (7 IP, 1 R, 3 H, 8 K, 0 BB)
The best pitcher for the Mets in the history of this rivalry was Perez, who rose to the challenge with four wins in four starts, all of which were very similar (seven innings or more, two runs or fewer allowed, five hits or fewer allowed).
The best one was his last one, in which he won 3-1, setting down the first 10 hitters of the game and never showing a sign of struggle.
Did You Know? Oliver Perez had a 1.50 ERA as a Met against the Yankees, the best of any of the 11 pitchers to make more than two starts against them.
Masato Yoshii, 1998 -- 75 Game Score (7 IP, 1 R, 2 H, 10 K, 4 BB)
If Mussina-Appier was the best pitcher's duel in the rivalry, Yoshii- Orlando Hernandez on Sunday Night Baseball would be runner-up.
Yoshii had his best game as a Met, no-hitting the Yankees for 4 2/3 innings, allowing only a homer to Scott Brosius in the seventh.
The Mets would win 2-1 on a Luis Lopez game-ending sacrifice fly, though the conclusion was confusing as Brian McRae wandered off first base and was nearly thrown out trying to get back to the bag when it appeared the game was over.
Did You Know? This is the only game in the history of the rivalry in which each team had three hits or fewer.
Dave Mlicki, 1997 -- Game Score 75 (9 IP, 0 R, 9 H, 8 K, 2 BB)
The first game in the Mets-Yankees rivalry was supposed to be a day on which the Yankees' best young pitcher, Andy Pettitte, dominated. But Mlicki stole the show with a nine-hit shutout, one of only two shutouts he would throw in his major league career. It is still the only one thrown by a Mets pitcher against the Yankees.
Did You Know? Current Yankees manager Joe Girardi had the best day of any Yankee, going 3-for-4, but was stranded on the bases each time.