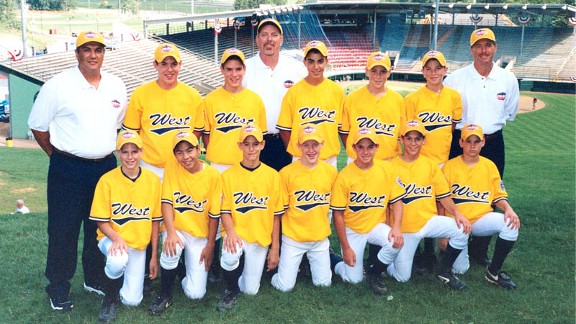 Courtesy of Little League International, South Williamsport, Pa.
Binghamton Mets right-hander Greg Peavey (front row, third from left) participated in the 2000 Little League World Series. His father Tom (back right) served as coach.
Right-hander Greg Peavey's transition to Double-A pitching has been near spotless.
Two starts.
No runs.
And the Eastern League's pitcher of the week award.
The 23-year-old Peavey -- a sixth-round pick out of Oregon State two years ago -- has displayed solid control, too. He has walked only one batter in 10 2/3 innings. In fact, he has walked only 27 in 147 2/3 professional innings.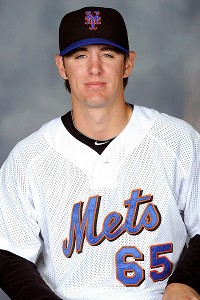 Courtesy of New York Mets
Greg Peavey
"Throwing strikes has always been emphasized throughout my career," said Peavey, who possesses a low-90s fastball, changeup, curveball and slider. "Especially with my pitching repertoire, it's built around throwing strikes. So trying to get ahead of hitters has always been very important to me."
Peavey has been in the spotlight for a while.
Growing up in Vancouver, Wash., he was part of a Hazel Dell Little League program that reached the 2000 Little League World Series in Williamsport, Pa.
"The best part of it was the very first day," Peavey recalled. "I remember it to this day. During the opening ceremonies, we got to meet Kevin Costner and George Brett. Getting to shake those guys' hands, I was like, 'Wow.' I thought I made it, you know? I was 12."
Peavey's father Tom -- who once was selected by the Montreal Expos in the 68th round of the 1969 draft as a right-handed pitcher, but who did not sign -- was praised for his sportsmanship during the Little League World Series.
Entering the final game of pool play, Peavey's Hazel Dell squad could have advanced even with a loss against Iowa because of tiebreaker rules, as long as they scored two runs or fewer. The elder Peavey would not accept advancing by throwing a game. They were beaten by the Iowa squad, 6-4. Hazel Dell instead was eliminated.
Said Peavey: "A lot of people were confused as to why we would want to do that, but that was the type of guy my dad was and the coaching staff was -- 'This is Little League baseball. We're going to play it straight up. We didn't just come here to roll over. We came here to win.' Iowa beat us, and they got to go unfortunately."
Little League President Stephen Keener said after Hazel Dell's elimination, according to the local Vancouver (Wash.) Columbian: "I don't think there has ever been a Little League manager in the history of the World Series who has more clearly demonstrated the ideals of Little League Baseball than Tom Peavey."
Peavey, only 12 at the time, said he didn't fully understand what his father had chosen to do until a couple of years later.
"We actually had no idea," Peavey said. "I remember them telling us after we had lost and everything. But it didn't really hit me until I was about 14. I didn't really understand how the whole thing worked."
Several thousand community members greeted the team at the Portland International Airport upon the team's return home. They had a parade in the team's honor the following day, with an estimated crowd exceeding 5,000.
"That was when you could come to the actual gate and could wait outside for people," Peavey said. "There were thousands of people waiting outside for us. We rode in a limo. It was pretty incredible. It was just amazing the support that came from that city."
Those same players went on to win the Babe Ruth World Series as 13 and 14 year olds. The latter tournament was held in Albany, N.Y.
Peavey's father, a retired police officer, now works a desk job for the gang task force for the city of Portland. After bypassing the Expos out of high school, the elder Peavey played at Washington State University, where he suffered a shoulder injury that scuttled any second chance at a professional career.
Peavey visited Washington State during his college recruiting process, but ultimately chose Oregon State, which was coming off its second national championship. Eligible for the draft after his sophomore college season because of his age, Peavey was selected in the 32nd round by the Houston Astros but did not sign. The Mets took him the following year in the sixth round and inked him for $200,000.
Now with Double-A Binghamton, Peavey to this day signs autographs will the middle initial "S." That's because he liked how it looked when he practiced while being asked to sign at the Little League World Series.
"I added the middle initial," said Peavey, whose actual full name is Gregory Scott Thomas Peavey. "And then I realized it looked kind of cool. So I stuck with it. The middle initial is still there to this day."
Organization leaders (through Monday)
Average: Bobby Scales, Buffalo, .438; T.J. Rivera, Savannah, .419; Jefry Marte, Binghamton, .360; Travis Taijeron, Savannah, .350; Zach Lutz, Buffalo, .341; Cory Vaughn, St. Lucie, .339; Vinny Rottino, Buffalo, .311; Matt den Dekker, Binghamton, .308; Dustin Lawley, Savannah, .295.
Homers: Valentino Pascucci, Buffalo, 4; Adam Loewen, Buffalo, 3; Aderlin Rodriguez, Savannah, 3; Travis Taijeron, Savannah, 3.
RBI: Aderlin Rodriguez, Savannah, 12; Adam Loewen, Buffalo, 9; Valentino Pascucci, Buffalo, 8.
Steals: Danny Muno, St. Lucie, 4; Juan Lagares, Binghamton, 3.
ERA: Chase Huchingson, St. Lucie, 0.00; Alex Panteliodis, Savannah, 0.00; Greg Peavey, Binghamton, 0.00; Tyler Pill, Savannah, 0.00; Cory Mazzoni, St. Lucie, 1.13; Gonzalez Germen, St. Lucie, 1.64; Garrett Olson, Buffalo, 1.74; Darin Gorski, Binghamton, 1.80; Domingo Tapia, Savannah, 2.25; Collin McHugh, Binghamton, 2.31.
Wins: Chase Huchingson, St. Lucie, 2; Cory Mazzoni, St. Lucie, 2; Alex Panteliodis, Savannah, 2; Greg Peavey, Binghamton, 2; Carlos Vazquez, Savannah, 2.
Saves: Fernando Cabrera, Buffalo, 2; Jeffrey Kaplan, St. Lucie, 2; Adrian Rosario, St. Lucie, 2.
Strikeouts: Jeurys Familia, Buffalo, 15; Logan Verrett, Savannah, 14; Carlos Vazquez, Savannah, 13; Zack Wheeler, Binghamton, 13.
Short hops
• Buffalo infielder Zach Lutz lost a nine-game hitting streak Sunday. Of course, he walked four times that game. Lutz then started a new streak with a three-hit game Monday, followed by a 2-for-3 showing Tuesday. He is hitting .364 this season, with a .462 on-base percentage.
• Left-handed reliever Daniel Herrera landed on the International League disabled list with a sprained left elbow. Brad Holt was promoted from Binghamton and allowed three runs on six hits, a walk and a hit batter in his Triple-A debut. Holt, prone to control lapses, had an erratic warm-up for that appearance that including throwing a couple of balls to the backstop.
• Middle infielder Jordany Valdespin's playing time continues to be nearly exclusively center field since the promotion of Kirk Nieuwenhuis to the majors. Valdespin had an eight-start streak in center field snapped Sunday when he started at shortstop. He actually moved to center field later in that game anyway, and since has started another two games in center field. At the plate, Valdespin extended his hitting streak to seven games Monday with a ninth-inning single before losing the streak with an 0-for-4 night Tuesday. On Sunday, Valdespin produced the game-winning hit with an RBI single in the 10th inning against Pawtucket as Buffalo overcame a pair of six-run deficits.
• The transitions of top pitching prospects Matt Harvey and Jeurys Familia to Triple-A have not been seamless. In his third start with the Bisons, Harvey allowed six runs (five earned) on six hits and three walks in 3 2/3 innings Sunday against Pawtucket. Harvey has now surrendered 20 hits and eight walks in 13 innings in the International League. He has a 7.62 ERA. Familia similarly has struggled with control. He has walked 12 while allowing 15 hits in 13 2/3 innings. Familia has a 6.59 ERA in three starts. Through Monday, Buffalo pitchers had walked 67 batters in 13 games.
• Former Cubs utility man Bobby Scales, who was released late in spring training by Chicago, has reached base at least two times in all 10 of his starts. He ranks second in the International League with a .444 average, trailing only Durham's Leslie Anderson.
• Center fielder Matt den Dekker extended his hitting streak to nine games Tuesday with a first-inning RBI single. He has the longest streak by a Binghamton player this season. Juan Lagares had the longest hitting streak by a B-Met a year ago -- 19 games, which was second longest in the Eastern League.
• First baseman Allan Dykstra suffered a broken left forearm Saturday, reaching into the runner for a throw by pitcher Darin Gorski, who had fielded a bunt up the third-base line. Eric Campbell primarily will play first base minus Dykstra.
• Jefry Marte left Sunday's B-Mets game in the second inning with hamstring tightness. His injury is expected to sideline him only for the short term.
• Zack Wheeler, who makes his third Double-A start Wednesday, is coming off an improved second start. He struck out nine and issued no walks in six innings, but also hit three Portland batters while allowing one run and five hits. Wheeler's fastball has lived up to expectations, but he's finding Eastern League hitters more selective than batters at lower levels and recognizing he can no longer get away with nibbling at the corners of the strike zone.
• St. Lucie's 1.74 staff ERA ranks first in the Florida State League. The team has raced to a 10-2 record. The staff has allowed a league-low one homer through 12 games while issuing only 27 walks (two intentional) in 108 1/3 innings.
Left-hander Chase Huchingson, signed as an undrafted free agent two years ago out of the University of Central Arkansas, has tossed 12 2/3 scoreless innings so far, with Florida State League batters hitting .143 against him. Huchingson, who turned 23 Saturday, throws strikes and uses his fielders. He sports a low-90s fastball and slider.
2011 second-round pick Cory Mazzoni out of NC State appears on a fast track. The right-handed Mazzoni has a 1.12 ERA through three starts with St. Lucie, including five scoreless innings Monday, when his fastball sat in the low 90s and touched 96 mph. Because Mazzoni was coming off his college season last year, he logged only 13 innings over 12 pro appearances between Brooklyn and St. Lucie after the draft.
Gonzalez Germen added to St. Lucie's pitching roll Tuesday night, when he limited his opponent to one run for a third straight start. The 24-year-old Dominican right-hander is 2-0 with a 1.65 ERA.
• Sean Ratliff, who missed last season while undergoing four eye surgeries following being struck with a foul ball, has returned to regular game action with St. Lucie. Ratliff is only 3-for-22 with 10 strikeouts at the plate so far, but reportedly is not having ill effects from needing to wear contact lenses to correct his vision. Ratliff must wear sunglasses during day games.
• Cory Vaughn, off to a quick start in his second season in the Florida State League, was placed on the temporary inactive list to attend the funeral of a relative. He is expected to rejoin St. Lucie on Thursday. Vaughn is hitting .333 with one homer, four RBIs and six walks through nine games. The walk total is an early improvement from last season, when he walked only 23 times in 241 plate appearances after a promotion to the Florida State League.
• St. Lucie outfielder Darrell Ceciliani, who has been sidelined with a right hamstring strain since injuring himself on a home run on April 9, has started taking batting practice and should return to the lineup this weekend. Fellow outfielder Cesar Puello returned Saturday after a one-week absence caused by hitting a foul ball off his foot. Puello has struck out 10 times in 25 at-bats.
• T.J. Rivera ranks second in the South Atlantic League with a .419 average, while Savannah teammate Travis Taijeron ranks ninth at .350 and also has three homers.
• Savannah produced a 30-inning scoreless streak before Augusta scored an eighth-inning run against Tyson Seng on Sunday. The stretch included consecutive shutouts started by Alex Panteliodis and Domingo Tapia. Assistant GM John Ricco raved about Tapia pitching at 96-98 mph with control.
• Savannah first baseman Sam Honeck was placed on the disabled list with a strained right knee.
Adam Rubin's farm report appears Wednesdays during the regular season