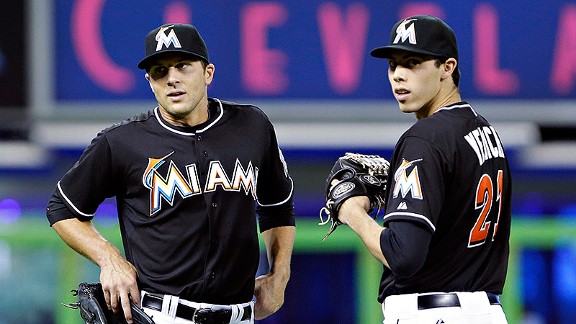 Wilfredo Lee/Associated Press
Jake Marisnick and Christian Yelich were promoted from Double-A Jacksonville last Tuesday.METS (46-56, fourth place/NL East) vs. MIAMI MARLINS (40-63, fifth place/NL East)
Monday: RHP Jeremy Hefner (4-8, 4.17) vs. RHP Jacob Turner (3-3, 2.49), 7:10 p.m. ET
Tuesday: RHP Zack Wheeler (4-1, 3.72) vs. RHP Nathan Eovaldi (2-1, 3.54), 7:10 p.m. ET
Wednesday: RHP Jenrry Mejia (1-0, 0.00) vs. RHP Henderson Alvarez (1-1, 2.64), 7:10 p.m. ET
Thursday: RHP Matt Harvey (8-2, 2.11) vs. RHP Tom Koehler (2-6, 4.67), 12:40 p.m. ET
Marlins short hops
• First-year hitting coach Tino Martinez resigned Sunday. He allegedly grabbed rookie second baseman Derek Dietrich by the neck and neck chain and verbally assaulted other players this season, the Miami Herald reported. "I want to apologize to the Marlins organization for my behavior," Martinez said, according to the Associated Press. "I have made some comments to certain players at certain times that I thought was more constructive criticism. Obviously, they didn't feel that way, and it kind of backfired on me."
• The Marlins promoted top outfield prospects Christian Yelich and Jake Marisnick from Double-A Jacksonville last Tuesday.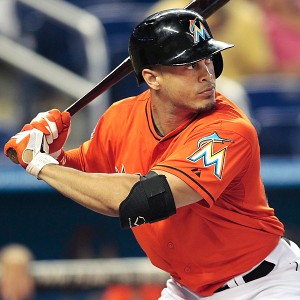 Robert Mayer/USA TODAY Sports
Giancarlo Stanton has heated up with the Marlins.
Yelich, a left fielder who started in the Futures Game at Citi Field, is the only two-time organizational player of the year in Marlins history. He became the second player in franchise history to record a hit in each of his first three major league at-bats, joining current manager Mike Redmond (May 31, 1998). He is only the fourth major leaguer since 1980 to have hits in his first three ABs, joining Daryl Boston (White Sox, 1984), Jose Offerman (Dodgers, 1990) and Jay Bruce (Reds, 2008).
Marisnick, a center fielder, was hitless in 14 at-bats to open his career before singling. It was the second-longest drought in Marlins history to open a career. Nigel Wilson, the first pick in the expansion draft in 1992, went 0-for-16 as a Marlin and eventually was hitless in his first 26 at-bats in the majors before getting a hit three years after his debut, with the Cleveland Indians in '96.
Fellow rookie outfielder Marcell Ozuna landed on the disabled list Thursday with a ligament tear and fracture in his left thumb and required surgery. Ozuna had been demoted with Dietrich after Monday's game to make room for Yelich and Marisnick, but Ozuna's demotion was rescinded after the extent of his injury attempting a diving catch became known.
Adding Yelich and Marisnick to an outfield that already includes Giancarlo Stanton in right field makes it a formidable trio. After a mostly quiet July at the plate, Stanton is 9-for-13 in his last four games. He has four homers in his past six games at Marlins Park.
• Justin Ruggiano is 0-for-his-last-32. Adeiny Hechavarria replaced Ruggiano in the leadoff spot a week ago.
• Jacob Turner, who was acquired at last year's trade deadline from the Detroit Tigers as part of a package for Anibal Sanchez and Omar Infante, has suffered consecutive hard-luck defeats. He was tagged with losses at Milwaukee and Colorado despite allowing two runs in each outing. Turner has allowed only three homers in 10 starts since making his season debut with seven scoreless innings against the Mets on May 31.
• Henderson Alvarez -- acquired in November in the trade that sent Mark Buehrle, Josh Johnson, Jose Reyes, Emilio Bonifacio and John Buck to Toronto -- earned his first Marlins win Friday. He tossed six scoreless innings against the Pittsburgh Pirates. He topped out at 98 mph with his fastball.
• Kevin Slowey, who struggled in the rotation before getting reassigned to the bullpen, landed on the DL during the weekend with right forearm discomfort. Right-hander Steve Ames took the roster spot Sunday. Ames was acquired from the Los Angeles Dodgers on July 6 with fellow minor leaguers Angel Sanchez and Josh Wall for Ricky Nolasco.
• Logan Morrison, who has settled in at first base, has reached base in 26 straight games.
• The Marlins snapped a franchise-record 37-inning scoreless streak last Monday at Colorado.
• Closer Steve Cishek has an MLB-best 17 saves since June 8, without a blown save during that span.