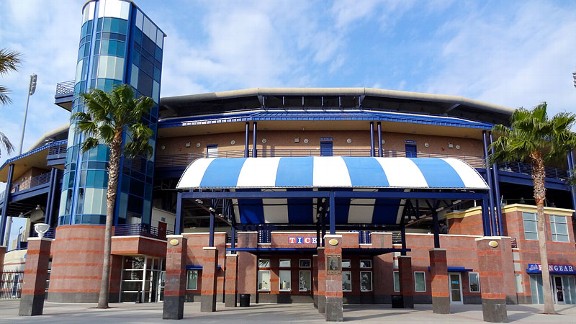 Adam Rubin
The view of Mets Stadium in Port St. Lucie, Fla., on Wednesday.
PORT ST. LUCIE, Fla.
FIRST PITCH: Four days remain until Mets pitchers and catchers officially are due to report, but there has been no shortage of activity at the team's spring-training complex.
Among those who already have arrived here: David Wright, Lucas Duda, Dillon Gee, Zack Wheeler, Matt Harvey, Travis d'Arnaud, Bobby Parnell, John Buck, Mike Baxter, Kirk Nieuwenhuis, Matt den Dekker, Wilmer Flores, Zach Lutz, Anthony Recker and Brian Bixler.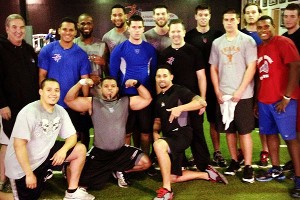 Courtesy of Cam Maron
Ruben Tejada is due to arrive in Port St. Lucie on Saturday. He has been working out on Long Island with a group that includes ex-Mets Jose Reyes and Pedro Beato as well as Mets farmhands Cam Maron and Steve Matz.
Ike Davis is expected to make his first appearance today. Ruben Tejada, who has spent the past two weeks in New York working out with Jose Reyes on Long Island, is due to arrive Saturday.
In Tejada's case, that's nine days before the official report date for Mets position players, which should please Terry Collins. Last offseason, the manager wanted Tejada to spend most of the winter in Port St. Lucie getting stronger and getting acclimated to new double-play partner Daniel Murphy.
Not only did Tejada balk and stay in his native Panama for the winter last offseason, he arrived on the precise reporting day for position players. He cited visa trouble and in reality was not late. But he did report later than most of his teammates, which upset Collins, who viewed the time lost with him as a missed opportunity to improve.
That episode is in the past, Tejada noted Monday, during a visit to Citi Field during which he batted in an indoor cage adjacent to the clubhouse.
As for today's schedule in Port St. Lucie, the voluntary workout is scheduled to begin at 10 a.m. on back fields.
If you're so inclined, you can participate in a fan briefing from Sandy Alderson at 1 p.m., which will be carried on Mets.com.
Afterward, please consider joining me for a 2 p.m. ET chat, which you can find here.
Thursday's news reports:
• So much for Sandy Alderson's statements about an open closer's competition during spring training, at least if Collins has a say.
"He is the closer," Collins told Kevin Kernan about Francisco in the Post.
Francisco, who had a spur removed from his right elbow in December, is not yet throwing off a mound.
"Frankie told me he was going to be here [Wednesday], he drives up from Miami, he plays catch from 60 feet to show everybody he is making progress," Collins continued. "I understand we have concerns about his elbow, which is only natural, but he is going to start the season as the closer unless something dictates that he's not and that something would only be if his elbow is not ready.''
Collins went on to call Parnell "the future."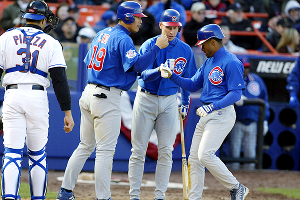 Al Bello/Getty Images
Newly signed Corey Patterson celebrated a two-homer game against the Mets on Opening Day 2003.
• On the Michael Bourn free-agency front, CBSSports.com's Jon Heyman tweeted: "Mets still hopeful on Michael Bourn. Sandy A. talking publicly about MB is positive sign. Nothing seems imminent tho."
Andy Martino in the Daily News notes the Mets remain adamant they are unwilling to forfeit the 11th overall pick for Bourn. He explains that a grievance brought by the Players' Association and Scott Boras to reinterpret the collective bargaining agreement and protect the picks of the teams with the 10 worst records the previous season would go before an independent arbitrator.
• The Mets signed outfielders Corey Patterson and Mike Wilson to minor league contracts. Both players will report directly to minor league camp, to be considered for Triple-A Las Vegas' roster.
Patterson has six career two-homer games in the majors, two of which came against the Mets. In the March 31, 2003 Opening Day game at frigid Shea Stadium in which Tom Glavine was roughed up in his Mets debut, Patterson homered twice against reliever Mike Bacsik and finished with a career-high seven RBIs. Two years later at Wrigley Field, also with the Chicago Cubs, Patterson homered twice against the Mets' Kris Benson. Read more in the Star-Ledger.
• Anthony DiComo at MLB.com notes the rotation still could be solid minus R.A. Dickey. The April staff should include Johan Santana, Harvey, Jonathon Niese, Shaun Marcum and Gee. Wheeler then should follow a similar track to Harvey last year, debuting this summer. "I'm trying to win a spot, but I'm just going there to pitch," Wheeler told DiComo about his first major league camp. "It's just a different group of guys."
Dickey, incidentally, already has been named Toronto's Opening Day starter.
• From the bloggers … Shannon from Mets Police reminds Mets fans not to unfairly burden Harvey with the tag "ace" with only 56 pro games under his belt. … The Eddie Kranepool Society looks at the bullpen competition. … Faith and Fear in Flushing writes that pitchers and catchers reporting will serve as a welcome change from the toxic uncertainty that has surrounded the Mets this offseason.
BIRTHDAYS: Endy Chavez, of reach-over-the-wall-to-take-a-homer-away-from-Scott-Rolen-fame, turns 34. … Charlie Puleo, who went to the Cincinnati Reds in the trade in which the Mets reacquired Tom Seaver, was born on this date in 1955 in Glen Ridge, N.J.
TWEET OF THE DAY:
I'm pretty sure that if there was an award for signing the most minor league contracts, the #Mets would have it in the bag.

— Jessica DeMattia (@jessicabrooke5) February 6, 2013
YOU'RE UP: Should Francisco remain the closer? Or should the Mets look at Bobby Parnell or Brandon Lyon for the role?
Please use the comments section to weigh in