SARASOTA, Fla. -- Dillon Gee and Jeremy Hefner combined to surrender four homers and the Mets completed Grapefruit League play with a 7-1 loss to the Baltimore Orioles on Saturday at Ed Smith Stadium.
The Mets mustered only one hit -- a leadoff single in the fifth by Marlon Byrd against Orioles starter Miguel Gonzalez.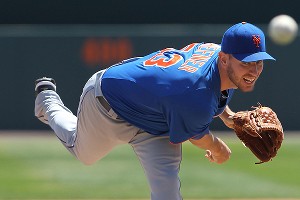 Kim Klement/USA TODAY Sports
Jeremy Hefner served up three homers in two innings Saturday.
The Mets finished with a 15-15-3 Grapefruit League record.
David Wright had an identical line to the previous day -- 0-for-3 with five innings logged at third base -- and pronounced himself ready for Monday's regular-season opener.
"Obviously it was nice to see some pitches," said Wright, who had returned to major league action Friday, after rehabbing a strained intercostal muscle on his left side. "Some of the at-bats were just about that -- just to go out there and see some pitches, get deep in counts. I think it was definitely beneficial. No question."
Gee finished with a 5.87 Grapefruit League ERA after being charged with three runs on six hits in four innings. He surrendered a third-inning homer to Nate McLouth.
"He's fine," Terry Collins said about Gee, who had seemed to get on track Monday at Disney, when he tossed six scoreless innings against the Atlanta Braves. "His last outing was so good. To compare it to that is pretty hard, because he was dominant the other day."
McLouth as well as Chris Davis and Steve Pearce went deep against Hefner, who was charged with four runs in two innings. Hefner was working for the first time since getting nailed with a comebacker in the right elbow Tuesday.
Gee will face the San Diego Padres on Thursday, while Hefner gets Friday's series opener against the Miami Marlins.
"Obviously there's no damage," Collins said about Hefner's elbow. "There's probably still a little bit of stiffness, but he'll be OK."